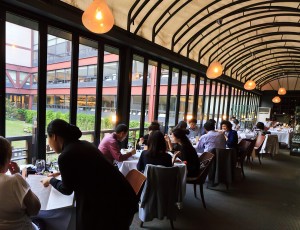 In the astonishing mix of ultra-modern and ancient found in Seoul's Jongno-gu area is the Gyeonghui Palace, which is now the city's Museum of History. Surrounded by corporate headquarters, government offices and embassies, the museum has a treasure of a different kind – the fine dining restaurant of Cong-du. This is a new-age destination restaurant best described as organic concept-art cuisine focused on Korean produce. It has a modern take on traditional tofu and bean-based dishes as every dish contains soy beans.
Cong-du has super-chic understated interiors and a glass encased terrace (with a remote-control retractable roof, allowing al fresco dining) overlooks the inner gardens of the former palace. What is presented in the menu is a direct contradiction to the serene surroundings as the neo-Korean cuisine is a venerable theme-park of traditional flavors brought together with multiple textures which nudge comic bursts of color and profound tastes into the 21st century. It's a playful pop-art fusion in three fixed menus, each bombarding one's palate with spicy, savory and sweet flavors – often simultaneously!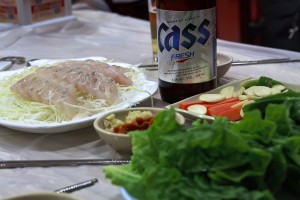 The three course 'green' menu begins with a Shepard's purse and shrimp ball on spring herb salad with mulberry vinaigrette. The main options are steamed Jeju pork belly wrapped in Lotus leaves and served with black bean sauce or a Jinan tofu steak, which is lightly coated in sticky rice powder then gently fried and served with soybean chungukjang sauce and white gimchi chutney – a fresh and slightly sour relish. KWon 45,000/$38
The five course 'orange' menu I chose included gold nugget squash soup with nut topping, steamed fresh cockles from the western wetland, Abalone with green sea sauce risotto, and silver cod marinated in dongukjang bisque sauce – a fermented soy and blue crab paste. KWon 70,000/$60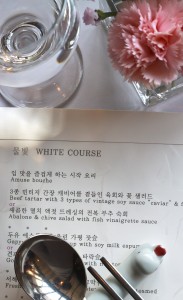 The six course 'white' menu my dinner guest selected started with a salty beef tartar drizzled with three types of vintage soy sauce and a flower salad, followed by a fragrant Gapyung pine nut soup – which is a blend of soy beans and pine kernels topped with soy milk and pine leaf oil foam. For mains it was sirloin steak with vintage soy sauce and caramelized garlic puree, followed by Jinji-sang, a simple Korean dish of rice crust and pickles. KWon 100,000/$85
All three menu options were perfectly completed with Cong-du's special dessert plate comprising of cherry blossom shaped ginger honey cookies which comes with fried rice cake and star shaped tofu pudding.
It's packed with locals, so booking is essential – and be sure to ask for a terrace table.
Cong-du Restaurant, Seoul Museum of History,
50 Saemunangil, 2-1 Shinmunro-2-ga, Jongno-Gu, Seoul 110-062
Tel +82 2 722 7002