El Salvador is a country of contrasts: towering volcanoes and flat, sandy beaches; modern cities and charming historic pueblos; rambling Mayan ruins and aging Spanish haciendas.  Because this country of 6 million is the smallest in Central America, it's the perfect place to experience the history of the region, and unfamiliar visitors can easily take in El Salvador's historical highlights in just a few days.
A great place to start is the Joya de Ceren Archeological Park, a UNESCO World Heritage Site that is often described as the "Pompeii of Central America."  Like the famed Roman ruins, the village at Joya de Ceren was covered by volcanic ash — fourteen layers of it, to be exact — around 600 AD, so its artifacts and structures are surprisingly intact, comprising the best preserved village in all of pre-Colombian Mesoamerica.  The site was discovered in 1976 and excavations began in 1989 under the auspices of the University of Colorado Boulder.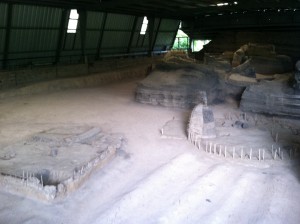 What makes Joya de Ceren unique, however, is that it depicts the life or ordinary people.  There are none of the Mayan temples or monuments found at some of the larger sites, but the excavations offer a rare glimpse into the personal lives of everyday farmers of the ancient world.  Archaeologists have discovered that each family had a cluster of three buildings: one for sleeping, one for cooking and one for some sort of community purpose, such as a meeting house, a sauna or a place of healing.  Each family was responsible for the upkeep of one of these communal buildings as well as a nearby plot of land.
Visitors can tour the numerous excavation sites (which represent only an estimated 1-2% of the entire village) as well as the museum which includes a collection of artifacts, maps and photographs.  The tour lasts about an hour and only costs $3.00 USD.  (And yes, El Salvador uses the dollar, so it's especially convenient for American travelers.)  For a special treat, be sure to check out the replica sauna at the end of the guided tour.  Keep in mind, however, that the average Mayan was between 4.5 and 5.2 feet tall, so watch your head!
If grandiose architecture is more your speed, be sure to check out the Teatro de Santa Ana.  Although the history of El Salvador is rife with conflict, ranging from the Spanish conquest to the Civil War of the late twentieth century, the country experienced a period of intense economic growth in the early 1900s.  Coffee beans, both imported from Africa and grown on plantations in El Salvador's many mountainous regions, were the main ingredient of economic success, and a tax on both coffee and alcohol funded the construction of Santa Ana's theater in 1902.  It opened to the public in 1910 and was complete with an orchestra brought all the way from Italy for its inauguration.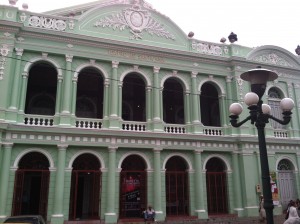 Despite decades of neglect and decline following the so-called "glorious period" from 1910-1933, the theater, which faces the main square in El Salvador's second-largest city, has been restored to its former glory.  Visitors can take a tour or even see a show, and because the government is trying to increase local interest in live theater, tickets are extremely reasonable.
In addition to beautiful marble statues and allegorical frescos, the theater has a lot of "quirky" historical remnants, including two ticket booths (one for men and one for women), separate salons for male and female patrons, and even a cherub holding a box of cigars painted on the ceiling of the gentleman's smoking room on the theater's second floor.
Lastly, for a glimpse into Spanish colonial life and the Mayan traditions it nearly eclipsed, be sure to visit the town of Suchitoto.  Historians generally attribute the founding of Suchitoto to the Pipiles, who came into existence in El Salvador after the Mayan "Dark Ages" of the 9th and 10th centuries.  Unfortunately, the Pipiles were no match for the Spanish conquistadors, who established a settlement by the early 16th century.
"Suchitoto" is a Náhuatl word that means that means "bird-flower", and while the charming colonial town has plenty of both, one of its most important features is indigo.  Historically, the "blue gold," which comes from a small, shrub like plant, was reserved for Mayan royalty, warriors and priests.  The dye, however, actually comes from bacteria, so when the ancient Mayans processed the pigment and applied it directly to their skin, they did so at their own peril.  The Spanish observed this process and implemented a number of improvements, including adding tanks to process the dye.
The blue gold, or añil, brought great economic prosperity to towns like Suchitoto across El Salvador, but as synthetic replacements were discovered in Europe (and the Spaniards moved their capital to San Salvador to escape the humidity), Suchitoto began to decline.  It was further ravaged during the country's civil war, which lasted from 1980 to 1992, but since the Peace Accords of 1992, Suchitoto has emerged as a preeminent tourist destination, boasting a number of interesting attractions including an indigo workshop run by local artist and businesswoman Irma Guadron.
Although El Salvador has a history of gang violence and violence against women in particular, the past decade has seen a noticeable increase in the number of women-owned businesses and community initiatives designed to curtail domestic abuse and enable women to take a more active role in the local economy.  The country now boasts several indigo workshops, including the one in Suchitoto, which are run by women.  Artisans like Guadron have begun researching the history of indigo use in the region and are infusing traditional dying techniques with technologies and designs from other parts of the world, ranging from batik to tie-dye.
Visitors to Suchitoto can tour Guadron's indigo workshop, Arte Añil, which is just a short walk from the town square, and can even try their hand at dying a souvenir tote bag for a small fee.  The shop also boasts a boutique where Guadron sells beautiful wall hangings, hand woven scarves and garments for men, women and children, all dyed in the traditional "blue gold."
El Salvador may be a small country with a tumultuous history but its rich cultural traditions are alive and well and are even growing thanks to initiatives like Pueblos Vivos.  The program provides government support, funding and marketing assistance to small towns and villages to foster community engagement and grow their local tourism industries so now is a great time to visit El Salvador.