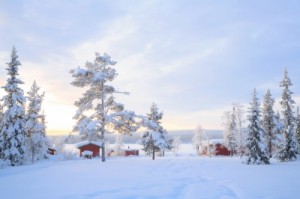 With the first snow fall of winter approaching, who can resist that fresh blanket of snow for a frosty adventure? But far beyond traditional snowman building, skiing or snowboarding is the ultimate snow adventure – staying in a snow palace crafted from slabs of ice, packed with igloo guest rooms and illuminated ice sculptures. Most of the best snow hotels are located in Europe and offer a tranquil arctic experience that you will never forget. Here are just a few of the best destinations that can truly provide you with a winter wonderland experience!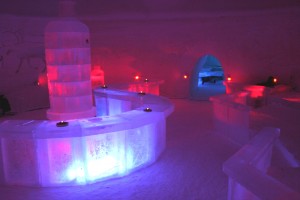 The Snow Village, Finland
Deep in north Finland you'll find the village of Kittila where the Snow Village is located.  Amid the picturesque forests and frozen lakes, guests can rent igloo rooms. One of these rooms is the Ice Suite, which comes in several different shapes and has glowing custom-cut ice sculpts. Sleeping in sub-zero temperatures is a once-in-a-lifetime experience which is enhanced by numerous native activities such as a thrilling husky dog-sled ride through the wintery woods. Then it's back to a delicious hot meal at the log cabin where traditional Lapland dishes such as Reindeer fillet and Lingo berries with warm caramel sauce are served.
Hotel of Ice, Romania
The Hotel of Ice, which features a frozen glacial lake and is accessible by cable-car, is located in central Romania's Transylvanian Alps in the snow-covered Fargaras Massif region. Also known as the Balea Lac Ice Hotel, it is lodging totally made by the elements, with corridors, a reception area, and rooms crafted from ice. In the Hotel of Ice, you'll find a church for that wedding on the ice rocks, as well as a bar and an in-house restaurant known as the Balea Lac's restaurant. It serves traditional local dishes such as lean and spicy Romanian Sausages. There are a host of snow-based activities to enjoy and a daylight visit to Brans Castle, also known as Dracula's Castle, is a local favorite.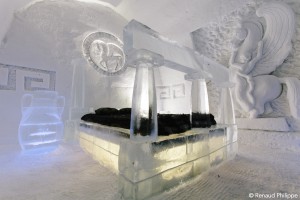 Hôtel de Glace, Canada
The Hotel de Glace is located just minutes from Quebec City, so there's no need to take a cable-car, fly overseas, or venture into a mountainous region to get to this icy inn. It was inspired by the Ice Hotel in Jukkasjarvi. Upon checking in, all of the guests and visitors are taken on a tour on how the hotel is freshly constructed from ice every year. It is annually open from January to March and boasts forty-four rooms built around an annual theme. The accommodation consists of themed rooms and premium deluxe suites that have a fireplace and individual spa optics. Do check out the nearby Sugar Shack for maple syrup frozen treats and take some time to truly admire the unique ice candelabra in the lobby which is illuminated by fiber optics.
The Igloo Village, Lapland
Located close to Santa's grotto in Lapland's Arctic Circle, the Igloo Village Kakslauttanen is a family-owned hotel. It offers cluster of accommodations in glass and snow igloos. It also features the world's largest smoke sauna. The Igloo Village has four restaurants, including two in a traditional Laplander hut. One of the available rooms includes the Gold Diggers Cabin, located down by the river with its own kick-sled for transport. Then there are the Glass Igloos available for 2-4 people, which allow guests to marvel at the Northern Lights without leaving the indoor warmth thanks to the transparent ceilings. There are also Snow Igloos, Queen Suites and the largest cabin, the Sivakka, which capable of housing up to ten guests. As a special for honeymooners, there is even a Wedding Chamber. All guests can enjoy the cool crisp air of being in the Arctic Circle and choose to go on an invigorating cross country ski trip or arrange a reindeer safari.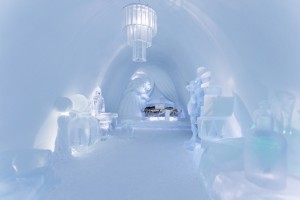 The Ice Hotel, Jukkasjarvi, Switzerland
Situated in the tiny village of Jukkasjarvi, the Ice Hotel offers views of the Swiss Alps and boasts of being the first snow and ice hotel of its kind. It attracts almost 50,000 visitors each winter. The hotel is open from December to March on a yearly basis. Guests can choose from a variety of different rooms, namely the Arts Room, The Northern Lights Room, Snow Rooms, and Ice Rooms, as well as the Deluxe Room with seating made of ice. Even the bed's headboard is splendidly fashioned from ice! It also boasts a sauna and a bathroom. When guests aren't chilling out in their room, they can simply gaze at the Northern Lights, which are visible most nights. Three in-house restaurants are available for your choosing and serve everything from Moose Carpio to Fillet of Reindeer.