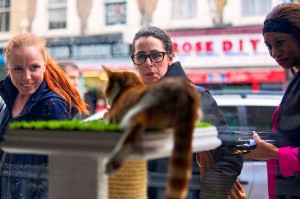 What to look for when selecting a café in London: good tea or imported coffee; creamy cakes and fresh pastries; and of course – cats.
London's first cat café – yes, a cat café – recently opened in the trendy art district of Shoreditch. The model was simple: raise £108,000 through crowd-funding via the internet, rent a space in a hip part of town, fill it with adopted cats, serve decent beverages, then watch the money roll in.
It's a first of its kind themed café whose furry occupants can be watched and played with. The idea of the café is to give stressed-out Londoners, who are unable to own pets, a bit of cat therapy. Over and above paying for their snacks and drinks, there's a small cover charge of £5 (for two hours of stroke therapy) – akin to a supervised indoor pet rental scheme.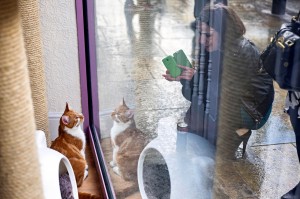 Lady Dinah's Cat Emporium is modeled on the world's first cat cafes which, back in 2004, were hugely popular in Taipei and Tokyo where animal cafes are a relatively common occurrence. Cat cafes have become incredibly popular to singletons who live in small high-rise apartments as they provide an opportunity for feline company. Since they first appeared on the scene, a few more cities joined the party: Vienna, Budapest, Munich and Paris, followed by one in the US (California), another in Canada, Korea, Spain, Malaysia, and Lithuania. Now its London's turn at Lady Dinah's Cat Emporium – an old English tearoom who opened their doors(March 2014) to animal lovers wanting a "cuppa" in the company of eleven cats.
While space is dominated by the cafe setting, there is a great deal of room for people to play with cats, and to let the cats themselves play with their toys. But it's not just being able to play with cats – it's the whole experience: a small indulgence, a place to forget about the day and unwind, coming in from the cold to a comfortable Victorian wing-back chair, good tea, a wedge of cake, a book… and a cat – purr therapy. (Okay, let's be honest here, we're all really going for the fluffy kittens!)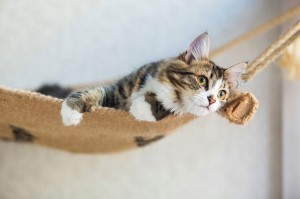 Says proprietor, Lauren Pears: 'Our cat cafe is just like a regular cafe. It sells coffee, tea, cake and snacks, but with a difference. It's full of cats.'
She adds that the welfare of their cats is important to her. 'In particular, we want to make sure we can house cats who don't have a home to go to. Our kitties are all private rescues.'
Within hours of their opening date being announced online, the cat cafe's website crashed when 3,000 cat lovers scrambled to book a table. So, for the sake of strokes, be sure to book your table well in advance!
Lady Dinah's Cat Emporium
152-154 Bethnal Green Rd, Shoreditch, London, ph +44 (0)207 7290953
* Lady Dinah's Cat Emporium is named after Alice's cat in Lewis Carroll's 'Alice in Wonderland'.