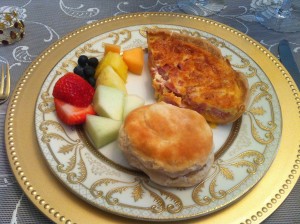 I took a bite of the delicious, hot quiche I was enjoying in our fabulous Carson Ridge Luxury Cabin in Carson, Oregon and just about swooned with pleasure. Not only was the breakfast delicious in every conceivable way, but it was even packed in a large basket and hand-delivered with an ice cold carafe of orange juice right to our door. I was enjoying breakfast in my pajamas in one of the most luxurious cabins I have ever visited. Along with the sumptuous breakfast included in the rate for the cabin, we enjoyed our huge Jacuzzi tub, flat screen television, and huge King size bed.
No matter how magnificent your accommodations may be, doesn't an included breakfast just add "the icing to the cake"? Or, in our case, "the syrup to the pancakes" like we enjoyed at Paulette's Restaurant, located in the River Inn of Harbor Town in Memphis, Tennessee. Not only did we have a beautiful suite with a view of the sparkling river, but we could just saunter down to the restaurant and order anything we wanted right off the menu every morning. It was all included in the price of our accommodations.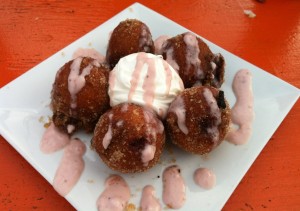 I feel pretty smug when I can arrange a stay at a location that offers a complete hot breakfast included with our stay. And I am talking about a wonderful breakfast ordered from a menu or selected from a full and savory buffet, not like some  offered at other hotels that includes an array of dried-out bagels and a bowl of rather unattractive-looking fruit. Not only does a great breakfast really add to your experience, but it's also a great way to save money when traveling.
My husband and I love a big, hot meal to start the day when we are traveling. It's a pleasant break from our rather casual dining experiences at home — which, on a good day, might include a frozen toaster waffle — and it's also a great start to a long day of touring. And it also means we can often skip lunch and get by on two meals a day, which helps with travel expenses.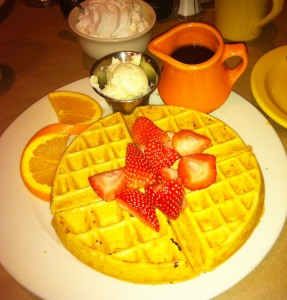 When I'm planning our accommodations for a trip, a free breakfast is high on my list of wants, along with Wi-Fi in our room and a big tub for me to take a relaxing bath. There are several ways to ensure you will have a free breakfast included when you travel.
First, try booking at a Bed and Breakfast (B&B). B&B locations have really expanded in recent years and you can find them pretty much anywhere you travel. We've stayed in B&Bs everywhere from Chicago to Tucson (even internationally!) and they are a wonderful option when you're tired of the sterile atmosphere of a hotel. They often offer delicious and unique meals for breakfast, and although you are limited to their schedule and their selections, it has been our experience that many will kindly offer to prepare something for you.
The Gervasi Vineyard in Canton, Ohio has some amazingly beautiful villas complete with fireplaces, comfy beds, and a hot breakfast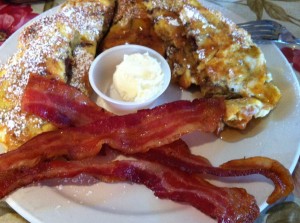 delivered every morning. After breakfast, stroll the property and sample some of the wine they produce locally. In Chicago, we had some fabulous breakfasts at the gorgeous, Italian villa-style greystone bed and breakfast, the Villa D'Citta. And we chowed down on fresh baked goodies while watching the desert wildlife through the dining room window at the Inns at El Rancho Merlita, Merle Norman's former winter hideaway!
Hotels that offer a free continental breakfast or breakfast buffet are another good choice. Some of these are going to include the dried-out bagels mentioned above, so do some research to make sure they're going to meet your breakfast requirements. Read reviews on sites like TripAdvisor, where you can even narrow your search criteria to hotels that offer a free breakfast. Many of the economy hotels offer a free continental breakfast or even a full breakfast buffet – some are exceptional. With hot waffles and other diverse selections, it sometimes makes them comparable to meals in a hotel restaurant that you'd normally have to pay quite a bit more to access.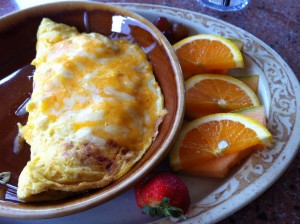 Our favorite hotel for a great breakfast buffet which includes a complete, made-to-order omelet bar is Embassy Suites. The downtown St. Louis location is in a beautifully remodeled and historic department store located near the Arch and other tourist destinations. The downtown Chicago location is right near the river, Lake Michigan, and plenty of great restaurants where you should sample that famous Chicago pizza.
My personal favorite place to stay is a very nice boutique, luxury hotel or resort which includes a hot, restaurant-style breakfast. We found a place like this on a trip to Niagara Falls when we stayed at the Red Coach Inn. Not only were we steps away from the rapids leading to the falls in a lovely, historic inn – we got a delicious, warm morning meal for free!
We spent a few days last summer at the Little Sister Resort in Door County, Wisconsin, which is not only located just a few steps away from a very nice swimming beach and has exquisite furnished cabins, but also offers a full breakfast menu along with a different freshly baked pastry option every day.
One of my very favorite locations is the lovely Henderson Park Inn in Destin, Florida. This beautiful inn with a friendly staff is right on the beach and is the only place I have stayed so far that includes lunch as well as breakfast! Just put in your order for your boxed lunch each morning and enjoy freshly made sandwiches or salads every afternoon. The extra amenities at this location are also greatly appreciated and include beach towels, beach chairs, candy bars, and bottled water and soft drinks.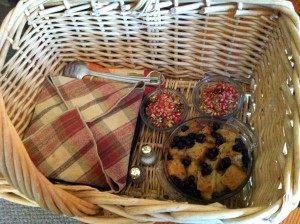 You won't find very many all-inclusive resorts in the United States, but an exception is the High Hampton Inn in Cashiers, North Carolina. Not only has this family-friendly resort straight out of "Dirty Dancing" been a family favorite for generations – they include every single meal in your rate when you stay there! Every meal is equally delicious, and you should try to visit on a Sunday when they serve their justifiably famous fried chicken.
When you travel, it is certainly possible to find a free breakfast (and perhaps even more meals if you look carefully) when you book. If all else fails and you really want to save some money, McDonald's actually has some pretty good pancakes!