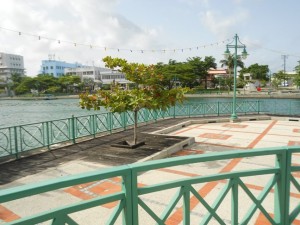 Located in the Caribbean, Barbados appeals to visitors who simply want to kick back and enjoy the sun, sea, and surf. With its aqua blue sea and powdery beaches, you are never too far away from a place to sit and relax. But when you feel like doing some exploring, Bridgetown (Barbados' capital city) is the place to head to. It's easy to get to from just about anywhere, no matter where you are in the country. Simply hop on a bus marked to the 'City' for the price of just two Bajan dollars (US$1.00) or hail down a mini-bus taxi.
The entrance to Bridgetown is across the Constitution River (also known as the Careenage) on the Chamberlain Bridge. It is a historic, decorative humpbacked bridge that was originally called the Indian Bridge when it was first built in 1872. The significance of the bridge is that it gave rise to the name of the city, "Bridgetown".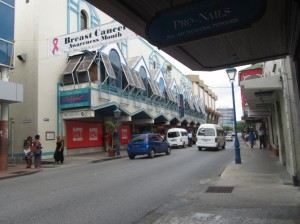 Once you cross the bridge, you officially enter the city's main shopping plaza. Although it is a fairly small area consisting of only a couple streets, the upside is that it's a haven for duty-free shopping. Simply show your passport and return ticket at any shop you make a purchase at to qualify for the duty-free price.
Broad Street is the street for shopping. It runs parallel to the river and is where most of the banks and the bigger department stores are located. For those who have visited Bridgetown in the past, you may remember a shop called Woolworths. Founded in 1956, it still exists today at its original location on Prince William Henry Street. Nearby, you'll also find the pride and joy of Barbados: the Cave Shepherd premier department store. It offers a sprawling perfume department on the ground floor that features both men's and women's top perfumery brands. Visitors can also enjoy the souvenir area that offers traditional Bajan food like Bajan Great Cake (also known as Black Cake), jars of hot pepper sauce, and bottles of Bajan rum. On the second floor, there is a wide selection of books and magazines, toys, children's clothing and women's apparel. There is also a small coffee shop that serves cakes and pastries, and there are two nearby restaurants to relax and have a bite to eat.
Flying fish is a must-eat dish when you visit Bridgetown. It is the national fish of Barbados and is traditionally served as the main part of the signature dish called "Fried Fish and Coo-coo'. The flying fish is seasoned, dipped in batter, fried, and served with okra. It is then cooked with cornmeal and butter, making a dish that bears similarities to Italy's polenta.
Within the capital city, there are a number of restaurants where you can try the signature dish. The Waterfront Cafe is located, as it suggests, on the waterfront. At this popular restaurant, you are free to dine inside or out on the riverfront. Ryanne's Restaurant on Broad Street offers local cuisine inside or out on the terrace. Brown Sugar Restaurant on Bay Street offers a buffet and a variety of the area's finest dishes a la carte.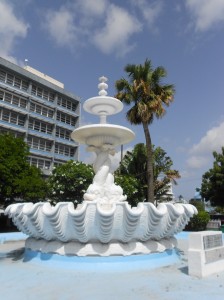 While in Bridgetown, you can visit the National Heroes Square, which is located off the main shopping area obliquely opposite to the parliament building. The square is simple, tiny in size, and features a landmark statue of Admiral Lord Nelson, a British flag officer of the Royal Navy. It was erected in 1813 to commemorate his historic visit to the island. Opposite is the Cenotaph War Memorial, a commemorative column dedicated to those who died while serving in World War I.
Close by are the Fountain Gardens where visitors will find a beautiful white Dolphin Fountain. It was built in 1861 and opened by then-acting governor Robert Miller Mundy, Esq. to mark the introduction of piped water systems in Bridgetown. The Montefiore Drinking Fountain is located on Coleridge Street facing the library. It was donated in 1865 as a memorial to John Castella Montefiore, a businessman who died from the cholera epidemic of the day. The fountain features neo-Gothic decorative art featuring ornate statues that represent the values of justice, prudence, fortitude, and temperance.
The Cathedral Church of Saint Michael and All Angels, or St. Michael's Church as it is more commonly known, is an Anglican church in the centre of Bridgetown and can be seen on most souvenir postcards. The Independence Arch was built to commemorate the 21st year of Barbados' independence. There are many symbolic features built into the stonework of the bridge such as flying fish and national symbols. It offers visitors a pedestrian-only way to cross over the river and into the city's most fascinating destinations.
Bridgetown offers enough shops to get you excited and features numerous historical attractions – so many, in fact, that UNESCO states it is "an outstanding example of British colonial architecture". So, visit Bridgetown the next time you are in Barbados to take in some unique shopping experiences and historical monuments you won't find anywhere else.