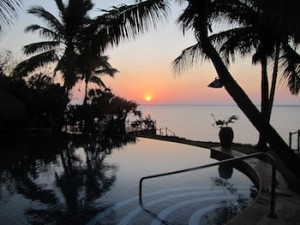 Africa isn't normally associated with tropical islands where you can wallow in luxury. It's a continent painted with the brush of poverty, but beneath that false impression lie some wonderful countries waiting to be explored – and you don't even have to be adventurous or a fan of roughing it to do so.
For an exotic holiday where the taste of Africa is wrapped in style, take a magnifying glass to your map and find the little island of Bazaruto. It lies just off the coast of Mozambique in an archipelago that's been declared a national park.
It's the perfect place to chill for a few days after a tour through some of neighboring countries, or a great spot for those looking for some beach time to end a safari experience.
It's also a destination in itself for well-heeled Africans, including stressed city slickers from Johannesburg who can get there quicker than they can get to Cape Town.
You reach the island by means of a taxi-boat moored close to the Vilanculos airport on the Mozambique mainland, and your giggles of relaxation start as you watch porters hoist your luggage onto their shoulders and wade through the clear warm ocean.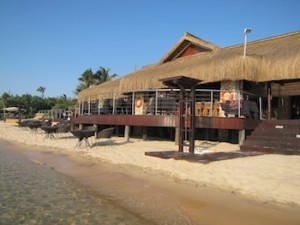 The Anantara Bazaruto Island Resort & Spa is a sprawling but discreetly designed hotel with individual thatched villas on the beach. Each luxury villa has a large bedroom and living area, a massive bathroom with a sunken tub facing the ocean, indoor and outdoor showers, and a complementary mini-bar.
I was there with a group of female companions and we made full use of the hotel's amenities and activities, including the gym, two swimming pools, horse riding, snorkeling and dune boarding. But first we were off to the spa to try the rasul, an Arabian steam room that usually involves lovers smearing mud all over each other as the heat rises and visibility decreases.
With five other women for company I rather primly did my own smearing. But soon we relaxed and conversations grew sillier as we laid back and enjoyed the rasul's soothing warmth.
Then it started raining from the ceiling as water gushed out to wash off the mud. It was an indication that it was time to follow an outdoor path to a Jacuzzi overlooking the Indian ocean.
Bazaruto is a lush and picturesque island just 35km long and 7km wide in size (21 miles by 4 miles). But unlike other tropical isles, Bazaruto has the odd sight of shimmering sand dunes rearing up behind a solid green barrier of palm trees. That's where we went one afternoon, bouncing along in a 4×4 filled with dune boards. As we clomped our way up the dune, we laughed to see that our porters had beaten us to it and had already set out a table and dining chairs on the summit. A tablecloth flapping in the wind was thoughtfully pinned down by a cooler-box of drinks and snacks.
One guide handed me a sand board and I hopped on a little nervously. The dune didn't look so steep once I was perched on top, but I gave it a much closer inspection than intended by tumbling off instead of gliding to an elegant stop. For the next few goes I had it cracked, whizzing down easily, then scrambling back up for another go. But two white wines later my balance was out of whack and I hit the sand headfirst again.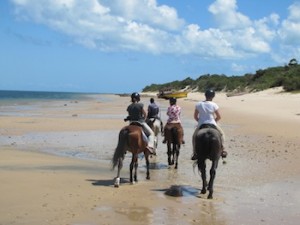 Horse riding is another must-do activity, and as a first-timer I climbed on my horse with as little grace as I'd tackled the sand dune and with much more wobble.
When everyone was saddled up we set off to explore the beach.
The next day we took a speedboat to the preciously named Paradise Island, stopping to swim with dolphins on the way. We snorkeled in tepid water and dined on grilled seafood swallowed with cocktails made of gin, lemonade, and soda, invented so because the boatmen forgot to pack the tonic.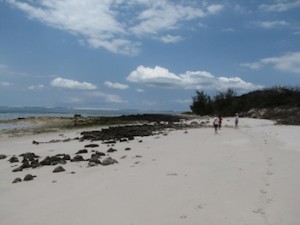 Paradise Island once went by the more glamourous name of  Santa Carolina and was a European honeymoon hotspot decades ago. Now its hotel and villas are abandoned, with crumbling concrete masked by decades of leaves and weeds. It's not quite Inca city, but the desolation adds a touch of melancholy that makes an island excursion more evocative.
Breakfasts at Anantara Bazaruto are served in the Golfinho restaurant, where you can ignore the fruit and bran and have a calamari stir-fry cooked to order. There are pastries a-plenty – you'll still be brushing off crumbs when it's time for lunch at Clube Naval. The crab curry is a tingling treat and the Salad Niçoise is made with succulent flash-seared tuna. Dinners are memorable too, with large and imaginative buffets being the favorite option so you don't have to decide on only one or two dishes from the menu.
One night the chefs decamped to a terrace on the beach to rustle up a seafood barbeque, serving giant prawns, succulent fish and calamari to the lulling sound of the ocean.
Dinners and drinks are included in a price that starts from around $600 per villa per night, with rates falling for longer stays, and packages that include activities at a discounted price.
For details see http://bazaruto.anantara.com/