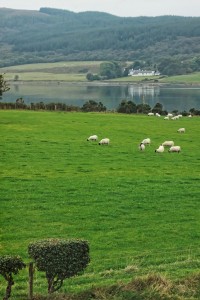 Colintraive is a quiet coastal village on Scotland's west shoreline; the nearest town being Dunoon is some twenty minutes away. At one time cattle would swim across the narrowest point from the Isle of Bute, on their way to the markets of lowland Scotland. It's barely more than a couple of hundred yards across but now a Cal Mac ferry departs from Rhubodach on Bute, providing a back door to the mainland.
Nothing much happens in the village other than the really good food and a knees-up at the local pub – both found at the quirky Colintraive Hotel, a multi award-wining country inn set in one of Scotland's most picturesque corners. The Colintraive is the heart of the community and is all you'd expect a country inn to be: loads of atmosphere and character features in a large old Georgian home, a wood burning fireplace, a cosy pub (and interesting locals), great views, and friendly faces – it's guaranteed you'll immediately feel at home. The public rooms are furnished with an eclectic mix of individual pieces you'll not find in regular city hotels; even the pictures on the walls are real art.
There are only four rooms at the Colintraive, with the best one being Room 2 – Attenburgh. It's the superior double, which is spacious and comfortable, with a gorgeously deep bed, crisp linens and views across the countryside and loch where all day a small ferry plies its way from one bank to the other.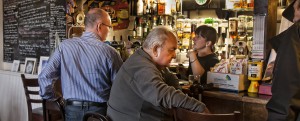 There's a reassuringly quirky blackboard food menu in the bar displaying a wealth of information about the hotel (and its staff). The menu is imaginative and serves local seafood, shellfish and juicy lamb steaks from the Isle of Bute as well as warming comfort food such as beer battered fish and chips. They make everything from scratch and they're certain  their food would rival anything that you'll find in a top city restaurant.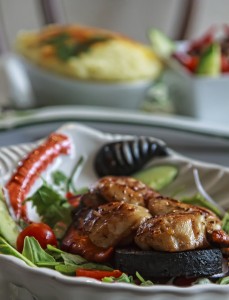 They're well known for their seafood delights and use langoustines from the water in front of the hotel, and their grand King scallops (you've never seen scallops this big!) come from nearby too. Whilst my dinner date had the deep filled fish pie which, he claims, to be the tastiest he's ever eaten, I feasted on a plate of scallops and black pudding, which was cooked to perfection. They're clearly committed to serving the best locally sourced produce, which they present in the most unusual retro plates. A local confided that their haggis, Stornoway black pudding, neeps and tatties [turnips and potatoes respectively – Editor] are also very good, as well as dishes containing local game. Before turning in for the night be sure to try one of their single malts, many of which are renowned for their distinctive peaty characteristics.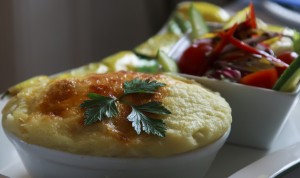 The Colintraive is a small country hotel and gastro-pub, crowned with the hospitality Scotland is renowned for; its miles away from just about everything and can accommodate only a few tables for dining – so be sure to book. Their room rates start at £95.
Although the hotel is a three-star, its neighbouring guest house, Eilean Dhu, must be at least a five as it's nothing short of ultimate luxury. It starts with its own enclosed garden to one side and then up the garden path to the front door and a large entry hall which leads to four immaculate bedrooms on ground level, one of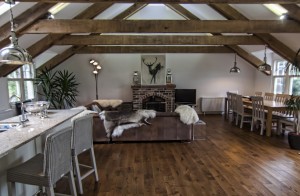 which is a king (ensuite). Up the impressive staircase to the spectacular open plan kitchen and living area with utterly fabulous views through the floor to ceiling bi-fold glass doors that open up to a large terrace. Off the living room is another king sized bedroom (ensuite plus a walk-in wardrobe). Eilean Dhu is a light and airy designer home with all the whistles and bells you could wish for – underfloor heating in the showers, a log fireplace, wooden beams, John Lewis furniture, original pieces of art – and it's right next door to a gastro-pub! What more could you ask for?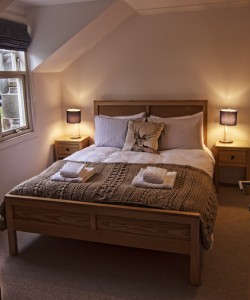 Eilean Dhu sleeps up to ten with rates starting at £495.
Getting there: Should you be travelling from London, the entire London to Colintraive journey is just on 5½ hours in duration. Okay, so you could get a flight from London to Glasgow but then you'll need to contend with queues and security checks – and you'll be missing out on the spectacular countryside you'll be hurtling through whilst on the train. The easiest and quickest way to reach Glasgow is via a high-speed Virgin train from London Euston (£92 return). Be sure to book in advance to secure the best price. Once in Glasgow hire a rental car from carrentals.co.uk and drive for 1½ hours to Colintraive. Car hire prices start from £14 per day.
For more information about holidaying in Scotland, see visitscotland.com.