In Rajasthan, it's the colors that strike you first.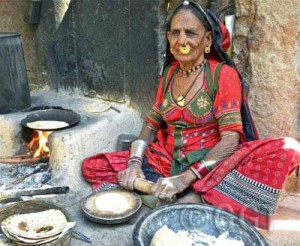 It's the vibrant, striking colors worn by the residents of this ancient – and very proud – region, called "Land of Kings" because of a royal history like no other part of India. The land in which they live is a dry, often-monochromatic desert. But the history of Rajasthan is anything but monochromatic. It pulses with the ebbs and tides of a tumultuous history. And even though modern-day life can be hard in this unforgiving landscape, the people wear their colors with great pride.
This is a place of legends and lore, palace intrigue, spectacular forts and ornate palaces. But it is also a quiet place of friendly people, humble villages, and a fascinating culture not often seen by the average traveler.
It's a place filled with the trappings of ancient royalty, and it won't take you long to see why it's called the "Land of Kings." The state of Rajasthan has its own very distinct culture and singular history… and a people who take great pride in their "royal" pedigree.
Even the place-names roll off the tongue with a sort of mysticism and majesty. Cities such as Jodhpur, for example. And Jaipur. And Agra. These names are known even to people who haven't traveled to India. And they're cloaked in a sort of "exotic" Eastern mystery that makes the state of Rajasthan even more enticing.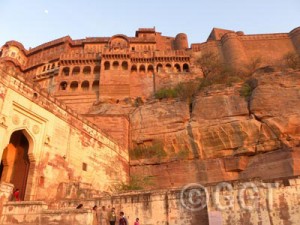 Travelers to Rajasthan are always amazed at the diversity they find here, in the historic cultures and the extremes stretching from those iconic cities to the rural villages of Ramathra.
Now, you can unpeel these layers of treasure for yourself. A Connecticut company called Geringer Global Travel, which runs trips all over the Indian subcontinent, can take you into the heart of the "Land of Kings."
On this journey into the heart of Rajasthan, you'll actually get to check off a major item on any traveler's Bucket List… the Taj Mahal. (But more about that later!)
On this journey into the heart of Rajasthan, you'll walk the streets of Old Delhi with a local expert who'll regale you with the tales and legends around each corner and show you a few surprises along the way. You'll discover the charming village of Rawla Narlai and relax at a gourmet dinner at a lit stepwell, a sort of romantic pond at which the rest of the world will quickly fade away. You'll take a safari through the Bishnoi tribal villages in Jodhpur, and see some of the local customs firsthand. You'll try your hand at creating some traditional Jaipur cuisine with the assistance of a well-known local chef who'll have you tossing spices as if you were born doing it.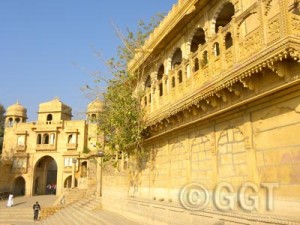 In the northern city of Delhi, you'll walk past – and into – the ornate mosques of the ancient Mughal emperors. In the village of Delwara, you may lodge, eat, and drink like one of them if you stay in the restored 18th-Century Devi Garh palace, now an all-suite hotel. And in the lakeside city of Udaipur, called the "Venice of the East," you'll see the stunning palaces built by royal rulers and impressive Hindu and Jain temples.
You'll pass through the scenic Aravalli Hills and on to Ranakpur, one of the five important pilgrim centers for the Jain community. It's the site of their most beautiful temple, deftly crafted from enormous blocks of marble.
The bustling city of Jodhpur – "The Blue City" – sits in stark contrast on the edge of the empty Thar Desert. Jodhpur is known for its vibrant folk art and lively bazaars, at which you can find that one-of-a-kind item that will decorate your mantle for the rest of your life. Here you'll see the Mehrangarh Fort and hear the stories of its history. Here, as well, you'll be able to take a safari to ancient villages that were practicing "conservation" for centuries before the phrase became fashionable in the rest of the world. Then it's on to Nagaur, once a center of Chishti sufi saints and famed for its sandstone fort, which has since been the scene of many battles of historical importance.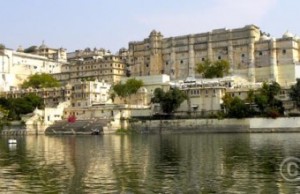 The city of Pushkar is revered by Hindus, with good reason – it's home to over four hundred temples. You'll pass through it on the way to the legendary city of Jaipur, which has a very interesting historical distinction: It was built on a grid system based on Hindu architecture, making it a "planned city" long before the concept had ever been heard of in the Western world. In Jaipur, you'll be able to take a ride – either atop an elephant, or, if you prefer, in a jeep – to visit the Amber Fort. And you'll explore the pink Hawa Mahal Palace ("of the winds"), the 17th-Century observatory, and the City Palace, where you'll walk in the footsteps of the Maharajas.
If you're lucky, you may have the option to cap off a memorable day by cooking dinner with a local chef such as Thakur Durga Singh, at which you'll be receiving a lesson not only in Rajasthan cuisine but also in culture and history.
You'll pass through the silent city of Fatehpur Sikri, a red sandstone city built as a showcase capital by Emperor Akbar, but then mysteriously abandoned – even local historians don't know why. After arriving in Agra, you may observe the still-respected custom of High Tea with a local family, and explore historical landmarks like the Agra Fort.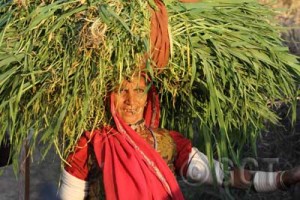 The best is, fittingly, saved for last. In Agra, you can stand in a reverent silence and watch the sun set over the Taj Mahal. Built by Mughal Emperor Shah Jahan in 1653, it's a mausoleum and an enduring monument of love for his deceased third wife, who died giving birth to their thirteenth child. Legend has it that the Emperor never left his room for a year after his wife died, and when he finally did emerge, his formerly jet-black hair was all gray. His emergence from hiding was accompanied by his edict to create the most magnificent building in the world.
You'll marvel at the spectacle of the setting sun dappling the swoops and swirls and loops and arches of this extraordinary palace with tinges of lavender and purple and burnt-orange and pink and red. And you'll realize – very quickly – that this is one moment in life that you'll never forget.
At that moment, you'll experience the true essence of the "Land of Kings."