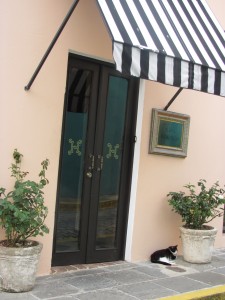 The legacy of centuries past meets up with the energy and imagination of contemporary generations and awaits visitors today in Old San Juan's assortment of entertainment, cuisine and fine galleries today. The multifaceted character of this historic quarter of the Puerto Rican capital is also visible in its array of local guest accommodations, which embraces the best of traditional, colonial and period design with the edginess of hip and retro inventiveness with ease.
Each of the hotels within this wonderfully diverse range also stands as a cultural landmark and vital dimension of the Old San Juan experience alongside all the district's leisurely activities.  Check into one of these exquisite residences and you may come away with a memorable chapter in your own journey. Visitors will experience Puerto Rican urban life as it was then and how it continues in Old San Juan today.
Casablanca Hotel
Before arriving, you might assume this establishment – situated centrally on one of the district's main arteries – could be a little over the top in living up to its name.  Not at all. In fact, this CasaBlanca Hotel creates its own fusion of whimsical style amidst period architecture, elegant fixtures and maintained furnishings without ever trying too hard.  As its name suggests, hotel schematics are inspired by North African design and ambiance along with artful references to cinematic legend. One such example is a ground floor dining lounge called Rick's, a nod to the Rick's Café Américain establishment that appeared in Casablanca. The real-life Rick's has become a local favorite and is open for leisurely breakfasts.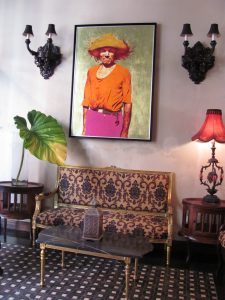 Upon entering the cool and high-ceilinged lobby, it becomes apparent how much effort was put into achieving that North African design motif here literally from the ground up, with the original floor tiling diligently reconfigured to reflect a rug shape for the area.  The Moroccan pattern continues from here to the terrace where oversized stone bathtubs allow for leisurely views of the old city.  With just thirty–two guest rooms, there is a prevalent sense of calm and community you can feel over just a few nights' accommodation.  While you're resident here, you can also rely on in-room modern amenities such as hairdryer and irons upon request and microfiber bed linens and bath towels.  Most rooms have windows to the interior atriums, although balcony rooms and suites enjoy city vistas.
Central to much of the Old San Juan historic points of interest, along with area shopping and entertainment, CasaBlanca Hotel provides a friendly and atmospheric residential-style stay.  Everything remains authentic here, be it the restored mix of antique French and Spanish furnishing, the thick brick walls or the vivid artwork gracing the walls. Every component contributes to a stay that is an essential part of your overall experience of this unforgettable city quarter.
– 316 Fortaleza St.; Tel: 787-725-3436; www.hotelcasablancapr.com
Da'House Hotel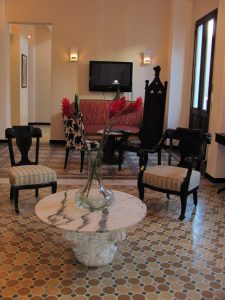 In an earlier life, the centrally located Da'House Hotel used to be the premises of a national arts center building.  These days, it maintains a connect to the arts by showcasing a permanent art exhibition that includes some of the island's leading printmakers and an art collection provided by the Arte Foundation.
That connection also extends from public area design detail to guest room decoration, where walls also display original artwork by native Puerto Rican artists.  This tall four-story building has accommodation on its upper three levels and the higher the floor your room is on may also be the most secluded and quiet.  Within its guest quarters, Da'House reflects a simple yet striking color palette of black and white and earth tones, along with surfaces of original tile and wood and wrought iron, to produce an understated but atmospheric "contemporary old world" ambiance.  Each room has original pieces from Puerto Rican artists.  Bath and sleeping areas are clean and comfortable, functional and small in size – then again, it's in its public spaces that Da'House provides for relaxation and comfortable ambiance.  There is also free Wi-Fi in the second floor lobby, along with plentiful lounge space.
Aside from its imaginative décor, the other standout feature of this small hotel is its rooftop terrace which affords panoramic views out across the city and the "El Morro" fort.  For those inclined to an after-hours entertainment experience nearby, you cannot get any closer than the downstairs quarters of the Nuyorican Café, which is home to its own vibrant nightly musical and creative scene with salsa, jazz, and more.   Again, for those who want quiet over city and club sounds, the solution here is the upper level rooms.  Da'House is an affordable, friendly and functional fix for those who want to be central to the old city's best.
– 312 San Francisco St. (enter from Callejon de la Capilla); Tel: 787-977-1180; www.dahousehotel.com
Hotel El Convento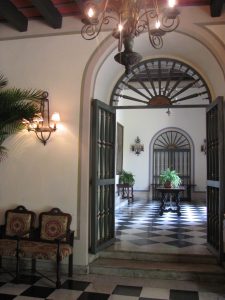 A historic structure that nowadays provides its guests with memorable moments of both grandeur and intimacy, the Hotel El Convento has always been one of the landmarks that defines Old San Juan.  A former Carmelite convent built three centuries ago, the premises were renovated into a leading hotel of the capital in the early post-war years by Robert Woolworth, heir to the Woolworth fortune.  In the decades since, it has again been updated with new amenities for the traveler while always retaining its original colonial charm in features such as marble chessboard floors and mahogany furnishings.
While imposing in its spacious entryways and its exterior size and design, El Convento still retains and creates intimate and even secluded spaces.  There are just fifty-eight guest rooms ranged on the upper four floors of the building, with each interior drawing on a rich use of tile, wood, porcelain and metals to evoke the colonial period style.  Other pleasures onsite include three restaurants with dining choices ranging from gourmet to popular island fare, from casual get-togethers in the courtyard to the lounge ambiance of the La Veranda Terrace for a wine reception.  The hotel recently completed a major update of Salon Paoli, one of the property's venues for hosting intimate ceremonies and receptions for up to eighty people.
While it certainly remains a pivotal point inside this wider district, El Convento is very much a living landmark; after all, it's situated just steps away from narrow streets bordered by designer shops, fine dining and imposing forts and cathedrals.  Designated by the government of Puerto Rico as the "official guest house" for visiting heads of state and dignitaries, over the years it has also welcomed celebrities such as Ricky Martin, Marc Anthony and Gloria Vanderbilt, for whom the main Vanderbilt Suite is named.  The hotel is a member of the Small Luxury Hotels of the World and also an historic AAA Four-Diamond property.
– 100 Calle del Cristo, San Juan; Tel: 787-723-9020; www.elconvento.com
Villa Herencia Hotel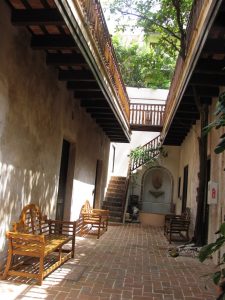 Villa Herencia preserves all the outward aspects of an old world urban villa behind closed walls, opening up to reveal its inner elegance and seclusion.  Dating back to 1885, this idyllic area stay nowadays displays all the architectural detail that originally made it a place of solitude for nuns. Now it's been perfectly transformed into a blissful retreat behind closed doors, its high walls standing tall amidst urban surroundings.
Although the word "hotel" is used here, this is a distinctly residential style, an intimate and secluded area abode for travelers who appreciate an opportunity to firsthand experience the villa style that was part of Old San Juan's architecture.  You enter the premises from a side street leading downhill towards the Bayfront and are immediately within a tranquil courtyard, with staircase leading up to the second floor and roof areas.  There are just eight luxury guest rooms, each decorated with furniture handcrafted by some of the island's most renowned wood masters such as Margarida and Marini.  Expect to also see canopied beds with mosquito netting, spacious armoires and side tables, and bath areas with a large shower, sinks and vanities.  The two rooms on the rooftop have the additional benefit of immediate access to a splendid rooftop terrace, an area that provides fine city vistas along with being equipped with some old-fashioned tubs for spa sessions.
Casa Herencia offers a well-prepared morning continental breakfast that includes eggs, fruit and yogurt in their twelve-seat dining area.  Most of the district's historic and popular points of interest are within minutes' walking distance.
– 23 Caleta de las Monjas, San Juan; Tel:  787-722-0989; www.villaherencia.com