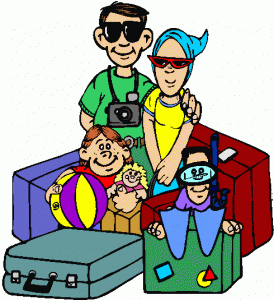 You drag in your suitcases and other assorted paraphernalia (especially if you have been on a car trip), drop it all in the middle of the floor, and collapse onto the couch. Your trip was amazing in every way but now you are home, and you are exhausted. After several years of travel, here's what I have learned that makes that coming home part of the trip a little less painful.
Before you leave on the trip, make your bed. Am I the only one who loves getting into a nicely made bed with clean, fresh sheets? Surely not. If you are leaving really early so that stripping your bed and changing the sheets is way too much trouble, do it the night before. Then just quickly make up your bed before you leave. You will be so happy when you fall into it, especially if you arrive home late at night.
2. Toss used towels in the hamper and put out fresh ones the night before. Those fresh towels are going to feel so nice after your shower or bath to get off that yucky travel smell and feeling.
3. Leave duplicate toiletries in your bathroom. There is nothing as annoying as rooting through your suitcase for your shampoo and soap when all you want to do is relax in a hot bath after your travels. It's much easier to have duplicates and, in addition, that way you can just leave your toiletries bag packed up ready for the next trip.
4. Take a photo of your belongings before you pack them. Take several photos and save them. This can be invaluable if you lose your suitcases and are trying to remember everything you had packed in them!
5. Cross-pack your suitcases. If you are traveling with a companion, divide all your clothes, etc. and place half of each of your belongings in each of your two suitcases. That way, if a suitcase is lost, you still have some of your items. We did this on our last trip to Europe and, when one of our suitcases was lost for a short time, I was relieved that I could still have some clothes!
6. Take everything out of your wallet that you will not need on the trip. If your wallet is lost or stolen, you will be really glad you only have one or two credit cards to cancel and that you don't have to replace everything in your wallet.
7. Make copies of your passport and birth certificate and save the copies where you can easily access them. Getting a duplicate passport is much easier if you have this information readily available.
8. When you get home, put your suitcases right by the laundry room/closet if feasible. Depending on how early in the day we arrive home, I usually just take our clothes right from the suitcases and put them in the washer. Why make several steps out of unpacking when you can make it only one? The sooner you can get that suitcase emptied and put away, the sooner you can relax.
9. Plan for a meal when you arrive home. There's nothing quite like arguing over who gets to run to McDonald's for dinner when you arrive home, is there? Nobody wants to mess with that. Depending on how long you will be gone, you can leave items in the fridge to whip up a quick dinner. Breakfast items like eggs and bacon will keep for quite a while and so will lunch meat and cheese. Just toss a loaf of bread in the freezer for toast or sandwiches. If you are really industrious, put together a casserole and stick it in the freezer to bake when you get home. Actually, the best scenario is if you have family who will come over and leave a meal for you in the crockpot!
10. Take your keys with you – or at least your door key! Trying to lighten our load on one trip, we left both of our sets of keys at home only to find that our son was not home when we arrived late at night and exhausted. It was not fun sitting on the front porch with our luggage waiting for him to let us in.
Try these tips the next time you travel and I think you will find your arrival home after your trip is much more pleasant.