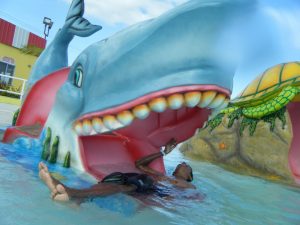 The best thing about summer has got to be splashing about in water, after all, who doesn't like getting wet when the days are balmy and hot. While many kids and adults look forward to the seasonal opening of the summer water parks there's always the worry about the unpredictable weather, going on a rainy day or when there is extreme heat, dehydration or sun burn. So, what other way can you enjoy a water park without having to wait for summer or worry about the weather? Check out these indoor water adventures that are open year-round despite it being bitterly cold or extremely hot outside. Every one of these water parks features a heated indoor area that has slides, chutes, tree house bucket drops, pools and kiddie water spray areas, so let's see what sets them apart.
Great Wolf Lodge, Grand Mound, Washington
This indoor water park is accessed as a guest only at the Great Wolf Lodge hotel with wristbands for free entrance as paying hotel guests. It is maintained at a comfortable 84 degrees warm year-round and with a logo that encourages you to swim, splash and slide – you just know it's going to be fun. The younger kids will enjoy the multi-level, water drop tree-house known as Fort Mackenzie which has escape water slides called the Totem Towers. Just listen for the bell to know when the bucket is about to pour gallons of water over waiting crowds. Then take the kids over to the Tadpole Pond where they can run under water sprays in the form of mushrooms and trees. Adults and older kids can enjoy the red and yellow checkered Howlin' Tornado which stands 6ft tall. It begins in a raft that twists and turns through a water chute before swirling round and round down a funnel shaped water slide! Book 60 days in advance for savings. Open year-round.
Wilderness Territory Water Park Resort, Wisconsin Dells, Wisconsin 
Spanning 600-acres, this water park can only be accessed as a hotel guest of the resort. It offers not one, not two but four indoor water parks maintained at a soothing 88-degrees and four outdoor pools too! The indoor water parks are the Klondike Kavern, the Wild West, Cubby's Cove and the Wild Waterdome. The newest thrill ride is the Claim Jumper Challenge which is a state-of-the-art slide boarding experience at the Klondike Kavern. One of their popular rides is the Hurricane which is a funnel raft ride that not only sends occupants plummeting from 58ft round and down, but also has lightening and fog for that extra thrill. Entrance to the water parks are exclusive to hotel guests.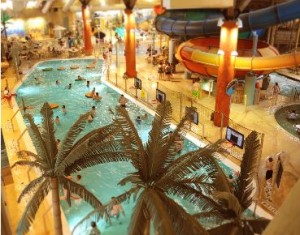 Splash Lagoon
This indoor water park brings a Polynesian theme to Erie, Pennsylvania open 365 days a year. Reflected in the names of the adventures, try the soothing whirlpools of Paradise Cove or Lava Pool or the biggest slide called the Big Kahuna which is 52ft high and then there are three extreme rides for older kids and adults. Try the Black Hole which is a covered water slide that sends you plunging through the darkness until you land in shallow water. When you start getting hungry there's a food and lounge area. Try the Laguna Grill for kids favorites such as pizza, fries and burgers. There's a lot to experience at Splash Lagoon which occupies 80,000 sq ft of slides, chutes, pools and rides with names such as the Big Kahuna, Maui Waui and Tiki Treehouse.
Aquatopia, Pennsylvania
At the Camelback Mountain Resort in Tannersville is one of the newest water park additions having opened in 2015. It offers year round fun under a special see-through roof that covers 125,000 square foot area. It includes slides, 7 pools, and the Great Ka-na-gawa Wavepool with an Arctic theme setting where waves vary from feet high to gently undulating. The Bombora FlowRider is ideal for surfer dudes and dudettes. Entrance is via a daily pass which can be purchased online or at the park.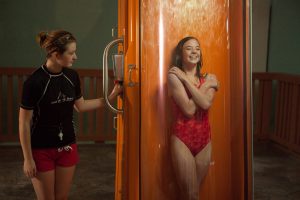 Avalanche Bay Indoor Waterpark, Boyne Falls, Michigan
Open year round in the Boyne Mountain Resort in the heart of Michigan. No hotel stay is required for entrance but as a guest of the hotel you receive extra perks like use of the water park on the day of checkout! The heated indoor water fun is ideal for the adventure seeker daredevil. Go to the ProSlide called the Big Couloir where you stand in a launch capsule, the trap door releases below and you plunge into a 360 loop of a ride. Then try the Super G Slide that shoots you through tubing twisting and turning at exhilarating speeds. Want to try surfing then hop onto the Rip Zone the ultimate surf simulator! Day passes are available; kids 3-10 have a junior rate and must be accompanied by an 18+ adult and toddlers less than 2yrs get in free.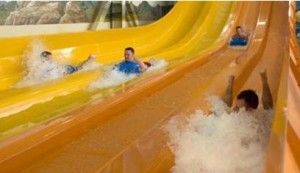 Kalahari Resort, Sandusky, Ohio
No need to go to go abroad when the Kalahari Resort brings the year round experience of an African-themed water park to your doorstep in Ohio. The vast indoor area, which is said to be the equivalent size of three football fields, pitches houses a variety of water thrilled fun. Experience the Zip Coaster which is a raft for two persons that plunges and goes up a waterslides track like a roller coaster. If you'd like to enjoy riding on a mat try the 55ft tall Cheetah Race which allows you race side-by-side down a unique waterslide. Other rides include the Elephant Trunk, the Rippling Rhino, the Swahili Swirl, Tanzanian Twister which cover waterslides and inner-tube slides. Admission is via daily pass. There is a special rate for children less than 42″ in height, toddlers under 2yrs get in free and there are military discounts available. There is a discounted fee for spectators only and a reduced rate for after 5pm admission. (Generally closes around 9am).