Say Salzburg and most people think of Mozart or The Sound of Music. However, this bijoux Austrian city offers much more, like a medieval citadel overlooking the River Salzach, ancient pastel buildings and Baroque domes and spires.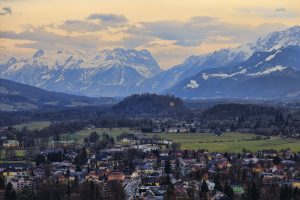 What adds to the appeal is that Salzburg is big on culture and exquisite taste, as displayed in its classic coffeehouses that serve heavenly wedges of cake and fair-trade coffee, and its classic chocolatiers who hand-make Mozartkugeln – chocolate covered marzipan balls with the head of the musical genius on the gift-wrapping. Many shops offer Mozartkugeln, but be sure to go for the original Salzburg version, created by the Fürst family (13 Brodgasse).
As Mozart's birthplace, his name is attached to everything from the airport to cafés – but his is not the only show in town. In the summer, thanks to a month-long extravaganza of opera and classical performances, the Salzburg Festival stages +200 events (plus many more throughout the year). This will quite literally have the sound of music reverberating off the surrounding mountains. The Salzburg Festival has developed into what may well be the world's most famous event of its kind. The festival is also an unofficial but important trade fair of the international classical music industry, drawing many of the world's top conductors, musicians, singers, producers, talent agents, opera managers and recording executives.
If you'd rather see Salzburg in a more leisurely mode, go before or after the five festival weeks. There will be first-class musical events every day – like the operatic puppetry of the Salzburg Marionette Theatre, (24 Schwarzstrasse) who perform Swan Lake, Peter and the Wolf, Alice in Wonderland, as well as Wagner and Mozart.
Its pedestrianized cobbled streets lead to medieval stone houses and Italianate marble palaces,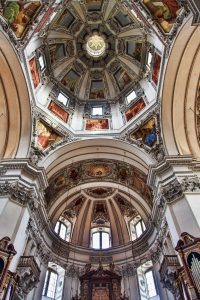 wood-panelled taverns, hidden arcades and chic art galleries.
With the Cathedral at its heart, the Old Town is surrounded by arches, pretty fountains, grand buildings and five bustling squares: Mozartplatz, Residenzplatz, Cathedralplatz, Altermarkt and Kapitelplatz (buy heavy rye sourdough loaves and soft Briocheknopf's at Stiftsbäckerei St Peter a 700-year-old bakery on 8 Kapitelplatz). From November 18 until December 26, all five squares become the site of one of Europe's finest Christmas markets. You might need a few euros for the bratwurst dripping with cholesterol and gluhwein (hot mulled wine); but the charming festive atmosphere comes free of charge.
There's hardly a more potent introduction to Salzburg than the Baroque Mirabell Palace and Gardens – the setting for many of Mozart's early performances and several scenes from The Sound of Music.
Take the 19th-century funicular up the 322-ft hill to the Hohensalzburg Fortress, one of Europe's best preserved medieval castles. Although many of the furnishings were nicked by Napoleon, the rooms themselves have held up remarkably. Hunched over the city with spectacular views to the
Alps on one side and palaces and castles on the other is Hohensalzburg whose halls, Gothic carvings and chapel are open to visitors. Be sure to visit at noon as this is when its 16th-century self-playing organ bellows. Before returning to the funicular, be sure to partake in Salzburg's favourite brew – Stiegl Beer (found on the street leading up to the Fortress). It's flowing at the boisterous Stieglkeller (10 Festungsgasse), which has a vast garden, a fine panorama and unsophisticated food – mostly schnitzels and sausages. When you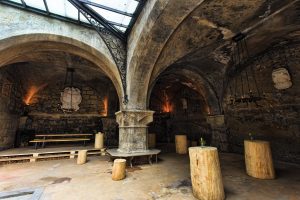 come back down, have a look into St. Peter's Church – take the path via its picturesque cemetery.
On a large square near the blue-domed Cathedral stands a 35-bell glockenspiel tower. The chimes, a little out of tune after nearly 300 years' in service, play at 7.00 and 11.00 and 18.00 daily; the music, which changes from time to time, is of course by Mozart.
If all this piety is too much, do some window-shopping on the pretty pedestrianized Getreidegasse, home to the city's poshest boutiques. Getreidegasse is the Old Town's main street which is lined with many wrought-iron business signs, coffeehouses and restaurants. To escape the tourist mayhem duck into the Durchhäuser – medieval side passageways between buildings, lined with small bespoke boutiques and cafés. Or better yet, pop into Sporer (9 Getreidegasse) for a drop of artisan schnapps. Alternatively, for a caffeine fix go to Café Tomaselli (9 Alter Markt) where waiters in bow ties zigzag through the split-level Biedermeier-style salon with trays of cream-topped, brandy-laced coffee drinks in porcelain.
Salzburg's place in the limelight is to be found at 9 Getreidegasse, a five-story building with a yolk-coloured façade – this is where Mozart was born. The slender building is now a museum and displays, among other memorabilia, a small violin, a hammer-clavier and a clavichord on which the Wunderkind played. Avoid the crowds and head across the river to Mozart's residence on Makartplatz.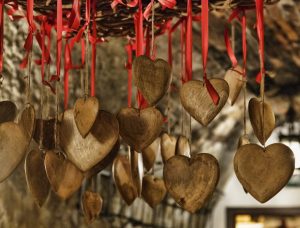 Once you spend a few days here, it's not hard to understand how Joseph Mohr, a native Salzburger came up with the lyrics to the celebrated carol 'Silent Night'.
In winter, the city is at its most sociable, as squares transform into energetic Christmas markets and candle-lit taverns fill with skiers refueling on comfort food. But you don't need to wait for Christmas to get in the holiday spirit as here the advent season starts in mid-November when it becomes a frenzy of festivity. The Hellbrunn Palace, Mirabell Square and Sterngarten all host Christmas markets, but it's the Old Town that truly transforms. Mitten-clad children ice skate around Mozart's statue, vendors in wooden stalls sell homemade crafts, ornaments, artisan food like leberkase (a kind of meatloaf) and gluhwein. But the spiritual heart of the season is in the square beside the Cathedral where church choirs, brass ensembles and pastoral players perform to red-cheeked crowds on the cathedral steps.
EAT
 For breakfast try Café Bazar (3 Schwarzstrasse), on the right bank of the Salzach (with magnificent view of the river and the Old Town). It's a century-old Viennese-style coffeehouse with crystal chandeliers, wood panelling and marble table-tops. With perfectly poached eggs, paper-thin slices of honey-crusted ham, fresh-baked pastries and phenomenal coffee, it's no surprise their guest book, kept since 1927, includes names like Marlene Dietrich and Arthur Miller. www.café-bazar.at
 For lunch head to the Steingasse, a cobbled alleyway just up from the Salzach riverside. The Andreas Hofer Weinstube tavern (65 Steingasse) serves up no-frills regional cuisine, like Knödelgeheimnis (bread dumplings cooked with sauerkraut and fried eggs). www.dieweinstube.at
 For a refreshing afternoon beverage get your beer directly from the barrel at Augustin Brewery (Lindhofstrasse 7). They have beautiful halls and a massive beer garden. No food served at the tables, but there are stalls serving everything from fresh bread to pork knuckle. www.augustinerbier.at
 Wedged between St Peter church and the cemetery is St Peter's Stiftskeller where its history and food is woven into the very fabric of the Benedictine abbey. As Europe's oldest restaurant (est. 803) the passions are strong, the colours bright and the cream soup of Jerusalem artichokes rich. The smoked Tofu with coconut curry vegetables and ginger basmati is an assault on the senses; and the dessert – a golden-crusted, three-blob soufflé called the Salzburger Nockerl, with a fruit sauce is so big (serves 4) it comes with its own gravitational pull! Be warned, when you bite into the Nockerl you'll need a moment to take in the biblical experience. The chef is a magician! I've had other Nockerl in Salzburg but this one made me rethink atheism. No mere mortal could have created a thing of such beauty. In winter their courtyard, with its undercover coves, turns into a winter wonderland decorated with trees and lights with gluhwein been handed around. www.stpeter-stiftskeller.at
 Before leaving the city, stop off at Erlach, purveyors of regional meat (8 Sigmund Haffnergasse) for a vacuum-pack of Käsekrainer – spicy cheese sausages.
SLEEP
Hotel Goldener Hirsch (37 Getreidegasse), near Mozart's birthplace and right beside Sporer and their lethal range of Schnapps, offers quaint rooms with antique authentic Austrian furnishings and beautiful Frette linens. This creaking 15th century property oozes charm but has all the mod-cons required for modern living. The location in the old town is convenient as most attractions are within walking distance. Rates start at €195 and are considerably more during the summer music festival. www.goldenerhirsch.com
SOMETHING DIFFERENT
On your way back to the airport head to the glass-domed Hangar 7 owned by the Red Bull mogul Dietrich Mateschitz and built to showcase his vintage aircraft (the 'Flying Bulls'). Glass walkways snake around Red Bull-emblazoned planes, motorcycles and muscle cars, while a glass-floored bar suspended from the roof hangs above a contemporary art exhibition and space for live musical performances. There's also an upscale restaurant hosting a different celebrity chef each month. www.hangar-7.com
To arrange a trip to Salzburg see the Tourism Board's website www.salzburgerland.com.