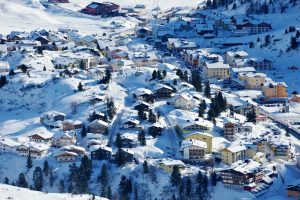 Obertauern is one of the Alps' most snow reliable areas. That means perfect skiing conditions from the end of November till the beginning of May. Amidst the beautiful mountains of Salzburg, at an altitude of around 1,740 meters, exceptional skiing adventures for connoisseurs, daredevils and kids await.
There's nothing more liberating than leaving the first tracks in the powder snow on the countless fairy-tale ski tour routes or romantic snow-shoe hikes. There's night-time skiing too, as well as a snow sports park, several ski schools and ski hire points. For cross-country skiers there are five well prepared slopes (covering 70km). For tobogganing there's 6.5km of floodlit fun to be had on 'Gnadenalm' which is just 4km outside of Obertauern. A Ski-doo toboggan taxi (motorised snow mobile with 120 horse power) takes you directly up the mountain. Obertauern is an exceptional ski area with 100km of manicured pistes and state-of-the-art lifts which take you up to the highest peaks.
It's an area known not only for its tremendous views and countless kilometres of slopes, but also for its Aprés Ski mile. No less than 25 ski huts beckon you to drop in and enjoy. Be it by day for some culinary treats or on the large sun decks in the evening.
TOP TEN APRéS SKI
1. Almrausch is a cozy restaurant, where specialities from the kitchen and cellar are served. Their fondues, steaks and spare ribs are particularly renowned.
2. Alte Alm is a cozy alpine ski hut, après ski and restaurant serving excellent cuisine with typical Salzburg hospitality. They are located right by the legendary Tauernrunde, next to the Schaidberg and Achenrain chairlifts.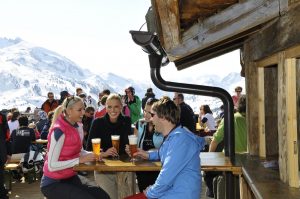 3. Der Turm – This is where the best après-ski parties in Obertauern take place. It's a popular meeting place, especially after a great day's skiing. The bar can be reached on foot or on skis. It's right on the piste, next to the Gamsleiten 1. Relax in one of the deckchairs on the sun terrace and enjoy the warm rays of sun and the fabulous view. Snacks are served all day.
4. Gruber Stadl is another favourite après ski on the slopes with a great live music and happy hour.
5. Hasnstall is another rocking après ski on the slopes of Grünwaldkopfbahn, with an outdoor bar overlooking the ski runs. A separate lounge, away from the hustle and bustle, is available for those wanting a quiet drink.
6. Hochalm is located directly on the slope and has great quality local food and loads of places to sit. This is ideal for a 'on-slope' lunch or drink at the bar. There's a huge terrace to take in the sun.
7. Huberts Yeti Bar – take a break from skiing and enjoy the wonderful views. Order something sumptuous off the menu and sip an excellent glass of Veltliner whilst relaxing on their large balcony. Life doesn't get much better than this.
8. Latsch'n Alm is a cozy ski hut, après ski and restaurant in the heart of Obertauern . The food is exceptionally good. They have a spacious sun terrace with direct ski access. After dinner it turns into a nightclub.
9. Lürzer Alm is another après ski that changes into a popular nightclub after 10pm. It has a fabulous alpine ambience about it and even though it's a huge place, it manages to feel cozy. The menu is varied and interesting (reserve a table), finished off with a good Schnapps.
10. Sennbar boasts one of the most beautiful sun terraces on the slopes. During the day its a cozy après ski serving mulled wine and champagne; after dark it changes to a DJ party atmosphere with cocktails.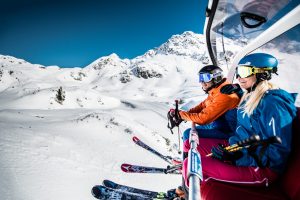 For a little Austrian charm, head out in a horse-drawn carriage through the enchanting winter landscape or try out the latest in trendy sports, like snow kiting? It's only for the really brave as you stand on your skis (or on your snowboard) with propulsion coming from the kite you're attached to. It's relatively easy for those who have a moderate level of experience of winter sports and can be grasped within a few hours. www.hangon-kiteboarding.com
Alternatively, swap your skis for a snow bike and zip down the pistes. Just a short introduction and away you go. An unforgettable experience with speed guaranteed. There's a taster course available, as well as guided tours as well as an amazing moonlight tour. www.skikoch.at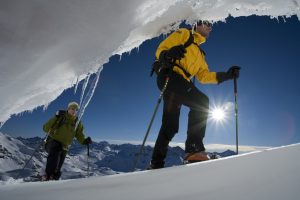 Obertauren and 'The Beatles'
In 1965 The Beatles filmed HELP!'s winter and ski scenes in Obertauern, with some of the locals standing is as stunt-doubles. The reason for choosing Obertauern was obvious – snow-assuredness and even more snow than other ski areas. The Beatles liked Obertauern and got caught up in the spirit of the place and performed at secret, private concert in a local hotel.
Accommodations
Seekarhaus (www.seekarhaus.at) is in the heart of the village, right on the slopes with a choice of three ski lifts. It's owned by Gerhard Krings, who was George Harrison's body double during the filming of HELP!, hence the nostalgic Beatles memorabilia. There's a fabulous sun terrace, superb gourmet restaurant and spa facility, including two indoor pools. Prices start from €156pp and a four-day half board ski break, inclusive of a three-day lift pass, starts at €756pp.
Hotel Kohlmayr (www.hotel-kohlmayr.at) is a traditional family-run hotel conveniently located in the town centre. It has a cozy ambience, stunning panoramic alpine views and an elegant restaurant; they also have a quality spa with a large indoor pool. In-house ski rental and ski school is available with a daily pick-up bus for the children's ski school. Prices start from €123pp.