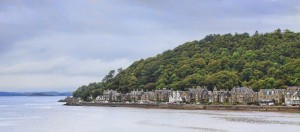 Scotland's west coast is synonymous with excellent seafood with miles of coastline to fish and cultivate and fresh catches landed every day and taken straight to the region's finest tables. Its hills, glens and pastures a natural larder to farm and harvest.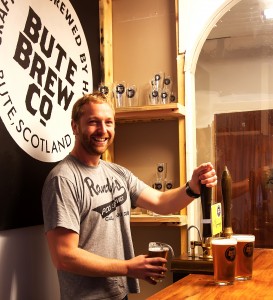 On the Isle of Bute, in Rothesay's town centre, is a small craft brewer – Bute Brew Company, established in June 2014 by Aidan Canavan, formerly a biology teacher. Sitting in the main hall of his micro-brewery, which is stacked with a brewing kit, long wooden tables, benches, a few shelves displaying his bottled wares and a wooden bar in the corner, Canavan talked me through it all: 'Whilst at a beach BBQ last Christmas, I decided to start a micro-brewery.' He explained how, with no real home-brewing experience he did a short brewing course and subsequently purchased the kit. His first brew was dumped as his casks had not arrived in time. 'In fact it wasn't until my fifth full brew that I found a beer I was happy with,' says Canavan. 'I launched the Bute Red locally and sold out within hours. The build-up to the launch was phenomenal; people were desperate for it.' I took a long pull of the Bute Red. My secret thoughts of how real ale had acquired the stigma of being an old man's drink was immediately washed away with a caramelized almost burnt, malty red ale that has a bitter kick to it. I could immediately identify why it was an instant hit. Bute Brew can be found on Calmac Ferries, several pubs – even a few good restaurants in Edinburgh.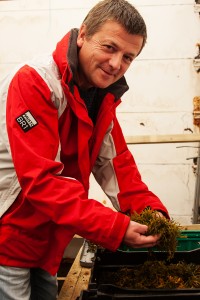 Argyll's food producers are not only set in scenic heaven, but also breathe in clear Atlantic sea air. One of these producers is Iain Mckellar, who makes a good shekel from the shores of Bute by hand cutting fresh Scottish seaweed. 'To ensure purity and nutritional value, seaweed needs to be harvested from pristine seas free from pollutants – like those found here,' says Mckellar, one of the country's leading seaweed foragers, who harvests the sea's vegetable at low tide and snorkelling for different varieties. Following exposure on a BBC food show, he sells it fresh or dried direct to the public and now also supplies some of the UK's top restaurants. Former truck driver, McKellar continues: 'Seaweed was being gathered from Scotland's shores and eaten as early as 4000BC. Now, it's more popular than ever. It's a huge part of the Japanese diet. Some experts concur that this may account for the low breast cancer rate in the country. Gram for gram there's more iron in seaweed than red meat; it contains seven times more calcium than milk – making it a super food. And if you're dieting, eating seaweed is a good way to control your appetite. It's low in fat, but high in fiber, which helps control blood sugar levels and keeps you feeling full. It's big in the beauty business too; and Alginate, used in the brewing industry as a froth thickener for larger, comes from seaweed. That's beside the fact that seaweed is used as a fertilizer and is an ingredient in animal feed – and it can be converted a petrol substitute.' (justseaweed.com)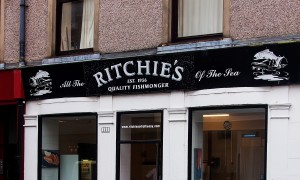 Smoking fish has been part of the time-honoured way of life in Argyll. Here the traditional smokehouse of Ritchie's of Rothesay, one of the most respected smokehouses in Scotland, has been in operation since the 1800s. Ritchie's source their white fish from the North Sea and their salmon from fish farms in the fjord-like lochs of Dunoon (Scotland's west coast). Cured for 48-hours in salt and sugar, the salmon is then laid out on rails allowing the moisture to drip off. To add depth of flavour a secret recipe of something alcoholic is sprayed onto the salmon which is then smoked on racks above splinters of oak whisky casks inside an ancient kiln which resembles Dante's Inferno. The resultant product is a fish that's texture is beautifully marbled, with a depth of colour ranging from ruby red to flamingo pink, and an intense buttery flavour. The entire process, including the slicing, is done by hand in the customary manner – including picking out the little bones. No mechanical device could pay this kind craftsman-like attention to detail. Besides salmon, their values and heritage is embodied in a further selection of mouth-watering smoked products – haddock, trout, cheddar cheese and un-dyed kippers.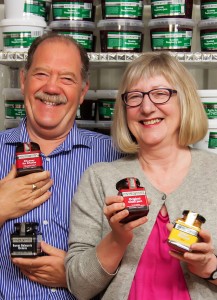 If jars of condiments entitled 'sweet balsamic onion pickle', 'apple and lavender savoury jelly', 'cardamom mustard' or 'marmalade with a wee dram' sounds familiar, you more than likely have encountered Henshelwoods Fine Foods. Bob and Lynn Henshelwood (experienced Deli owners from York) recognized the need for innovative vegan-friendly foods and decided to set up shop on the shores of Rothesay where, as a child, Bob spent many summers at his grandma's. Since their company's inception in 2006 they have acquired no less than 34 'gold medal' food awards including official condiment suppliers to the London 2012 Olympic Games, Glasgow's Commonwealth Games and the 2014 Ryder Cup; they've even supplied condiments to the British Embassy in Tokyo who hosted the Queen's birthday dinner! 'Lynn is the brains of the outfit,' says Bob. 'She does all the research then comes up with these wonderful combinations.'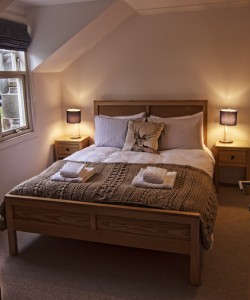 Where to stay: A three minute ferry ride from Bute delivers you to Colintraive, a quiet coastal village where, crowned with the renowned hospitality Scotland is known for, is the quirky Colintraive Hotel, a multi-award winning country inn and gastro-pub. There are only four rooms with the best one being Room 2 – Attenburgh. It's a spacious double with gorgeous views across the countryside and loch where all day a small ferry plies its way from one bank to the other. There's an imaginative blackboard food menu in the bar displaying a wealth of information about the hotel and its staff. Although the hotel is a three-star, its neighbouring guest house, Eilean Dhu, must be at least a five as it's nothing short of ultimate luxury.
For more information about holidaying in Scotland, see visitscotland.com.