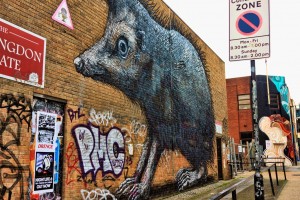 Famed for its creativity, great new food scene and buzzing nightlife, Shoreditch has become one of London's trendiest districts. If you're into architecture and the evolution of buildings you will love the profound way in which sky-scrapers and new buildings bite into Shoreditch from London's 'square mile'.
A new wave of young professionals have moved in, sending property prices sky-rocketing in what was once a working-class neighbourhood between Old Street and Bethnal Green. The boom was kick-started by the likes of British artists Damien Hirst and Tracey Emin who moved in during the Nineties, followed by scores of artistic bohemians.
Today, Shoreditch is jam-packed with lofts, galleries, chic bars and restaurants, coffee shops and clubs. But it is here, interspersed in the maze of odd angled side streets, between the uber-cool speakeasy bars and the never-before noticed restaurants (where all the cool kids hang out), that you will find the most unpredictable street art.
Once you have had your fill of London's museums and shopping on Oxford Street, take a diversion to Shoreditch – the artistic, playful and often startling gateway to London's East End.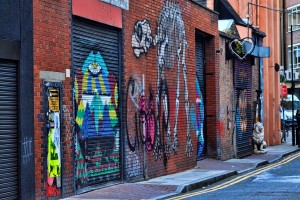 Shoreditch is the gentrified home to a flamboyant and dynamic culture of street artists from around the world who have all left an ever-evolving kaleidoscope of creativity on the streets.
The brick shop fronts of cafes, bars, galleries, vintage clothing stores and fabulous curry houses is the canvas that sees street art merge with dark humour – with doorways, lamp posts, sidewalks, windowsills and pretty much every other spot taken up by comic strip art or provocative images and messages.
Street art could be construed as insensitive – intimidating even (after all, gangsters spray signs signifying their neighbourhoods). Equally urban graffiti can send a message too and provide a sense of positivity, of community belonging – which is the case for most of the works in Shoreditch. Here murals push the boundaries of contemporary and urban art. Some are weirdly wacky or raw and disturbing; others in-your-face political statements, but mostly all they demand is an immediate reaction.
The district's collages are constantly revived and always astounding. One day you are bereaved over the loss of a masterpiece from street staples like Invader, Scavage, Stik or ROA, who provide stunning murals, environmental art and freehand painting; then the next day you are left breathless in finding a shocking collaboration between the bold political statements of Ronzo and Thierry Noir, graffiti master Dscreet and the Banksy-like Pablo Delgado.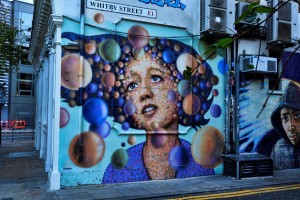 Take a walk down Shoreditch High Street and you'll see John Dolan, one of East London's most infamous artists. He sits every day with his dog capturing the detail of the architecture which surrounds him. His images enrich the old, decaying buildings which are often not seen by passers-by and through his vivid portrayals his audience is forced to reconsider what to them is purely a backdrop to their day.
John Dolan may tell you about Zomby – one of London's most respected graffiti writers and whose instantly recognisable approach and style has exerted an enormous influence over the development of graffiti in the city. Zomby is part of Diabolical Dubstars (DDS) – one of London's most productive and legendary graffiti crews who are the undisputed kings of London train graffiti and have been active for +20 years.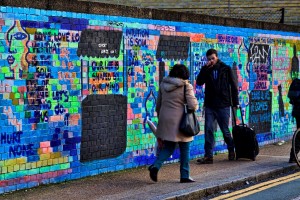 Be sure to look out for South African born Christiaan Nagel's sculptural mushrooms – they are iconic fixtures of East London's rooftop landscape. His works suggest that art as something ultimately unreachable as he seeks to place his sculptures at impossible heights and astonishing locations.
If you come across an "Oh my days" catch phrase that spans an entire wall, you've most likely found the work of Kid Acne, who paints oversized idioms on buildings depicting expressions people easily relate to. One such message was painted on a wall of his old art college before it got knocked down. It said: "You'll Miss Me When I'm Gone".
You'll know you've found a RUN original when you stand beside it. RUN, from Gdansk in Poland, is a prolific big name contemporary street artist who now lives in London and creates elegant large-scale murals of breath-taking proportions.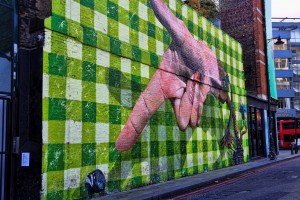 So too will you recognise the vivid colours and politically inspired work of Frenchman, Thierry Noir – a forerunner of the modern street art movement. Throughout the 80s he illegally painted miles of the Berlin Wall with his iconic imagery, leading up to its fall in 1989. He strived to accomplish one revolutionary act: to radicalise The Wall, to make it absurd, and ultimately to help destroy it.
Down a side street, the large scale architectural free-hand work of Jo Peel comes complete with her giant buildings and decaying walls; directly beside which is the chaotic interactions of David Shillinglaw's colourful abstract work, interspersed with the multi-faceted human-animal hybrids of Vinz; and French speed painter Vivi Mac who, with no formal training, uses pertinent choices of food and liquids according to her subject, like painting Amy Winehouse with red wine and Bob Marley with cannabis leaves.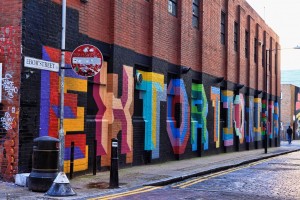 Across a doorway Polish illustrator Pawel Kuczynski's diverse and unpredictable take on the world cleverly highlights some serious problems in society. He uses subtle political meanings which he hopes would reshape public thinking; on a windowsill is London-based Simon Key's work that is clearly influenced by the Godfather of British humour, Spike Milligan, whilst on a shutter Zabou carries the flag for female street artists.
Martin Ron is one of Buenos Aires' most prestigious professional street artists. He first picked up a paint brush at the age of eleven and was recently invited by Street Art London to participate in the Village Underground Wall Project on Hollywell Street where, over the course of eight days, he painted a breath-taking and enormous hyper-realistic mural.
Asked what inspires his large scale work, Ron confides.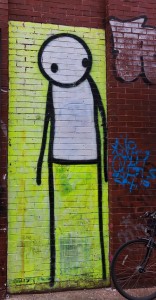 "It is many things," he says. "The challenge and the pleasure and the effect it has on the people that walk past it. They understand the chosen composition and have a relationship with the content. What motivated my David and Goliath mural was to do with the headline news at the time of my visit – namely the badger cull Prime Minister, David Cameron, had sanctioned. I wanted to play around with this and add some humour to a very sensitive issue. The badger and the giant pointing hand illustrate the problem with legislation in attempting to regulate the population of this animal."
Things to do & see