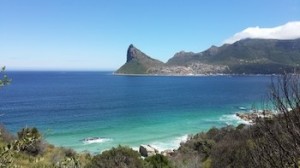 Gnarled chunks of solid silver  mounted in a picture frame are the only evidence that an elegant hotel near Cape Town isn't the same building it used to be. The silver was once an ornate chair, destroyed along with 70% of the hotel when fires ravaged the Cape peninsular in South Africa in March. The main lodge and several bedrooms of the Tintswalo Atlantic Hotel were reduced to nothing but a yard high pile of ash, studded with mangled bits of metal. You wouldn't believe it now, as you lounge on soft settees on a veranda offering a stunning view of The Sentinel, the mountain that imperiously stands guard over Hout Bay.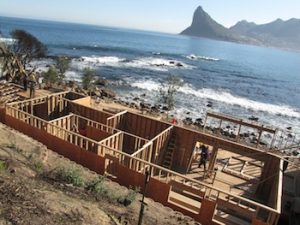 The settees haven't had time to develop any comfortable dents yet, the chandeliers sparkle with newness and the polished floorboards are as yet unscuffed. Tintswalo Atlantic is the same as before but different, rebuilt in just seven months of applied intensity to restore these gorgeous buildings in the Table Mountain National Park.
Its isolation as the sole hotel on a stretch of beach at the bottom of a long, twisting mountain path is part of its attraction, but also part of the risk when disaster strikes. Assistant manager Tania Batista Hofer tells the story of the fire in chilling detail, followed by stirring memories of the team spirit kindled by the disaster. She talks of how guests were evacuated at midnight when the mountain fires suddenly changed direction, and the managers stayed until 3am to turn on the sprinklers and damp everything down. Amazingly, the hotel was intact when they returned in daylight. But then small fires started to break out, the wind picked up and one room flared up as they helplessly tried to douse the flames.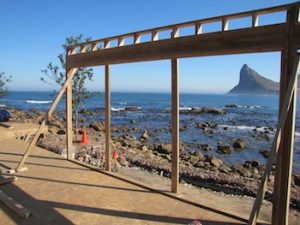 One fireman jumped into the Jacuzzi when the flames begin to singe. By the time the fire was finally extinguished by water bombs dropped by a helicopter, most of Tintswalo was gone. It's hard to imagine that now, with the surrounding vegetation green and lush again and the hotel looking pristine. The effort was driven by its owners, Ernest and Gaye Corbett and was an enormously uplifting team-building exercise, Batista Hofer says. The team spirit and positivity that arose from the destruction were incredible, she says. "The way everyone has pulled together has been amazing. It's been a great team building exercise. You could say it's been character building!" Its 10 suites are each named after an island, and most had to be rebuilt from scratch. Those that escaped were redecorated anyway while the refreshment was underway.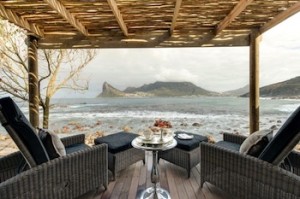 They've done a great job in recreating the luxurious comfort that this beautiful and pristine setting deserves. My room, Zanzibar, had huge sliding doors that open onto a veranda with loungers facing the ocean, a spacious bathroom with a bath by the window, a traditional solid carved wooden door, a wood-burning heater and a working area. Shells are glued in clusters to decorate the bathroom walls, and the whole lodge is full of lovely ideas that inspire you to replicate them at home, although you never do. There's not really a beach, since the shore is made of boulders, although a strip of sand appears at low tide. The chilly Atlantic is better for looking at than swimming in, so if you want to get wet, try the small pool instead.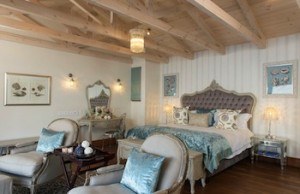 The food is delicious, cooked in an open kitchen designed by chefs who had the luxury of specifying exactly what they wanted after the old kitchen went up in flames. A perfect fillet of hake served on a warm salad of fat asparagus and sweet feta was a highlight. Breakfast brings a bowl of fruit salad and a glass full of nut-stuffed muesli and yogurt. Then without asking the waiter delivers a cheese platter, a cold meat platter and a pastry platter. If you still have space, cooked options are served in outsized bowls-cum-plates.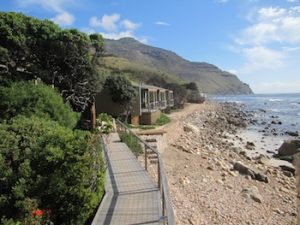 If you visit when the Corbetts are present, be sure to sit with them awhile to discuss life, love and the meaning of it all. Married for 46 years, they still radiate love for each other and an energy and passion for life despite all the raging infernos it may throw at you. That's as refreshing as the sea breeze blowing though your bedroom.
For details see http://tintswalo.com/  The hotel can collect guests from Cape Town international airport.