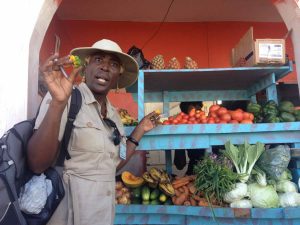 What to Expect
The Port of Falmouth is one of the newer ones in the Caribbean. It was opened in 2011 to house the new mega ships and give another itinerary choice in Jamaica. Since it is between Montego Bay (18 miles away) and Ocho Rios (59 miles away), it was also created to bring attention to those on vacation in Jamaica to visit this historical town.
The port area of Falmouth is filled with modern retail shopping and restaurants, as well as an open air market which sells mostly souvenirs. From the port area you can easily walk to the town of Falmouth. It isn't lined with all-inclusives like there are in Montego Bay, or open foliage such as in Ocho Rios. This is more a town of locals, and they are welcoming to curious visitors looking to take in more of a native experience than they might get in one of the big cities.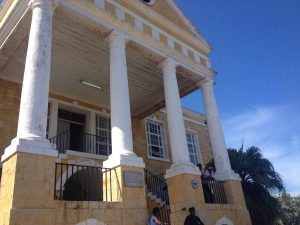 History of Falmouth
Falmouth is an important part of the history of Jamaica as this was one of the first ports Columbus brought slaves to. They worked on the sugar cane which was being brought back to Europe after it was cultivated. At the same time, it has a past in slavery, it's also a town with much significance to the emancipation of slaves.
Among the sites to visit in Falmouth which are important to this region's history are:
Hyatt House-The lot this house is on dates back to 1781, when it was purchased by the great-grandfather of poet Elizabeth Barrett-Browning. The house is now owned by American Anne Hyatt, who works to keep the history of Falmouth and its landmarks open to all.
Arleigh House-Built in 1795, the Arleigh House is also known as the Moulton Barrett House. It currently serves as a doctor's office, but was once owned by Rebecca Lake, who purchased it as a freed slave.
Falmouth Court House-While the original Falmouth Court House was 110 years old when it was destroyed by fire in 1925, the building was reconstructed a year later to replicate the original Palladian style.
William Knibb Tomb-William Knibb was a Baptist missionary who became well-known for his part in ending slavery in Jamaica. In 1888, when slavery was abolished, Knibb encouraged 600 slaves to bury their shackles in this tomb the night before they were freed.
Falmouth Jewish Cemetery-The Jews of Jamaica became the oldest continuous community on the island. The tombstones in this cemetery, which date back to the 19th century, tell quite a story.
Food and Drinks
A trip to Falmouth is a great way to look into the food and drinks of the island of Jamaica. As you walk through the town, market stands are everywhere with fresh produce and seafood. Casual restaurants abound in hidden alleys. If you want to taste Jamaica, this is the place to do it.
Some of the items you must taste here include jerk chicken, corn fritters, meat patties, salted mackerel, bread fruit, and papaya. Jamaicans also love their sweet desserts thanks to years of growing sugar cane, which is also used to produce local rums.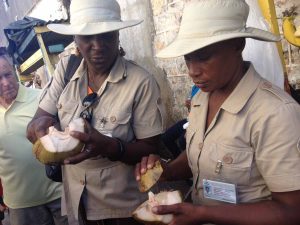 Take a Tour
One of the best ways to take in the most of Falmouth, Jamaica, on a day trip is to take a tour. Falmouth Heritage Tours has a selection of tours which go into the depth of the island: the Falmouth Food Tour, which includes tastings; the Heritage Walking Tour, for a deeper look at the city's history; and the Jewish Cemetery Tour, which examines the Jewish people who came here from around the world.
Falmouth Heritage Tours works with both cruise passengers and those staying on the island. Each tour takes about three hours and the tours have been taken by such dignitaries and Royal Highness Prince Henry of Wales, a.k.a. Prince Harry. For more information on the tour offerings, visit their website.