Napa Valley in California; Tuscany in Italy; The Rioja region in Spain; and….Michigan? While the aforementioned destinations are top of mind as a wine lovers paradise, don't overlook this lesser known but beautiful hidden gem just 90 minutes out of Chicago.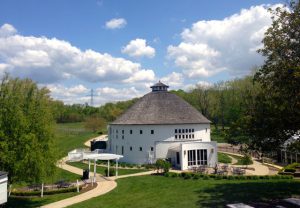 All up and down the southern shore of Lake Michigan are more than a dozen individual wineries often set on lush grounds offering a number of varietals. Some tasting rooms are private and require appointments, but many, such as the recently expanded Round Barn Winery in Baroda feature expansive tasting rooms and grounds which frequently fill with food trucks and live music in the summer and early fall.
One of the best features of the Southwestern Michigan Wine Trail is the close proximity and easy drive between locations. Just a few miles down from Round Barn Winery is the popular Tabor Hill Winery and Restaurant. A full-service restaurant and banquet facilities are available along with an expansive outdoor patio and adjoining bar space for wine tasting.
All of the wineries within the Wine Trail are within an hour of one another and the handy Wine Trail map at locations and hotels throughout the area makes for easy planning.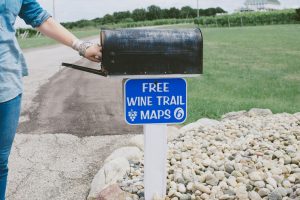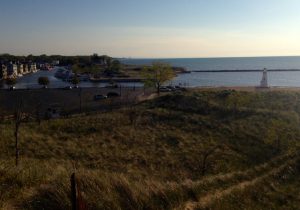 Visiting the Michigan Wine Trail is extra enjoyable if you park yourself at one of the charming lakeside towns along the way as a base. New Buffalo is one of the area's largest with a number of hotels, restaurants, a sandy beach and a fairly large marina offering boat rentals and water sports in the summer.
Located right on the waterfront is The Harbor Grand, boasting sunset views over the lake along with a fresh breakfast each morning delivered to your room in a cozy picnic basket. Rooms also feature fireplaces to take the evening chill off, making the property a great choice for either romantic getaways or family breaks. Kids will love wandering down to the waterfront and feeding the local ducks that populate the marina.
New Buffalo is also just a short drive to Journeyman Distillery in Three Oaks. Journeyman has built a reputation as one of the country's best boutique whiskey distillers, and they have since branched out to other items such as vodka and gin.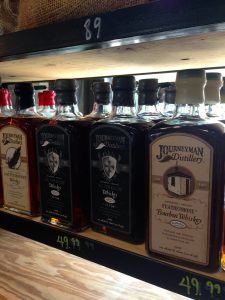 Journeyman is located in the historic EK Warren Historic Featherbone Factory building, with original maple factory floors from the 1800s. The long concrete bar was made in Grand Rapids, with coordinates etched into the side marking the historic location. Wood from old family barns in Indiana has been recycled into the decor, along with wood that was once in a 1900s schoolhouse.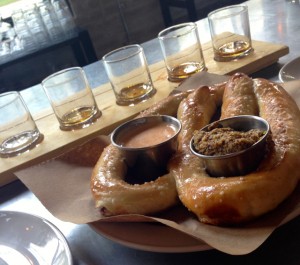 A tasting flight is a great bargain at $5 and you get to sample a number of the distillery's signature offerings including Buggy Whip Wheat Whiskey, Three Oaks Single Malt and Last Feather Rye Whiskey. Pair your tasting with a large bavarian-style pretzel and home made cheese dipping sauce for a perfect snack before getting back on the trail to your next destination!