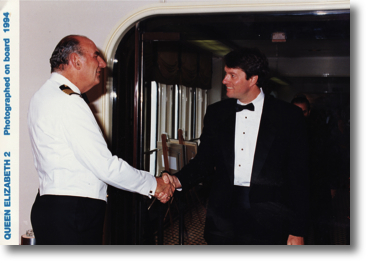 Now more than half a century old, I can reflect back a bit and say that I have lived an extremely fortunate life. I have been one of those rare people who have been able to successfully marry a profession with a lifestyle. I am the Avid Cruiser.
During 20 years of writing about cruising, I have boarded more than 200 ships and stepped ashore in some of the world's most exotic destinations. My passport is thick, with added pages to accommodate all of the stamps. My photo album spans multiple gigabytes and is chockfull of memories and experiences that I delight in looking back on.
On assignment to write about ships and destinations, I have been treated royally. I've flown first class more times than I can count. It's not unusual for a limousine to pick me up and transfer me to the ship. I always have a room with an ocean view, and at times, I've been accommodated in the grandest of suites. My waistline is witness to the fact that I've dined sumptuously and consumed conspicuously. In my world, a glass of champagne is extended as often as a handshake.
But, as the old saying goes, all that glitters is not gold. My life, which appears so glamorous and indeed is just that much of the time, is fraught with consequences that many people might not be so willing to endure.
In this column, which will appear regularly here on Travelhoppers, I will share with you an inside look into the life of a travel writer who spends his entire life in motion. I'll write about the good, the bad and the ugly.
Along the way, I hope to inform you about some extremely rich and life-changing cruise experiences. What I intend to do is discuss the art of travel on a cruise ship and examine how 20 years of being at sea has affected me. It's self-indulgent, I know, but we all have stories to tell, and I simply want to tell you mine. No one is forcing you to read the words on this page, but if you have an interest, I invite you to participate in the dialog. I promise you, it won't be boring.