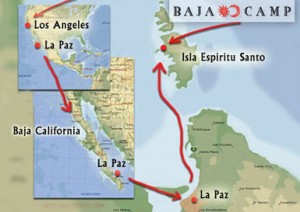 Most folks have heard about the resort town of Cabo San Lucas at the tip of the Baja, but not many people are familiar with the very small jewel of an island called Isla Espiritu Santo. This precious island is located in the Sea of Cortez about 2 hours by boat from the town of La Paz off the eastern coast of the Baja peninsular.
Back in January 1990 the Nature Conservatory acquired this 23,383-acre island from the Mexican government. As a result the island remains devoid of humans and remains a haven for the incredible wildlife.
What's so important about this particular island is that it possesses one of the most biologically diverse ecosystems. There are plants and animals that exist only on this little island; like the black hare for example, or the ground squirrel.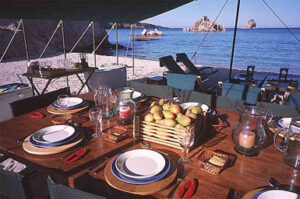 Other critters that reside here are: sea lions, marine turtles, 500 species of fish, 31 species of marine mammals (one-third of the world's whale and dolphin species), 210 migratory and regional bird species. Not only that, there are 53 regional endemic plant species, gorgeous coral reefs and crystal clear turquoise blue waters!
You can even spot schools of porpoises, hammer-head sharks, California gray whales, sperm and humpback whales, and even the blue whale, which migrates into the Sea of Cortez in February and March.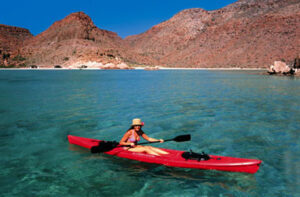 Geologically it's a volcanic island and you'll find varied land structures from soft, flat, sandy beaches to rocky cliffs and arroyos. The landscape is desert and the cactuses are amazing, but you'll also find mangroves and other diverse terrain. If you enjoy being active and out in the beauty of nature, you won't be short of things to do here.
You can swim and dive with the sea lions, parrot-fish, angelfish, wrasse, moorish idols, manta rays and trumpetfish, The hiking and shelling are also wonderful, along with the kayaking, swimming, fishing and water-skiing. If all else fails, sitting on the beach meditating, journaling or just dreaming is fine.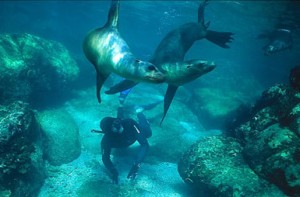 The best way to experience this incredible island is by staying at the Baja Camp – my personal favorite! It is a tented camp, because permanent structures are not allowed here. But just because it's a camp, don't think that you're roughing it.
Most wonderful is the dining tent, where a fantastic feast of fresh seafood is served daily along with delicious chilled beverages. Best of all the owner, Andrea Tamagnini, is a wicked good cook (from Italy)!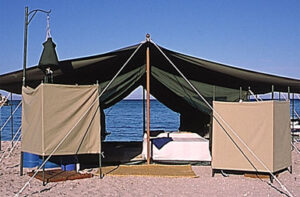 You can create your own event at the camp as there are 5 double occupancy tents (10 people total) – so round up your whole family and do a special get-away. FYI:  These tented structures contain two twin beds, bathroom and shower tents too. And in case you were wondering – there is one outdoor shower (with hot water) and a special marine toilet for every tent. The beds are quite comfortable, truly this is a lovely way to connect with spirit through nature and your own heart and mind.
When Journeys of the Spirit® does a retreat at Baja Camp we are given the glorious opportunity to see ourselves clearly, free from the distractions of our daily lives in this remote natural reserve. We snorkel, play, share, sea kayak, journal, dance, swim, meditate, laugh and hike – and learn more about ourselves under the stars and clear blue sky.
Blessings, Dr. Sheri Rosenthal
Journeys of the Spirit®
Find JOTS on Facebook
Email: Journeys@journeysofthespirit.com
These stunning pictures are complements of Baja Camp