The first St. Patrick's Day Parade was celebrated in New York City, not Ireland, in 1762. That first parade consisted of a band of Irish ex-patriots and Irish military serving with the British Army which was stationed in New York City.  The wearing of the green was a source of Irish pride; but at the time was banned in Ireland. The participants in the St. Patrick's Day Parade reveled in their ability to freely speak Irish, wear green, sing Irish songs, and play the the music which was so dear to the hearts of those who had fled Ireland.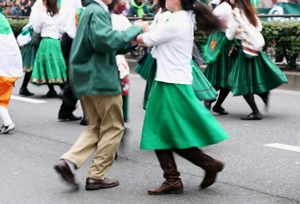 Technically, St. Patrick's Day is a religious holiday; but you'd be hard pressed to realize that with all the celebration that surrounds the day. For families, it's a time to celebrate their Irish heritage and enjoy the festivities. Do you green out in green garb on St. Paddy's Day? Do you put on a pot of corned beef and cabbage? Green eggs and ham? Green beer? If you're looking for two of the biggest celebrations this side of Dublin, look no further than Boston and New York—the hotbeds of American-Irish.
Boston
Parade: The 110th Annual Boston St. Patrick's Day Parade will begin at 1:00 pm on Sunday, March 20, 2011 in South Boston. The parade begins at the Broadway "T" Station and ends at Andrew Square after winding through the most Irish of all Boston neighborhoods. You can expect dozens of marching bands and pipe bands from Ireland and North America, including local favorites like the Boston Police Gaelic Column, composed of Boston police officers.
The Boston Irish Tourism Association has a complete list of all the major parades across the state. For an exceptionally interesting read, check out their Profiles Listing which highlights the many famous Irishmen and women from Boston.
If you feel the need to walk off some of that green beer or scrumptious food, Boston's Irish Heritage Trail is a self-guided, walking tour that covers 300 years of Irish-American history as it takes you through Boston's downtown and Back Bay. The Trail is divided into three sections: 20 sites in downtown Boston and Back Bay, covering over three miles: and over 50 other landmarks in Boston neighborhoods, cities and towns throughout the state. Learn about famous politicians, artists, and war heroes. Maps are available at the Greater Boston Convention & Visitors Bureau's Boston Common Visitor Center, the Prudential Center Visitor Information Center or online.
And after a three mile walk, you likely will be ready for some refreshment. There are plenty of authentic Irish pubs to visit in Boston. Not surprising, but outside of Dublin, Boston has the most Irish pubs anywhere in the world.Adjacent to Faneuil Hall Marketplace and the waterfront, The Black Rose is one of the most famous watering holes in the city. But it is a family pub as well with an extensive children's menu. The fare is traditional Irish—corned beef and cabbage, Shepherd's Pie and of course Guinness! There is also some American fare, but hey, when in Rome…
New York City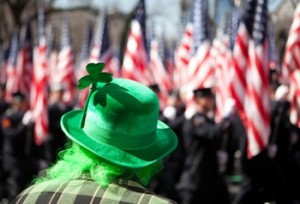 As was mentioned, the New York City parade is the grand daddy of them all and the oldest parade in the world. Their slogan, "On the streets of New York since 1762, the oldest, the biggest & best in the world" pretty much sums it up. Think about it; 1762—14 years before the Country was founded! The New York City St. Patrick's Day Parade will be bigger and better in 2011 since they are celebrating their 250th anniversary. The parade is always held on March 17th unless the 17th falls on a Sunday when it is celebrated on the 16th. It is presided over by the current Archbishop of New York. The Parade starts at 44th Street at 11 am and marches up Fifth Avenue past St. Patrick's Cathedral at 50th Street all the way up past the Metropolitan Museum of Art and American Irish Historical Society at 83rd Street to 86th Street, where the parade finishes around 4:30 – 5:00 pm. The parade remains true to its roots as a true marchers' Parade by not allowing any floats or automobiles.
The Irish Arts Center hosts their annual St. Patrick's Day Open Day on March 13th in 2011 from noon to 5:00 pm. This is free to the public and a great time for kids. It is a day filled with fun, authentic Irish music, dance, song and language.