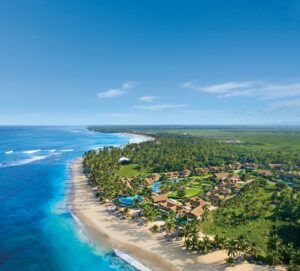 After a few false starts and many growing pains, Punta Cana on the Dominican Republic's eastern coast, might truly begin living up to the hype of becoming the "new" ultimate tropical vacation destination. Over the past two years, ambitious plans for massive upgrades in existing accommodations, services, and amenities, plus the completion of many luxurious new resorts have successfully come to fruition largely thanks to enthusiastic European and American investors.  Lately, the seascape has been changing so rapidly that it's hard to tell the players without a program. But beyond the new Hard Rock Café Complex which opened January 2011,  by far the most prominent assortment of new developments will all fall under the massive AMResorts umbrella as they plan to have no less than ten luxurious tropical escapes firmly planted in the Punta Cana sands by the end of 2013.
Far above and beyond the "all-inclusive" concept
 A brief peek inside the two flagship AMResorts properties that bookend Cap Cana's long and lavish sandy stretch reveals what will ultimately be the blueprint for their ongoing and future success on this island. "Unlimited Luxury" and "Endless Privileges" are their trademarked ways of saying "all-inclusive" without projecting a perception of typical "party-prisons"–cheap rum in plastic glasses, garish identity bracelets, annoyingly perky activity directors… you won't find any of those in these enclaves. What you will find is an abundance of choices, very personal service, and the ultimate in luxurious offerings all included in a set price with no hidden charges at check-out time.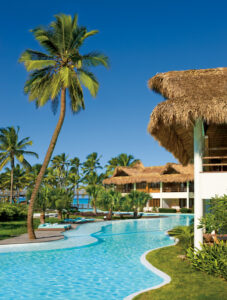 Zoëtry Agua Wellness & Spa Resort
Officially classified as a Preferred Boutique resort, Zoëtry's new age name was inspired by the Greek word for life "zoë" and the definition of poetry as "artful creation"—together they create "the art of life. '  The additional agua tag reflects their objective to offer total rejuvenation through water. There are 51 Caribbean style thatched suites, some with private dipping pools and others with swim-out options. My deck was directly connected to a serpentine water passage that flowed to an infinity waterfall pool that led down to the ocean. That one little refreshing journey with a stop at the adjacent Jacuzzi and then a dip in the warm sea had me understanding "the art of life" in no time. But if that isn't enough to have you feeling virtually waterlogged in luxury, you can head for the spirit-soothing hydrotherapy circuit at the stand alone spa. All kinds of H20 healing awaits in a massive thermal pool replete with water-jet lounges, waterfalls, and a lovely Zen garden. This is where you can enjoy your complimentary massage or opt for some of their specialized organic treatments.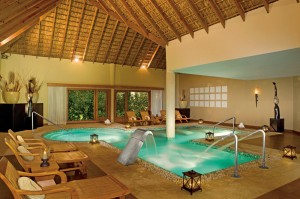 And though Zoëtry is not officially adult-exclusive, it's not really conducive to family holidays either, so the only serenity-piercing shriek you're likely to hear is that of "Paco" the resident peacock . (After you realize where that blood-curdling cry came from, you'll find their official mascot quite comical as he struts around like he owns the place!)
There are far too many perks involved in the Endless Privileges concept to list, but a few noteworthy mentions are unlimited top shelf spirits, beer and wine, 24-hour room service, 24-hour concierge, 24-hour laundry, complimentary helicopter shuttle for premium room guests, unlimited dining at three fusion cuisine restaurants, and an eclectic host of guest enrichment programs and thoughtful extras like fresh cut flowers and daily in-room champagne and fruit baskets. Oh yes, and another BIG extra is FREE world wide calling 24/7!
 Secrets Sanctuary Cap Cana
 With 176 rooms to choose from in a sprawling gated sanctuary, your holiday home can be in a modern fortress castle, a charming Caribbean palapa, or a stylish colonial villa. But regardless of where you choose to hang your hat, the three separate vibes rock together seamlessly like a hammock in the tropical breeze. The stunning resort caters to both playful and peaceful pursuits, plus the fortress Secrets Spa by Pevonia resides in a towering separate structure all of its own. Here you can recharge in the indoor/outdoor circuit of thermal pools with adjoining steam room and sauna and also partake of a comprehensive menu of spa services. The impressive fortress is also home to the lavish swim-out castle honeymoon suites leading to a private island boasting secluded seaside bed lounges.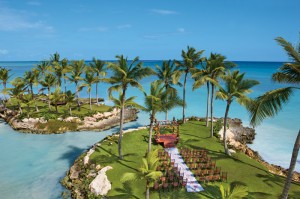 Around the central pool/beach bar you might encounter some boisterous "babes" and "dudes" playing volleyball or water ping- pong, but stroll over to the Caribbean style side (called Trump's Beach because "the Donald" owns land near it)  for an ambiance perfect for serene surf-side lounging. And the infinity waterfall pool and garden of the colonial village also transports to another peaceful world away. Throughout the resort, service is unequivocally excellent with capable, cheerful, and helpful staff at every turn, and the Unlimited  Luxury stamp means you have unlimited beer, wine, spirits and all meals at their dining rooms- Italian, steakhouse, Asian, seafood, fusion among them… take your pick. There's also a small casino, and nightly entertainment.  In-room, you have 24-hour room service and a host of complimentary luxuries and extras as well.
Each resort has its own charms and attractions and both are close to world class golf courses. Ideally, a perfect Punta Cana vacation would entail a few days at each enclave beginning with a de-stress immersion at Zoëtry to be followed by a recharging stint at Secrets Sanctuary before re-entering the real world.