For Fathers Day, relive the fun of outdoors life with the family, camping in the mild Mediterranean climate experienced at the Majove Narrows Regional Park in Victorville, California. It's a place where summer temperatures hit boiling point and winters see snow on the mountainous region.
It's a place reminiscent of simpler times like in Mark Twain's famous book, "The Adventures of Huckleberry Finn." Most everyone is familiar with this American novel that is known worldwide for the story of Tom Sawyer and his friend Huckleberry Finn. This Father's Day in Majove Narrows Regional Park in Southern California, fans of the novel and those who simply enjoy the outdoors country life can join in the fun at the 35th annual "Huck Finn's Jubilee" celebration.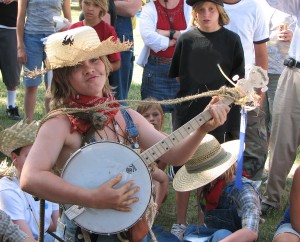 The 800-acre park plays host to the Huck Finn Jubilee which has character inspired events throughout the three day event. It kicks off on Friday with a traditional barn dance accompanied by some good old fashioned western country music provided by Riley's Mountaineers and KC Douglas – the award wining country line dance instructor. So, get them thar dancing shoes on for a family oriented dosey doe around the barn.
If that's not your thing then head over to the main stage where the action begins at high noon and lasts for 30-hours!The entertainment is powered by lots of bluegrass bands with traditional stringed instruments to play that foot tapping music. Headlining is the country music duo of the 'Gibson Brothers' who will no doubt play some tunes form their new 2011 album release "Help My Brother." The other group playing is "Doyle Lawson & Quicksilver" who are bound to play their latest song "Light on My Feet, Ready to Fly."
There are some great educational workshops available for all ages, ones that will teach you how to play a banjo, a guitar, a violin and even a mandolin. For those hoping to launch a career as a singer there is a songwriting workshop to help you learn how to compose lyrics and music that will sell. Also, make sure you catch the Deering Banjo Championship which takes place on the grounds.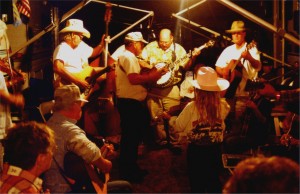 There are various on going games to keep the family occupied. The kids can take part in the slippery contest of climbing a greased pole – that will teach them to get a grasp on things! How about searching for nickels in a haystack, now that's something they can really get stuck into. For some extra rooting tooting family fun, toss the horseshoes to hook a stake in the ground. And for some added skills, try the Tomahawk throwing down by Horseshoe Lake.
For the ultimate Mark Twain fan you can meet him in person! Yes, there will be a look-a-like Mark Twain impersonator up on stage to entertain and enthrall the crowd with his mannerisms and anecdotes. Dressed in his famous white suite, sporting silver wild hair and that twinkle in his eye, this beloved author will be brought back to life. Make sure you ask for his autograph or get him to answer your burning questions and maybe even take a photo with you.
After being memerized by 'Mark Twain,' head on over to 'Vitties Village' where some good old fashioned grub can be found. Here you can savor the taste of buttery corn on the cob, BBQ beef, hearty baked beans and a variety of other dishes to get you munching. There is also international food available including the unique delicacy of Polish Sausages.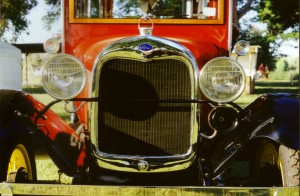 The event runs from June 17th to Sunday 19th with early bird arrivals welcomed from Wednesday June 15th. Tickets are in advance, online and at the venue. They can be purchased at a minimal cost per day or a special price for the entire three day event. Kids under 12 years old pay just $5 entry fee and kids under 6 years old are free.
Camping areas can be found on designated dry spaces or around the Horseshoe Lake, where there are ample rest rooms and bathing facilities to make your stay a comfortable on. Victorville also has an array of fine hotels including international chain hotels nearby to accommodate your stay.
So, this Fathers Day get Pappy and your family together and join the celebration out at Mojave Narrows Regional Park as the 35th Annual Huck Finn Jubilee swings into high gear.