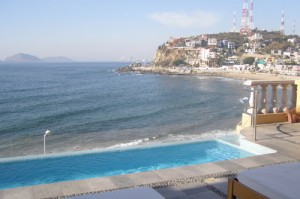 Mazatlan was a weekly stop on episodes of The Love Boat television show. It's still a big cruise port, but there are plenty of places to stay on dry land, with lots to do to keep a vacationer more than satisfied during a week in the sunshine on the Mexican Gold Coast.
Perfect Weather
It doesn't matter what time of year you head to Mazatlan, the chances are pretty good it's going to be warm and sunny.  The average temperatures don't vary much over the year, with highs around 80 and lows in the 60s. From February through March there is virtually no chance of rain and in the rest of the year most of the rain is sporadic – not enough to disturb your vacation.
Mega Resorts
Bigger and better resorts continue to be built in Mazatlan. The Riu Emerald Bay is one of the newest and this huge property (with three swimming pools and a state of the art spa) is on a quietly beautiful stretch of beach. Also in that area is the Pueblo Bonito Emerald Bay, an upscale property offering understated Luxury. In addition, El Cid has three resorts in Mazatlan, each with its own personalities, activities and dining.
Quaint Inns
If you are looking for something more quiet and cozy, you will also find plenty of options in Mazatlan, including Bed & Breakfasts and Inns. Many of these are located in Olas Altas in the picturesque section of Old Mazatlan. Hotel La Siesta is in the center of it all, with an adorable indoor patio area.  Casa Lucila is a real gem.  It's small, but opulent, with a rooftop infinity pool.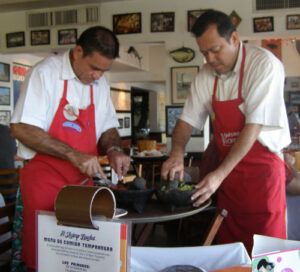 Nightlife
Many of the hotels in Mazatlan offer nightly entertainment, but leave time to venture out. The Fiesta Land entertainment Complex offers lots of options. Among them are Valentino's Disco, a piano bar at Mikinos and Canta Bar for Karaoke. Definitely make it to Seňor Frog's with or without the kids, for marshmallow fights or shots of Aqua del Rio, but don't expect them to give you the recipe for this incredible house drink.
Abundant Activities
You will find to do in or out of the water in Mazatlan.  The blue pacific waters will lure you to swim, snorkel or dive. Head onto the water to kayak, sail or do some deep sea fishing. On land you can go zip lining, play golf or visit the distillery Los Osuna, a spirit made just like tequila. Try Pronatours, who will plan for a few hours or a few days of touring and activities for you.
Endless Shopping
From souvenirs to duty free jewelry, you will find plenty to shop for in Mazatlan. Head to La Zona Dorada for shopping, or La Gran Plaza shopping center if you don't see what you want among the street vendors and shops. Go to the Mercado, the Central Market, a giant market where you can purchase everything from Piñatas to pig heads (don't try to take the latter back home with you, Customs will not be pleased).
Wonderful Cuisine
Mazatlan offers a unique mixture of local cuisine and gourmet international restaurants.  Visit the Shrimp Bucket where they are as famous for the salsa they make at the table as the bucket of shrimp. Have some Tex-Mex barbecue at La Casa Country, where the Tortilla Soup shouldn't be missed. Or, go for some pasta at the elegant Vittore Italian Grill, where you will often find live music. For lunch, try the local favorite Panamas, and leave room for dessert.
Fun Attractions
Kids of all ages can have fun at Mazatlan's attractions. The Mazatlan (Acuario Mazatlan) is one of the largest in this part of the world and it is continually undergoing expansion. Here you will find shows and exhibits of marine life, as well as birds and plants. The Mazagua Aquatic Park has water rides and splash pools for different ages or spend the day on an eco-adventure, through the jungle and learn about the area's animals and vegetation.
Rich Culture

The Angela Peralta Theater, named after the Mexican opera singer, is the perfect place take in a musical or ballet performance. Nearby Machado Plaza is a wonderful area that looks like a European Piazza, with the influence of French and Spanish cultures. Here you will find live music between the cafes and restaurants.  Visit the Museum of Art and the Archaelogical Museum to learn even more about this Mexican city.
Bargains Galore
The best reason to visit Mazatlan, Mexico, these days is the bargains. As the city (and the country) recovers from tourism problems caused by violence in other parts of Mexico, there are plenty of deals to be found on both airfare and accommodations.  With more hotels in Mazatlan offering all-inclusive plans, you can be sure to have a complete vacation affordable for singles, couples and families.