Is normal travel becoming a yawn? Well why not try a new era as well as a new place. Head to the Roman ruin of Jerash to experience gladiators battling it out or joust-it-up with the knights of Kaltenberg Castle; from local festivals to historic re-enactments, the world is full of wacky ways you can journey back in time, not just across oceans.
Up Helly Aa Festival, Shetland Islands, UK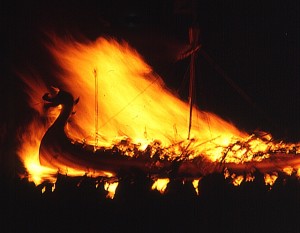 Pillaged, plundered and then settled by the Vikings, these windswept, lonely islands off the northern coast of Scotland hide a rich history versed in Norse-lore. The annual fire festival of Up Helly Aa in the main town of Lerwick celebrates the island's invaders in an annual spectacle of flames. Solemnly bearing their burning torches down the streets, armoured battalions of Norse myth march through the town to advance on a Viking long-ship. The procession culminates in a bonfire of epic proportions when the galley goes up in flames. The night then proceeds in true plundering tradition with mischief and mayhem aplenty at all-night parties throughout the town. The next Up Helly Aa Festival is on 31 January 2012. The procession is free to see and general public tickets to the main after-parties go on sale a month before the festival. See www.visitshetland.org for more details.
Kaltenberg Knights Tournament, Kaltenberg Castle, Germany
Calling all would-be knights and damsels in distress! Kaltenberg Castle's ten-day marathon of medieval mayhem is the largest of its kind in Europe. If you want to witness the thrills and spills of a jousting tournament, juggle with jesters or simply sample the mead at a middle-ages themed market, the annual Kaltenberg Knights Tournament is sure to impress. The festival takes place every July and is easily reached by road or train from nearby Munich. Entry to the jousting performances cost between €22-49 (US$31-70), or entry to the market only is €17 (US$24). Tickets can be bought through the official website, www.ritterturnier.de/.
The Roman Chariots Show, Jerash, Jordan
The roar of the crowd rings over the hippodrome as the gladiators clash. For the military-enthusiast and big-kid within, the remnants of this Roman ruin's massive hippodrome are brought back to life twice a day as Roman legionnaires and battling gladiators recreate the pomp and ceremony of Imperial Rome in a spectacle of swordsmanship and speeding chariots. Jerash is only an hour from the capital, Amman. Entry to the ruins is 8JD (US$11). Performances are staged twice daily at 11am and 2pm, except on Fridays when there's one performance at 10am. Entry costs an extra 12JD (US$17). Find out more at www.jerashchariots.com.
Ethiopia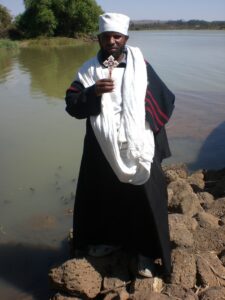 Turn back your clocks as soon as you land. It may be 2011 but someone forgot to tell Ethiopia that. This is a country that marches to its own time-beat and here it's still 2003. The Ethiopian Ge'ez Calendar is seven years behind which can cause visitors some confusion when they arrive. This ancient land groans under its vast tapestry of history and a journey here really feels like time stopped long ago. Head to Lake Tana to witness the culture of the Orthodox monks hardly changed since the 4th Century. Then journey east to the splendour of Lalibela a vast site of churches and monasteries that have been carved into solid rock.
Balestro del Girifalco Festival, Massa Marittima, Italy
With its graceful architecture of white and red stone and traditional tiled roofs the Tuscan town of Massa Marittima is steeped in enough history to satisfy visitors whenever they visit. Twice a year though, during summer, a local celebration of crossbow skills turns back the clocks and the streets of this usually sleepy hamlet revert to their medieval roots. While local teams compete in a display of formidable archery skills, the Piazza Garibaldi hosts a colourful pageant of music and costume where the middle-ages once again rule the square. The festival is held twice a year in May and August. Entry is free. Go to www.tuscanylive.com for further details.