Whether you're an occasional wanderer or a travel obsessive, there will probably be days when your hotel room leaves you uninspired. Even the excitement of investigating bathroom freebies wears off after a while – well, just how many shower caps, sewing kits and mini soaps does one person need in their life? Luckily, the travel industry has responded to the weariness brought on by muted colour schemes, ill-fitting bath robes and identikit corridors, in the form of some unique accommodation options. Here are eight of the most wonderfully weird places to lay your head when you're away from home.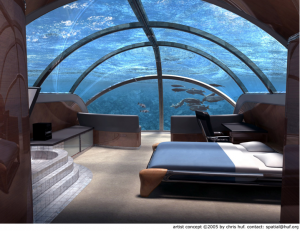 1. Underwater
It's not the only underwater hotel in the world, but Fiji's Poseidon Undersea Resort is perhaps the most luxurious of them all. Diving knowledge is not required to reach your room 40ft below the ocean – a handy elevator will do the work for you. The ultra luxurious rooms are encased in 4-inch thick acrylic, providing the perfect view of passing fish. No sub-aquatic life to be seen? Never fear – at the push of a button you can feed the fish, guaranteeing the kind of sight that will keep you away from the TV throughout your stay. Accommodation this cool doesn't come cheaply though, with an all inclusive week-long stay (split between their undersea suites and the beachside bungalows) setting you back a formidable $15,000 per person!
2. In a sewer
OK, so the quirky sleeping option on offer at Das Park isn't actually a sewer – that would just be plain nasty. Your bed for the night is actually inside a giant drain pipe – of the sort that unsavoury items might well be flowing through just a few metres below you. The chicly-decorated pipes make for surprisingly comfy accommodation and there's not a whiff of sewage around. Room rates run on a 'pay what it's worth' scale, which is either a wonderful idea or a stressful way to make you worry whether you left enough cash. Das Park has two locations – Ottensheim in Austria and Essen in Germany; both are open May to October only.
3. In a beagle
It's a glorious throwback to the era of 'Big Stuff' alongside highways – and a pretty cute one at that. 'Sweet Willy' is the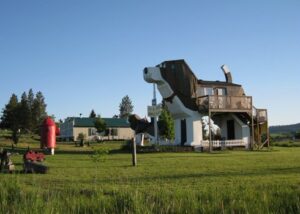 world's largest beagle and quite probably the only one you can sleep inside. Dog Bark Park's canine theme continues within, with doggy-embroidered pillows and adorable wooden dogs carved by the owners (both chainsaw artists!). Book ahead if you want to guarantee a sleepover – there's only space for a single party, with a queen-sized bed in the dog's belly and pull out mattresses in his head that will make for an unforgettable sleepover for kids. $92 for two people, $8 per person for extra guests.
4. In a beer can
It's a beer-lover's dream – the chance to spend a night in a double storey beer can, complete with bubbly, golden wallpaper to heighten the feeling of being inside a beer (and the feeling of wanting to drink one). Arranged into 'six packs', the quirky rooms at 'Can Sleep' only open for a week each August, when the annual Skanderborg Music Festival comes to this small town on Denmark's Jutland Peninsula. Rates start at $150 per night for the room and are for festival-goers only.
5. Inside the mind of Marilyn Manson

It's tough to pigeonhole Berlin's Propeller Island City Lodge, but its eclectic range of innovative, bizarre and often creepy rooms could perhaps best be described as a 24-hour wander through the mind of a wacko artist. Morbid types can sleep in coffins or experience a padded cell, while circus fans or animal activists might opt for the duo of lion cages. The Flying Bed and upside down rooms are bound to mess with your head, but not all the rooms have a dark or surreal edge – you can also sleep on a Technicolor castle or in a cosy room known simply as 'Grandma's'.  Double rooms €85-130.
6. In an elephant
Those of you conjuring up images of Luke Skywalker snuggling in the innards of a Tauntaun in The Empire Strikes Back are blissfully far off the mark. The elephant in question is a 40ft high pachyderm-shaped villa, the centrepiece of Sri Lanka's prime eco-resort, Kumbuk River. Clinging to the edge of the elephant-rich Yala Wildlife Sanctuary, Kumbuk River combines luxury with a social conscience, supporting conservation initiatives in the local community. Rates start at $250 for a double room.
If you'd rather sleep close to the real thing, try the Knysna Elephant Park in South Africa, where rooms overlook the elephants' stables.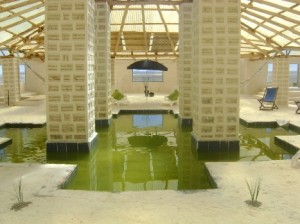 7. In a hotel with lickable walls
Most people have heard of ice hotels, but how about Bolivia's salt hotel? Sitting almost 12,000ft above sea level in the world's largest salt flat, the Salar de Uyuni, the Palacio de Sal and much of the furniture within is made of salt. You'll be forgiven for being tempted to lick a wall or a piece of furniture here, but before you do remember this: every patron before you harboured the same urge and some will have followed through! Doubles $135.
8. In a hamster's cage
You wouldn't think sleeping in your pet's abode would be too high on many people's bucket list, but this quirky French guest house has proved that people are keen to walk a mile in another hamster's wheel, as it were. Your bed lies in a cage suspended above the main room, while optional nourishment comes in the form of a water tube and cereal dispenser attached to the wall. And yes, there is a giant and fully functional wheel to test out – a definite draw card for the big kid in us all. La Villa Hamster, Nantes. Doubles start at €99.