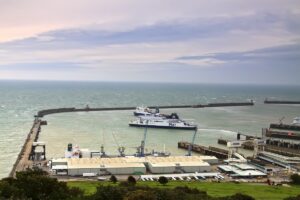 A seven a.m. departure from Dover, a UK sea port, will have you across the English Channel in France's Boulogne  just over an hour later, giving us just sufficient time to freshen up, take in a coffee (and a patisserie) and plan our morning. This ferry service is run by LD Lines which delivers its passengers to the quay at the foot of Boulogne's town centre in just over an hour (midweek crossings are cost effective, check www.ldlines.com for special offers; if you prefer speed, check out prices on www.eurotunnel.com).
I first discovered Boulogne some years ago whilst on a week-long road trip down France's west coast. Now that I live near Dover, I regularly visit Boulogne for its organic farmers' market – which is like nothing on offer in the UK – on Dalton Place, adjacent to the Church of Saint Nicolas. From local farm cheeses, to home-made honey and jams; fish soup and racks of lamb; strings of garlic, chicory, vegetables and flowers – it's all there. On Saturday mornings especially, business is fast, the atmosphere colourful and the surrounding historical buildings positively glowing in the morning sun.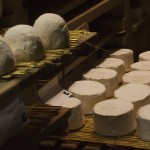 For special occasion cheeses I found France's most revered vintage cheese merchant all but a three minute walk from the market where Philippe Olivier owns a cheese boutique on the pedestrianised Rue Thiers. Here his cheeses are left to mature further in the traditional 'cold cellar and candlelight' manner. Like everything French, even their cheeses are romantic.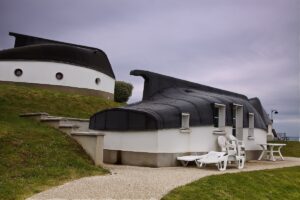 For whacky accommodations (and to catch the early morning fish market held near the harbour entrance at Quai Gambetta) I found the quaintness of sleeping in a 'Quilles en l'air' (an upturned fishing boat) rather bizarre. Since the 14th century, fishermen's families housed themselves in the hulls of their upside down boats on the Equihen-Plage cliffs. Most of these upturned boats were destroyed during WW2 but the French held onto their cultural roots and recreated and modernised a few of these traditional maritime accommodations and are now renting them out to self-catering holiday makers.  www.camping-equihen-plage.fr. At €60 a night, it's not the Ritz but you couldn't ask for anything more romantically French. And I won't even talk about the dramatic sea views.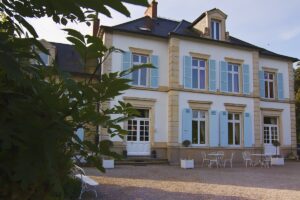 If you'd like the French farm accommodations idea here's something that may interest you. Five minutes from Boulogne, in the rural hamlet of Saint-Leonard, is Le Canville – a renovated farmhouse with outbuildings converted into a series of luxury apartments built around a pretty courtyard garden. All apartments are individually decorated, fully equipped and accommodate up to four people per suite. The farm is surrounded by a landscaped park, has a communal lounge with a wood-burning fireplace, a communal breakfast area and an indoor heated swimming pool. High season prices start at €100 per apartment, www.lecanville.com.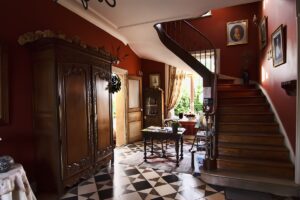 For a romantic weekend Le Beaucamp, a grand B&B fabulously contained in an elegant chateau in Wierre-Effroy, is without a doubt, the place to book a stay at. Le Beaucamp has a personal history for its owners, Anny and Jo Bernard as Anny was born there and then evacuated during WW2 when German occupying forces took over the property. Following WW2 the property was lost to the family, but in recent years the chateau was put on the market and snapped up by the Bernard's. Today the chateau is restored to its former grandness and its history shared with their guests. High season prices start at £100 per room, www.lebeaucamp.com.
For the ultimate dining experience, reserve a table at Michelin starred La Matelote
(www.la-matelote.com). Somewhere between the sommelier introducing you to a bottle of good regional Chardonnay and the waiter presenting plate after memorable plate of the very best French cooking you'll have experienced for some time, you will find yourself thinking you've just discovered France's answer to Ina Garten. Chef Tony Lestienne presented my table with organic curry infused prawn cocktails, topped with oyster foam and diced vegetables with coriander. Then it was fillets of lemon sole and pea tartar with shellfish dressing, followed by medallion of monkfish, Espelette peppers, minestrone and green olive tapenade; three regional cheeses with marmalade and gingerbread; lemon tartlets with lemon ice cream; and finally, a selection of miniature cakes and chocolates. At €56 each, including the wine, we dined like royalty.