Thinking about a biking vacation? If so, you are not alone. Active vacations, including biking, are definitely on the upswing. Individuals, couples and families find that a biking trip allows them to enjoy a vacation that includes plenty of outdoor time, great scenery, physical fitness and bonding with companions.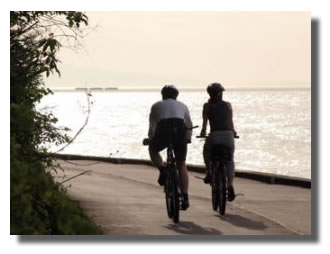 Biking vacations offer the active traveler the chance to experience a destination on a different level and pace than most travel affords. Bikers see the world at ground level, and view the landscape and countryside as an integral component of the trip, not merely as a corridor from one destination to the next. Whereas transportation is often just a means to an end, biking is both means and end, enriching the travel experience with an opportunity for a close-up encounter with the destination, traveling companions and inhabitants.
Biking vacations provide a unique opportunity to engage in a physical activity for the entirety of a vacation experience. However, the biking vacation is not only about a daily grind. Most tour operators design flexible itineraries and an individually oriented pacing that allows the traveler to enjoy the trip without a sense of urgency about speed or distance. There are many different types of biking tour operators and an itinerary for bikers of all levels. The biking experience often entails great lodging and fine food along the way…so losing weight might be a bit more difficult than you think.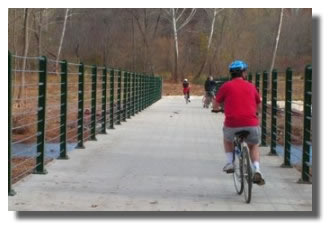 A biking vacation is for you if
You enjoy active vacations;
You enjoy biking excursions at home;
You want to spend your vacation time out of doors;
You enjoy both personal accomplishment and cooperative activities while vacationing;
You want to experience a very "different" type of vacation.
There are many different types of biking vacations. The three variables that make up the matrix from which a traveler may choose are destination, pace and companions. A good travel consultant is a key component of choosing the right vacation from the right tour operator. There are many possible tour operators and options from which to choose, and each has a different story to tell regarding its own history and experience with biking vacations. Work with your travel consultant to choose the biking vacation that is right for you and your traveling companions.
Tour operators provide logistical support, routes, itineraries, equipment, food, portage, accommodations and emergency aid are only some of the responsibilities undertaken by a tour operator offering a biking vacation.It is important during the planning stage to select a tour operator that offers an experience that matches your own preferences, and those of your companions.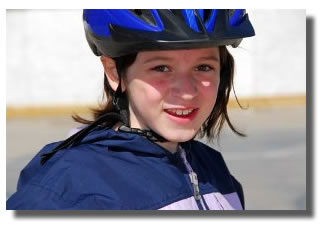 It is important for the traveler considering a biking vacation to inquire as to the terrain of the destination. Climate, altitude and accumulated daily elevation (the total number of uphill feet in a day) all greatly impact the totality of the biking experience. Remember to consider each of the above factors as they might affect every traveler in your group. If one of your party is less experienced than others the trip is likely to be a very different experience for individual members unless the tour operator is prepared to accommodate disparities in ability.
Accommodations vary greatly not only from one tour operator to the next, but from one itinerary to the next. Examine closely the types of hotels, B&Bs or other lodging used by the tour operator on your particular itinerary. The overnight stays are as much a part of the experience as any other component, so make sure you are satisfied with the choices offered. Likewise, food quality is another variable of the typical program. Most meals will be included in the price of the tour, but make sure of any gaps in the offerings! Some tour operators will offer special dietary consideration for vegetarian or other cuisines.
Companies providing biking vacations typically segregate riders by experience and fitness. Many offer several different daily options and routes involving how much time is spent on the bike, the difficulty of the route, and the distance to be covered during a given day. Additionally, some tour operators impose age limits on riders. If you are traveling with riders under the age of 18, inquire as to the company's policies for children and families. It is important that the traveler be comfortable with the available options, so ask your tour operator.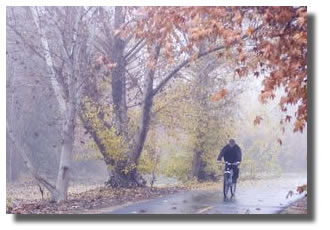 Most tour operators provide a pace van to shuttle riders along parts of the route where the rider would prefer not to bike or if a rider requires lift assistance. The shuttle van also serves as a water and meal station on some routes and as a repair or emergency vehicle if necessary. Not every tour operator provides a van. If you feel that a shuttle van would assist you and your companions, especially to equalize varying degrees of fitness over some routes, establish its availability during your research.
Participants typically have the option of either bringing their own bike or using one provided by the tour operator. If having your own equipment is important to you, be sure to determine the tour operator's policy and discuss it prior to booking. Determine the shipping policies of the airline you will be using to travel to your destination, and insure your bike for its full value. If you are going to use the tour operator's equipment, check in advance to ensure that you are comfortable with the make, model and sizing, as well as with the general condition of the equipment.
Regardless of the pace and route, a biking vacation will make modest demands on a traveler's physical conditioning. In considering whether a biking vacation is for you, take stock of you willingness to spend most of your day in the out-of-doors, in a bike saddle being very active. Some riding and exercising in advance of your vacation will help ensure that you do not spend your first nights on the road nursing sore muscles!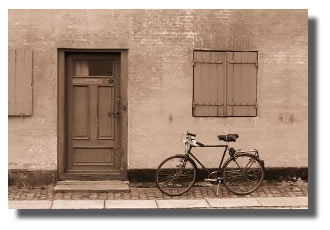 Your tour operator will probably suggest a training schedule prior to your trip that will match the rigour of your chosen itinerary. Some biking activity three times a week for several weeks before your travel is a must in order for you to fully enjoy the experience during your vacation.
It is worthwhile to take time prior to your trip familiarizing your self with your routes. Although it is likely that your tour operator will provide you with a daily briefing, your own mental preparation and physical training will be easier to supplement if you know in advance the general course and terrain of your daily schedule while on the trip. Ask your tour operator to provide daily schedules with route guidelines in advance, if possible.
Finally, discuss with your personal traveling companions the various options on the trip and make sure that each is comfortable with the varying degrees of skill, fitness and desired pace represented by each member. It is important that the individuals that make up your personal traveling group are each in agreement that it will (or will not!) be appropriate for each biker to set their own pace and daily distance. Discussing such matters before you arrive at your destination will make your biking vacation much more pleasant on yourself and on the other participants.
The climate of the destination will determine your clothing selection. To the extent possible, pack lightly. Be sure to take equipment that is important to your comfort or protection such as your helmet (if not using the tour operators equiment), biking shoes and rain gear. Most excess luggage and equipment will be carried in the shuttle van during the course of the trip.
Are biking vacations safe? Any travel entails some degree of risk. However, biking tour operators are very much aware of the inherent risks of being in the out-of-doors and seek to minimize the risk riding in unfamiliar destinations.
Here are a few tips that can help you ensure that you enjoy your biking vacation with the maximum value and minimum risk:
Prepare for the trip by making sure that you can physically handle the course, pacing and terrain you have chosen.
Your tour operator will ultimately indicate that you are responsible for your choices, so be objective in your estimation of your conditioning.
Learn the rules of the road. If you are not in Kansas anymore, you might be in Killarney and that oncoming traffic means you have forgotten that you are supposed to be on the left side of the road. Other localities are more or less bike friendly than your home routes, so get good local advice and follow it!
As always, stay hydrated.
Wear a helmet!
Wear a helmet! (intentionally repeated!)
Respect the local inhabitants. You are their guest.
As with any vacation, travel insurance covering trip cancellation, trip interruption and medical emergencies is a good idea.
Biking vacations are available the world over. From a road not far from your home, to the most far off reaches of the planet, it is highly likely that an organized biking vacation exists. Even a brief list would include most of the countries of Europe and the UK, all 50 states of the US, Canada, South America, Africa, Australia and Asia.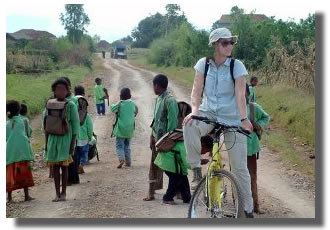 In Europe, France, Italy and Switzerland, as well as England, Scotland and Ireland are all favorite biking destinations. In North America, the western United States, New England and practically all of Canada are offered by a multitude of tour operators. The Asia-Pacific area opens new and exciting possibilities in Vietnam, China and Cambodia. Practically any country that you would want to visit offers some biking vacation opportunities.
The seasons of your destination will determine the most comfortable time for you to undertake your biking vacation. Your personal budget will comprise the other half of the "when" question and answer. In general, your best values are in the shoulder season: that period between the highest, peak travel months in your destination and the lowest, off season. Typical shoulder season weather is a bit cooler than peak seasons yet much more affordable. Low seasons, while very inexpensive, tend to be uncomfortable…too hot, too cold, or too wet. Balance off the cost of the trip with your comfort and you will find value!
Not all tour operators will offer all destinations during all seasons. Likewise many tour companies will have policies about cancelled departures resulting from too few participants. Be sure to check on, and be comfortable with, the tour operator's right to cancel a departure. The brochure or website of your tour operator will likely have an FAQ (frequently asked questions) section. Review the FAQ's with your travel consultant and fellow travelers until satisfied with your research.
Carefully review what is included in your rates. Some bike tour operators include tips, some do not. Taxes are almost always additional. Food is typically covered, as are any fees for additional activities, but cover these issues with your travel consultant when making arrangements. The world awaits, so get in gear!