Calling all surface-dwellers. These days you don't have to be a spelunker to seek out the places within so it's time to explore some subterranean sights. Whether you want to see the secret cities ancient societies dug under the warped and wrinkled landscape of Turkey's Cappadocia, or witness the sparkling glowworm spectacle of Waitomo in New Zealand, there's a strange and eerie world awaiting you below.
Underground Cities, Cappadocia, Turkey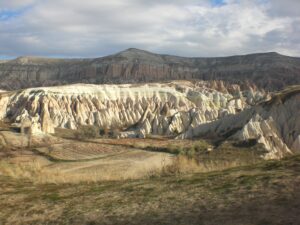 Formed by a mother nature with a surreal sense of humour, the lunarscape of Cappadocia, in the heartland of Turkey, hides just as many sights below its surface as above. First carved out by the Hittites, deep into the soft volcanic rock, these underground cities were later expanded by early Christian settlers who sought shelter here from attack. Dank and dimly lit tunnels wind downward, leading to vast, echoing chambers which once served as granaries, churches and stables. You can only imagine what the stench must have been like when entire communities were trapped in this underground world for lengthy periods of time.
How to: There are plenty of underground cities to explore in the region and an unknown number of as yet undiscovered ones. The two most popular to visit are at Kaymakli and Derinkuyu. They are open from 9am to 5pm and both cost 15TRY (US$9.50) to enter. You'll need to pack a jacket or long-sleeved top in your bag as even in the height of summer it can still be cool underground. Public transport can be erratic in this region so hiring a car is a good idea. Guided tours to both are highly recommended and can be easily organised in the nearby tourist centres of Goreme and Urgup.
Jeita Grotto, Lebanon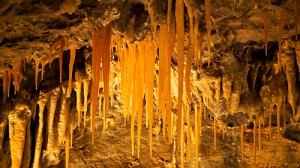 Currently vying for a spot among the world's new Seven Natural Wonders, entering Jeita Grotto's limestone caverns is like stepping through the wardrobe into a Narnia of fairytale proportions. An otherworldly mass of stalactites and stalagmites, twisted and knotted into alien shapes, envelop the walls as you venture into the belly of this bizarre underworld. The upper cavern here is also home to what is said to be the world's longest stalactite.
How to: An easy half-day trip from Beirut, Jeita Grotto is open Tuesday to Sunday, between 9am to 7pm through July and August, and 9am to 6pm for the rest of the year. There's no public transport to the site but a driver can be arranged through any Beirut hotel and you'll have no problem finding a taxi driver on the streets of Beirut, Byblos or Jouneh willing to take you. The grotto is closed for the month of January. Entry costs 18150LBP (US$12) . See  www.jeitagrotto.com for further details.
Waitomo Caves, New Zealand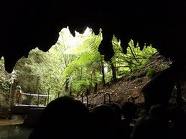 The sight of thousands of pinpricks of light festooning the limestone caverns (radiating from the luminescent tails of the endemic glowworm grub) may have made Waitomo famous but these days visitors flock here as much for the adrenaline rush as for the glowworms themselves. Prepare for an underground adventure which will leave you soaking wet. Subterranean exploits include an addictive fix of tubing, black water rafting, abseiling and climbing providing the perfect high for all action-junkies.
How to: A 2.5 hours drive from the North Island's main city of Auckland, Waitomo is open daily from 9am to 5pm. The glowworm boat tour costs NZ$46 (US$38) with excellent discounts available for children. If you want to add a little adventure into your glowworm viewing the
Black Labyrinth tubing tour costs NZ$115 (US$95) and the Black Abyss rafting tour costs NZ$220 (US$180). Both tours take about three hours and are run by expert caving guides. Discounts are available on the various combo tickets and booking through the official website, www.waitomo.com, gets you 10% off straight away.
Observatory Cave, Monaco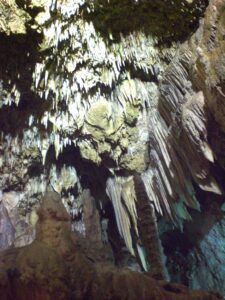 Monaco may be famed for its sumptuous casinos and chic shopping but below the principality's parade of glitz and glamour a dizzying series of 300 steps take you down into the vast, cathedral-like Observatory Cave. This underground gallery of nature's brilliance is a wonderland of columns, stalactites and stalagmites that is well worth leaving your place at the roulette table for. Archaeological exploration of the cave system here has dated human habitation of the caverns back to 200,000 years ago.
How to: The Observatory Cave is part of the peaceful Monaco Exotic Gardens complex. Entry is €7 (US$10) with concessions available for children, students and seniors. Entry includes the caves, gardens and the onsite Archaeological Museum which is a must for anyone interested in the human history of the cave system. The complex is open daily (except 19 November and 25 December) from 9am to 7pm May to September and from 9am to 6pm October to April. You can find out more information about the caves and the gardens at the official website, www.jardin-exotique.mc.
Salt Cathedral, Colombia
Monaco's cave may be 'cathedral-like' but carved 200 metres below the surface, into the old salt mine tunnels near Zipaquirá in Colombia, there is an actual underground cathedral. Inside the vast chamber, where the musty scent of minerals hangs in the air, clever use of lighting highlights the silvery shimmer of the rock walls infusing this Catholic place of worship with an aura both ethereal and contemplative.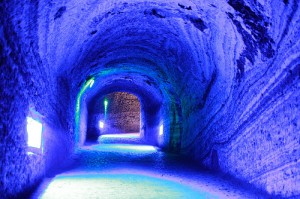 How to: Part of the large Parque de la Sal complex, the Salt Cathedral of Zipaquirá is only 28 miles from Bogotá and is easily reached by public transport from the capital or by taking a half-day tour. It is open on weekdays from 9am to 4.30pm and on weekends from 9am to 5pm. If you visit on a Sunday try to time your visit to coincide with the Cathedral's Catholic Mass which begins at 1pm. Parque de la Sal also hosts a variety of other attractions including a museum and a guided salt mine tunnel walk and entry costs between 17-27,000COP (US$9-15). The official website, www.catedraldesal.gov.co documents a host of information about the sight but is in Spanish only.