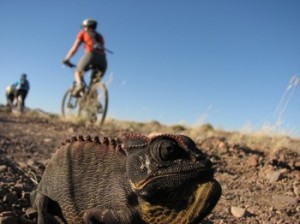 You can drive for hours through the deserts of Namibia without ever seeing another vehicle.But if it's absolute isolation you're after, try cycling through the country. You won't see many other humans, but every pedal you push will be making a difference to the planet.
The personal challenge and the chance to contribute to conservation has inspired a very different type of holiday for 15 intrepid adventurers who will cycle 350km through the Namibian wilderness in July to help protect endangered rhino.
Rhino poaching is on the rise in Africa and the Save The Rhino Trust simply can't fund enough anti-poaching initiatives. That inspired David Ryan, founder of the South African online travel agency Rhino Africa Safaris, to round up a few friends and cycle through the desert to raise cash to stop the slaughter.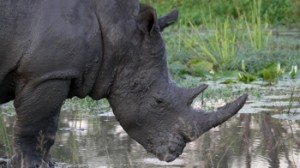 Now their Challenge4aCause initiative is in its third year, and although all the cyclists are from South Africa, Ryan says enquiries from around the world should soon give the group some international members. "I think people are tired of just donating money, they want to be part of an actual experience," he says. The participants will cycle through the desert for nine days and sleep in tents under the African sky. Even though July is the middle of the Namibian winter, the daytime temperature can still crack a sweltering 41˚C (105˚F). They'll eat campfire food being transported in a back-up vehicle, although a much-needed treat comes with a final night spent at a luxury safari camp.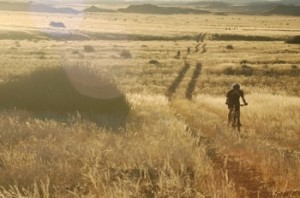 En route, they find out as much about themselves as they do about Namibia, thanks to the challenging nature of the journey. "It's a life changing experience," says Ryan. "Over the years people have lost touch with Mother Nature. We are living in concrete buildings in New York or Europe and we have forgotten what life's all about. Challenge4aCause is an inspirational experience because it's physically and mentally challenging," he says.
"It's a bit like a Survivor show, you are forced to bond with each other. You don't see anybody else for seven days and everybody goes through peaks and troughs at different periods. It's a challenge that you can't do on your own; you have to have a team around you. The camaraderie at the end is unbelievable."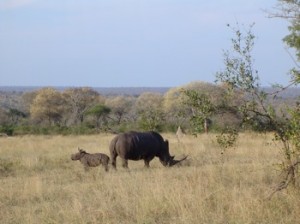 Rhino Africa usually sells leisurely stays at luxury five-star lodges. That not only excludes less wealthy explorers, but also creates a large carbon footprint as the camps feature plunge pools, air conditioning and fully equipped kitchens. Challenge4aCause offers a completely different experience, as the participants cycle through bleak, almost lunar landscapes with only themselves to rely on. It's spectacular scenery, with barely a tree or a shrub able to grow on this arid land – yet a massive herd of oryx, giraffe or desert elephant may suddenly appear like a mirage that keeps coming closer.
Although 20 places were available this year, only 15 cyclists had the stamina or the money-raising abilities to take part, because giving yourself bum-ache, blisters and cramping calves doesn't come cheaply. Each cyclist had to pay ZAR20,000 ($2,950) to secure a place to cover the cost of bikes, tents, food and drink and a support team of cooks and a doctor. Since that leaves little to go towards rhino conservation, each cyclist also commits to raising at least the same amount in sponsorship. They also pay their own airfare to Windhoek in Namibia, where they will be met for a six-hour drive to the starting point of their cycle through the desolate Damaraland desert.

Places will always be limited to around 20 to avoid damaging the pristine environment they cycle through. Ryan expects to attract young, adventurous travellers seeking a challenge and a chance to do something utterly different that adds some meaning to life. Beyond the sheer fun factor, the initiative is absolutely crucial, he says. "The level of poaching is absolutely horrific. The black rhino population has fallen from 25,000 in the 1970s to just 2,000. Last year we saw a big surge in poaching with 180 rhino killed in South Africa alone."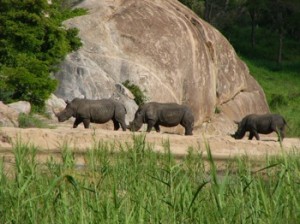 The hunters are after their horns, which are still revered as an aphrodisiac in several Asian countries. The bloodied carcasses of 42 white rhino have been found in South Africa's Kruger Park in the last few months, while the mutilated bodies of even scarcer desert-adapted rhino stained Namibia's sands. Ryan estimates there are only 188 desert-adapted rhino now surviving in Namibia. The ZAR1-million ($147,500) Challenge4aCause aims to raise this year will benefit three charities – Save The Rhino Trust, the Wildlife ACT Fund and The Good Work Foundation. Save The Rhino will use the cash to funds its anti-poaching units. The Wildlife ACT Fund will use it to develop new anti-poaching technologies and to monitor threatened species, while The Good Work Foundation works to educate underprivileged communities in rural areas. That is essential, because local communities become a major ally of anti-poaching initiatives once people see how they can earn money from tourists who are attracted by the rhino.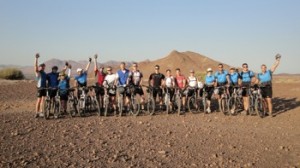 Challenge4aCause is now expanding to add another mountain biking challenge in Botswana in August.
The two rides offer wildlife enthusiasts from around the world a rare chance to directly contribute to fighting wildlife slaughter while seeing a beautiful part of the world from the very different perspective of a saddle.
Details from www.rhinoafrica.com/about-us/doing-good/challenge4acause.
Pics courtesy of Rhino Africa.