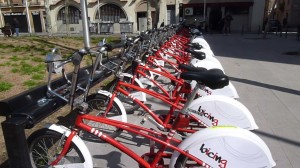 Bike sharing has exploded all over Europe in the last ten years or so. Now more than ever, it's easy to sightsee on two wheels in many Western European cities where infrastructure for cyclists has been much improved. Next time you're in Copenhagen or Barcelona, forget the Segway and rent yourself a classic cycle to get around town.
Copenhagen, Denmark:
In central Copenhagen 55% of the population rides to work each day and 37% of commuters coming into Copenhagen cycle, according to the city's Center for Trafik (like the Public Transportation Department). On average, the good citizens of Copenhagen ride 1.2 million kilometers a day over 350 kilometers of cycle track. Not too shabby!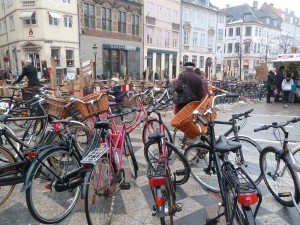 If we apply the 'When in Rome…" philosophy to a trip to Copenhagen, then visitors should plan to use a bicycle to see this hip, Danish destination. It's easy to ride in Copenhagen, where you can borrow a bike for free. In the 1990's the Danes led the way in innovative cycling by creating the first national bicycle route network and launching the successful Bike Share program called "Bycyklen."  Bycyklen (www.bycykilen.dk) is ridiculously simple to use. At one of the 110 bike stands you insert a 20 Danish Kroner coin into a sort of lock, and when the you return the bicycle later on in the day, you get your coin back.
In most cities nowadays, Community Bike Sharing comes with a price tag, whether that be a yearly membership fee or a day use charge. Bycyklen is an exception to the rule. There are some drawbacks to Bycyklen, such as the fact that you are not guaranteed a bicycle or a place to leave it later (the racks could be full upon return).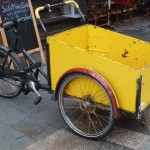 If you don't want to risk it, rent a bike from Copenhagen's coolest new cycle shop called Baisikeli (http://www.baisikeli.dk/EN/) which is run by local Henrik Smedegaard Mortensen and his cousin. "We have the cheapest bike rental in Europe," claims Smedegaard Mortensen, and at $47. 00 a week for a cycle, it may very well be one of the least expensive.
Smedegaard Mortensen along with four more cycle enthusiasts have also written a top-notch guide to Copenhagen's scene by bike, complete with pit stops at trendsetting bars, budget restaurants picks, funky boutiques for vintage shopping, and directions to choice beaches and parks around the city. You can pick up a copy of the guide along with a hefty Danish cruiser with a basket on the handlebars at Baisikeli in the center of the city.
Stockholm, Sweden: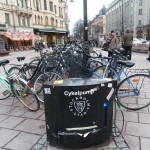 Named 'European Green Capital of 2010' by the European Commission due to its high environmental standards and continued sustainable development, Stockholm is as green as it gets. A fairly recent addition to Stockholm's ever expanding green culture is City Bike, a community bike share program like Bycyklen with a twist. From the 1st of April to the 31st of October locals and visitors can rent a bicycle from City Bike for urban exploration. City Bike Stockholm is part of the SmartBike Clear Channel family which has similar successful bike share programs in Milan, Barcelona, Dijon and Oslo (http://www.smartbike.com/home). City Bike opened in Stockholm in the fall of 2006 and currently has has 1,000 bikes for its 24,000 users made up of residents and tourists alike.
Barcelona, Spain:
Riding south from Scandinavia, we hit the brakes in Barcelona, Spain, my adopted city, where cycling is pleasant all year round. Here in sunny Barcelona, locals ride Bicing (pronounced Bee-sing – http://www.bicing.cat/), the city's bike share program. These members-only bicycles are firetruck red and chalk white, resembling a child's bike on steroids. The squat cycles were designed not for looks, but to hold up under heavy employment and to be user-friendly. There are 6,000 Bicing bikes available for riders in Barcelona, divided between 419 bike stations strategically placed throughout the city. Barcelona's 6,000 bicycles are used by a base 124,477 members, which means at times, it is hard to find a bike.
However, the 'members-only' part of the equation means that if you don't live in Barcelona, you can't use these cycles (unlike Stockholm). Still, there are many bike rental shops all over the Catalan Capital. I recommend renting a bike for the day to see the port, the seashore, the old Gothic Quarter and maybe some of the Eixample neighborhood if you're a very confident rider. It's not a good idea to keep a bike overnight if you don't have a safe place to leave it. Bikes are stolen all the time in Barcelona, no matter how tough a lock you've got. I wouldn't risk it! Also bear in mind that Barcelona is not Copenhagen, and there are not nearly as many bike lanes here.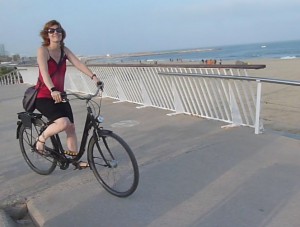 Check out Barcelona By Bike for a guided bicycle tour through the city (http://www.barcelonabybike.com/) or grab a bike at Barcelona Rent a Bike by the beach (http://www.barcelonarentabike.com/) and create your own tour. Barcelona Rent a Bike has very slick cruiser style cycles available for €12.00 (11 hours of ride time).
Photos and post by Regina Winkle-Bryan