Whether you are a novice antique lover or an expert appraiser, shopping abroad for antiques can be truly a rewarding experience. You can join dealers that scour the cities and the hamlets of the globe looking to find unique and authentic antiques. Finding just the right collectible is a gratifying experience, so much so that many have turned their antiquing leisure efforts into full time businesses.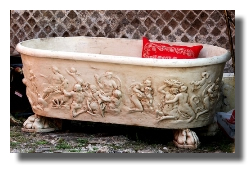 Perhaps you are looking for just the right piece to complement your existing decor. Or maybe you are looking to furnish your entire home with authentic European cottage furniture and anticipate shipping a full container back home. In either event, doing your homework in advance is an invaluable exercise. You must know your budget, have a good idea of what you want to purchase, and know how to locate reputable dealers. Real, bona fide bargains can be found, but there are scams and forgeries as well. Some pointed study before you travel, and the assistance of a competent tour operator, will provide you with the discerning eye you need to make informed decisions on your purchases.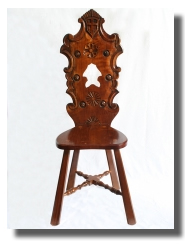 Before you jet off for an overseas tour of flea markets, antique shops and fairs, read this article and engage the expert services of a good travel consultant. Traveling abroad always requires a review of the laws regarding your travel documentation, such as passports and visas. These are not complicated matters, but are often overlooked until the last moment. If your passport is ready to expire, remember that some countries require passports to be valid for some months beyond your anticipated return. Once you know where you are going, you will need to arrange transport to and around the shopping regions. Of course, you will want to ensure that you have the quality accommodations that you require to feel both safe and comfortable during your travels. In each of these respects, a good travel consultant can save you both time and money. Turning over these details will allow you to give more time and consideration to the purpose of your trip: shopping for antiques.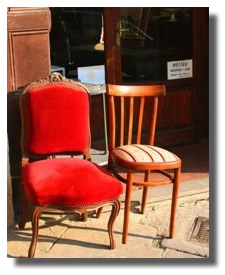 Throughout this guide, we will discuss the various services you should look for in a tour operator acting as your host and guide service. Host tour operators that provide antique shopping trips are varied in their size and the degree to which they specialize. Some very large tour operators have begun to develop theme-based antiquing tours to satisfy the growing demand from travelers. Others are small, independent tour operators run by knowledgeable antiques collectors or dealers. Most tour operators will offer guided tours of antique shops, auctions, fairs and markets within defined geographic areas. They often have a strong background of local trade outlets and associated merchants and dealers.
Ask any prospective host tour companies how long they have been in business and how long they have been conducting antique shopping tours. The more experience they have, the more likely they are to provide you access to real bargain opportunities and authentic dealers. Make sure to have your travel agent request references.
When selecting a tour company, ask about each of the services mentioned in this guide and determine what the company offers. Also find out if they have any "minimum buy" requirements. Most companies offer clients the opportunity to opt out of any given day of shopping for private time at the destination – if that interests you, see what's possible. Finally, working with a bona fide tour operator also ensures that you will be operating within the boundaries of local custom and laws pertaining to the export of antiques – an important point discussed later.
You must decide if you want to travel and shop as an individual or a small, private group, or whether you would want to travel with others that you may not know. Private tours are typically more expensive. However, the general trend among antique shopping tours is to have small groups with a great deal of personal attention. Many new acquaintances and contacts are found among groups made up of former strangers. Itineraries tend to be flexible with customizable schedules to accommodate the preferences of the participants. If you are traveling alone, most tour companies will arrange a same-sex roommate, if desired, to lower your costs. Naturally, private accommodations are usually available for a premium.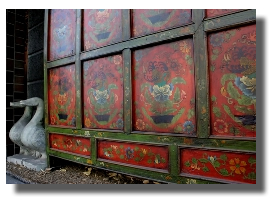 Most host tour companies are happy to make accommodation arrangements for the traveler. Alternatively, you may want to make those arrangements in advance with consultation from the tour company. Your travel consultant can help you determine which method offers the greatest value.
Whether you are looking for antique furniture, clothing, china, books or any number of precious items, the rules remain largely the same. Antiques are not just old or shabby-chic, but have intrinsic value. Quality and condition are important considerations.
Tour companies will often brief their travelers in advance on the types of antiques typically found in the destination. Prepare by carefully studying the materials sent by your tour operator. To the extent possible, spend time developing an appraisers eye. Purchase some antique books that cover the essentials of appraising quality and condition and take notes in a notebook suitable for taking with you when you travel. Don't forget to take along any pictures you may have of pieces resembling what you would like to find, along with paint chips and fabric swatches.
One nice innovation is the telephone camera. With relatively inexpensive international service, you can stay in close touch with friends and family at home. Likewise, if you have a trusted appraiser or friend at home you can quickly send photograph of a piece for some quick advice!
Finally, set a budget and then resolve to stick to it.
The decision about where to go to do your shopping is really one of taste, a matter of the style and periods in which you are interested. Antique hunting is a global opportunity. Central Europe has become one of the most eagerly trafficked destinations for antiquing in the world. Many of the antiques found in Western Europe are imported there from the former Soviet-bloc countries. Central and South America likewise have tremendous opportunities. The traditional markets of Spain, the United Kingdom, Germany, Ireland and France are still filled with wonderful bargains.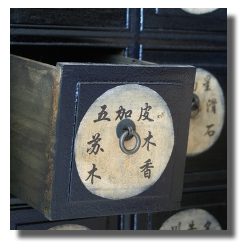 In many countries the distinction between an antique, an antiquity and a cultural artifact is not only close, but vitally important. In some countries, antiques are the province of state-run shops. More often, however, many countries ban the export of cultural artifacts or antiquities without a proper permit, and some items may not be exported in any event. In addition, certain categories of antiques, such as ancient paintings, calligraphy or firearms may be forbidden. Protected animal products, ivory or hides often are not permissible items for export. In many countries, the laws and regulations governing the export of antiques are considerable and complex, moving well beyond VAT (Value Added Taxes) into the realms of cultural antiquities and smuggling. Thus, one of the most crucial services provided by a good host tour operator is compliance with local laws regarding the purchase and export of antiques. Americans have been arrested in some countries for the unauthorized purchase of antiques or other important cultural artifacts. Always insist that the seller provide a receipt and, when appropriate, the official museum export certificate required by law, if any. Unwary purchasers can find their goods confiscated without compensation, and in extreme cases, can even be arrested. Communicate with your host guide before making any purchase and keep your receipts in order.
Your host tour operator will provide a number of important services for you while on tour. Your travel consultant will assist you in determining exactly what is, or what is not, included in the price quoted for your shopping tour. Various elements include airfare, taxes, transfers from and back to the airport at your destination, your guide, daily meals, accommodations, entry fees to fairs and attractions and directions for logistical arrangements for shipping your purchases back home.
Many tour operators will arrange a meet and greet for you at the destination airport and will assist you in getting settled into your accommodations. Many will also provide a brief introduction and overview of your itinerary as soon as you are rested. Depending on the arrangements, the host typically arranges a guide to transport guests to numerous shops to see general or specialized items, with plenty of time to browse. Meals and breaks each day are usually arranged in advance by the host tour company.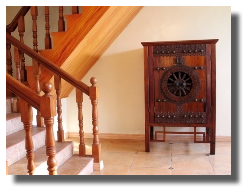 If you do not speak the native language fluently, you will need a translator in many instances. Most hosts will provide a guide to act as both your chauffeur and interpreter. Your guide should also be well-versed in local antiques as well. A good guide can steer you to real bargains, helping you avoid imitation and poor quality.
One important, and sometimes sticky issue, is whether your host company or guide takes commission from any shop or enterprise. This is a matter of key importance and should be disclosed to you up-front. Ideally, you want your guide to be working solely in your interests. Whether in Europe, Asia, the Caribbean or the Middle East and Africa, it is not at all unusual for local guides to receive compensation from shops for delivering customers to their door. This is a particularly important consideration if your guide will be negotiating on your behalf.
Knowing the best local venues to look for antiques is a key ingredient to a successful antique shopping tour. Options include galleries, auction houses and small shops in cities and villages. There are private estate sales, flea markets and private individuals. A good host company will have access to a number of different prospects, sometimes providing private or "first look" opportunities for their guests.
There are very few, if any, countries where bargaining for antiques is an unacceptable practice. However, there are appropriate, and inappropriate, ways in which to bargain. Your guide will indicate the proper protocol for bargaining. Typically, cultural norms dictate bargaining customs and the propriety of particular tactics. Likewise, there is almost always a local norm with regard to the original "asking price" and the final price at which a deal is customarily settled. Ask your guide for direction and take heed. Few things are as annoying to either your hosts or your fellow travelers as ill-mannered attempts at "haggling" down the price of an item below what's reasonable.
You can bargain most effectively if, before purchasing an item, you have a general idea its value. Visit different shops, if possible, for purposes of comparison. The longer your tour, the more time you have to consider, shop and bargain. There is nothing wrong with being persistent, but always be friendly and keep smiling. Finally, do not be afraid to walk away! You are the one who makes the decision to buy.
Even taking into consideration the exchange rates, antiques often can be purchased abroad at real bargain rates over U.S. prices. Many tour companies specialize in working with dealers and wholesalers, providing you the opportunity to purchase well below retail.
Ask your tour operator about the preferred methods of paying dealers for your purchases. Because of the cost of merchant fees for credit cards and the desire to obtain access to U.S. currency (and for other less obvious reasons) many dealers prefer to deal in cash for a discount. However, this may present unfavorable exchange rate considerations for the international traveler. Also, credit cards present a better way to protect against fraud, damage or purchases that do not arrive as promised. Ask your host for their suggestions, but it is ultimately a choice you will have to make. Your host tour company should also be prepared to assist you in recovering your Value Added Taxes, if any, and expediting any forms processing necessary to do so. In all instances, obtain receipts and keep them in a safe place. It is also a good idea to make multiple pictures of your purchases for record keeping, insurance purposes and to make sure that the item you receive when you are back at home is the one you purchased.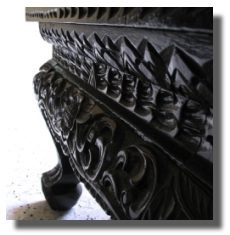 Make sure that your host tour company can and will assist you with arranging the proper collection and shipping of your antiques after your trip. Depending on the types of articles you have purchased, there will be formalities with customs and the process of "freight forwarding" or shipping internationally. In some instances the process is as simple as engaging the local UPS office. In others, however, a more complicated process is involved and your host tour operator should assist you every step of the way.
Many hosts provide a collection service that will gather together the goods you have purchased from the various shops you visited. This is invaluable as it allows you to move on unencumbered by the necessity to transport your items with you as you travel.
Proper packaging is essential if your items are to arrive home in as good condition as when you purchased them. Check to see that your host offers an expert quality packing service. Any small items of great value you may determine to carry with you if practical. Make sure, also, to adequately insure your purchases to cover theft or damage in transport.
In many instances, any Value Added Taxes you have paid for your purchases can be recouped prior to departure. Your host will require your receipts for this process.
The cost of a shopping tour will be the sum of the various amenities offered by your host tour company, and thus will vary considerably depending on your arrangements. Airline tickets are a commodity, and your travel consultant can assist you in getting the best possible price. Accommodations are a personal choice and will vary with their location and degree of comfort. Seasonality plays an important part in the cost of these logistical elements. Off seasons or "shoulder" seasons are often far less than half of the cost of traveling during peak tourist months. The trade-off means that the weather conditions might be somewhat less inclement than you may prefer, but the savings go a long way toward your antique purchases.
If you are traveling with a hosted group, the costs will be considerably less than if you have purchased a private tour. The more exclusive your arrangements in general, the more you can expect to pay. Typical hosted group antique shopping excursions with the full range of amenities discussed above, exclusive of airfare and accommodations, will cost $150 to $350 a day. Tips for guides are usually discretionary and additional.
Now, here's the thing: all of those antiques are getting older and more valuable each day. Why wait any longer?