It is easy to romanticize the past, making it out to be even more enjoyable than it was in reality…and I've been known to indulge in a harmless bit of embellishment myself now and then…so it is with conscious effort to keep hyperbole to a minimum that I continue.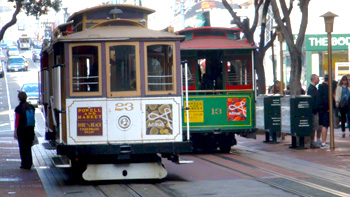 During my years living in San Francisco, I was a member of what can only be described as a loosely organized street gang. I ran with this motley pack for about six years. Our obsession was music. The style was a blend of folk, bluegrass and Dixieland jazz. Primary venue: the streets.
Oh, we had a few club gigs here and there, plus a mix of weddings, divorces, bar mitzvahs, Tupperware parties, special occasions of all kinds…but the best money, the most fun, the best test of one's ability as a performer…was the street.
There was magic in the air during that era.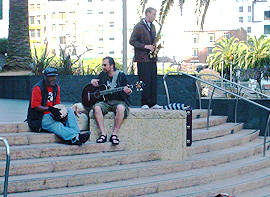 Returning recently to roam the streets of my favorite city, I was pleasantly surprised to find that the magic not only survives…it thrives!
The city wide hot spots for good street entertainment are still pretty much the same – the cable car turntables, Union Square – the Cannery and Ghirardelli Square at Fisherman's Wharf, etc.
Also, if you happen to be staying at a hotel downtown, check the show schedules for The American Conservatory Theater and the Curran Theater on Geary. No need to buy a ticket to get inside. You can bet your sourdough & crab sandwich there will be a free show curbside just prior to the theater's featured performance, as well as an encore during intermission.
A sampling of street music encountered on my most recent visit – a drum quintet downtown, across from the cable car turntable at Market & Powell; a jazz trio on the steps of Union Square; a Gospel quartet in front of the ACT Theatre; a Dixieland band at Ghirardelli Square and a solo folk/rock guitarist at the Powell-Hyde cable car turntable at Aquatic Park (Fisherman's Wharf area).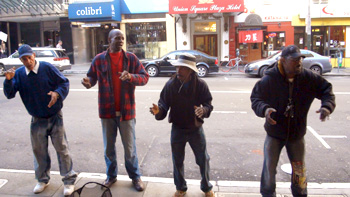 Whatever became of my old street music gang? I am still in touch with a few of them. Some went on to varying degrees of fame and fortune in the industry, performing with such notable acts as the Jefferson Airplane, Neil Diamond, Neil Young, America, the Doobie Brothers, Frank Zappa and the Mothers of Invention…or creating highly successful musical productions such as Beach Blanket Babylon. (BBB is still in production at a theater on Green street in the North Beach district – America's longest running musical and a "must see" for any visitor to SF).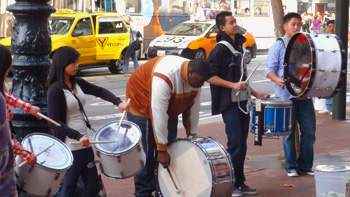 Others became educators, entrepreneurs, craftsmen, travel writers, etc.  A few – the most combustible of the bunch – burning the candle at both ends, so to speak – are no longer with us. They are now singing with the angels…performing for tips on the steps of that great shining cathedral in the sky. (My apologies for that last analogy…got carried away.)
Don't visit San Francisco without checking out the street scene. It's better than American Idol because it is up close, personal and in-the-flesh! Try to guess which performers will be the stars of the future.  And don't forget to be generous with your tips. Someone's rent depends upon it.