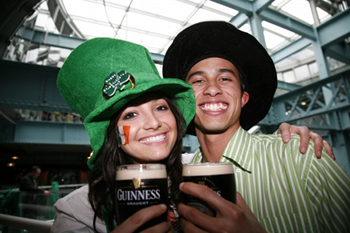 Ireland is one of the best backpacker destinations in Europe. First of all, it is small and compact, yet extremely varied. There are also great transport links around the country and, best of all, the people are super friendly. The country also has a wealth of budget-friendly accommodations options, such as hostels, and of course Ireland's nightlife is basically unparalleled, so whether you want to sip a quiet pint of Guinness in an old man pub, or go out on the town, you've got lots of options in Ireland.
Where to go
You'll probably want to start your backpacking tour of Ireland in Dublin, the country's capital city. This is also home to the main airport in Ireland, and it makes an easy start to circumnavigating the country. It also has fantastic nightlife and amazing historic sites, many of which are free or cheap.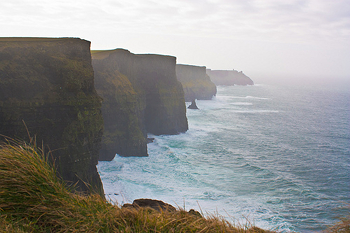 For example the National Museum of Ireland, which has three branches in Dublin, as well as the National Gallery of Ireland, are all free! Likewise, you can wander through the historic grounds of Trinity College for free, as well as the city's many parks and gardens. And of course, you won't want to miss out on learning a bit about the two national drinks at the Guinness Storehouse and the Old Jameson Distillery, both of which offer discounted student tickets.
The Irish countryside has a charm all its own, so take time to visit some of the country's many amazing villages and towns. Galway, on the west coast, is a charming little city with great nightlife that offers the chance to explore Connemara and the stunning Cliffs of Moher. From Cork, you can experience some of Ireland's emigrant history and also kiss the Blarney Stone! While, Killarney is the principle town of Co. Kerry and makes a great base for exploring the scenic Ring of Kerry. It also has lots of great pubs.
Get around
Okay, so Ireland's transport system is a little bit older than some other places, but the whole country is covered by both national rail and bus networks, making it easy to get just about anywhere you want to go.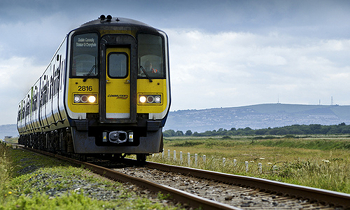 If you are traveling on a budget, Bus Éireann is the cheapest way to go. This, the national bus service, goes to just about every town and city in Ireland within a few hours. You can buy tickets either at the main bus stations in cities, or from the bus driver if you're getting on in a small town.
If you've got more money to spend, Irish Rail is a much more comfortable way to travel. The only downside is that it does not serve all of the cities (depending on where you go, you might have to change lines). Tickets on Irish Rail tend to be about twice the price of Bus Éireann and are available from windows and machines in railway stations.
Sleep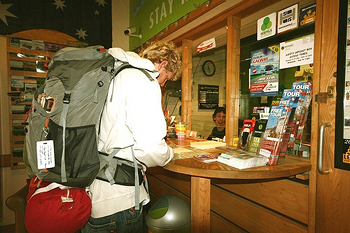 Ireland has a wonderful collection of hostels, many of which are part of the Hostelling International network (join as a member to get discounts). There are also a number of locally owned and run hostels, which run the gamut from big, fun social hostels to smaller places that cater to quieter travelers. Litton Lane is a friendly place right in Dublin City Centre, which used to be a recording studio of U2 and others, while Sleepzone runs a network of three spotless hostels in the West of Ireland.
You can expect to pay between €15-25 for a night in a dorm room.
Eat & Drink
Eating and drinking in Ireland can be as expensive or as cheap as you want it to be. Most of the big cities, like Dublin, Cork and Galway, are stocked with cosmopolitan restaurants, while there are plenty of cafes, pubs and fast food restaurants if you just need a quick bite.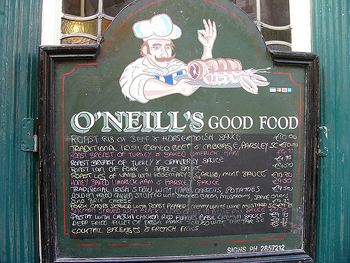 Among the local fast food chains, Supermacs is a beloved Irish brand similar to McDonald's, while Abrakebabra is a drunken favorite that serves Turkish fast food. Likewise, "chippers" or fish 'n' chip shops are ubiquitous in Ireland and will serve a huge portion of fried cod and chips for only a few euro.
Don't be afraid to go into a pub at any hour of the day for a meal. Pubs are notorious for serving up huge meals for decent prices – even at breakfast! You'll want to make sure to sample a proper Irish breakfast, or if you're feeling a bit hungover, go into any Spar convenience store and order a breakfast roll – these hearty sausage, bacon and egg sandwiches are the perfect cure-all for only a few euro.
Insider Tips
Waterproof your backpack and shoes with a waterproofing spray, like Nikwax, about a week before you go to help keep your stuff dry from the incessant Irish rain.
Either an umbrella or a rain jacket are a must, because you will experience rain. If you're sticking to cities, an umbrella should do it. If heading to the countryside, opt for a rain jacket.
If you have an International Student/Youth Identity Card, you can avail of lots of discounts in Ireland. To get discounts on transport, you must buy a "travel stamp" at the USIT office in Dublin when you arrive.


Editor's Note: This is the first in a series of articles that Megan will be offering on Backpacking and Hiking in Ireland!