Some of the most charming villages in Germany look like they came straight out of a storybook, with their half timber houses, walled cities, and look out towers.  Put on your walking shoes, as they are best explored on foot, and prepare to feel you like you have stepped back in time with these three picturesque villages located the south west state of Baden-Württemberg in Germany: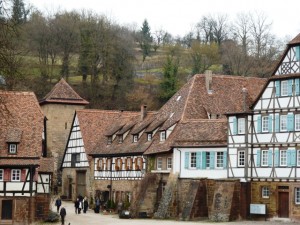 Maulbronn is most famous for its monastery founded in 1147.   It is one of the most important Cistercian Monasteries in all of Europe and is designated as a UNESCO World Heritage Site.  Guided tours in German are available or an audio guide in several different languages is also available.  It would be worth going to Maulbronn just for the monastery, but the inner walled city is captivating in itself.  Nestled into a tree lined valley with well preserved Fachwerk (half timber houses), a castle ruin, and a modest hunting castle, it's hard to believe how well preserved it is and you may find yourself asking "What year is it again?"
As idyllic as that may sound, you quickly realize that life wasn't all that idyllic in medieval times.  There is the  tall, looming witches tower, where women suspected of witchcraft were imprisoned until they were held for trial.  Next to the witches tower is the Zimmer, a green space between the city wall, and another city wall for reinforcement where a  bear or several guard dogs would be kept to discourage intruders from climbing over the city walls and attacking the monastery and its inhabitants.  If that has you seeking a more peaceful setting, just cross the old wooden bridge to one of several well marked walking paths around Maulbronn, including one that leads to a lake.  Here you can appreciate that you are visiting Maulbronn today and not in medieval times. See Maulbronn for more info.
Schwäbisch Hall flourished in the 11th century with salt mines that are now defunct, but some of its wealth from former times can still be observed today. The gothic St. Michael's Church is Schwäbisch Hall's most famous landmark dating back to 1156. And it's an impressive one, sitting high on a hill overlooking the city center.  Inside the church there are many artifacts to explore, so it's worth going inside.  Admission is free, but there is a small entry fee to go into the church tower for more outstanding views of Schwäbisch Hall.
In the summer, outdoor theater productions are held on the steps leading up to St. Michaels, proving a unique theatrical backdrop.  Walking along the Kocher River is one of the best ways to explore Schwäbisch Hall as it's here you can see the Fachwerk houses that line the river, numerous watch towers, the partially preserved city wall and cross the river on quaint little wooden bridges.  If it's a hot day, there are several conveniently located ice cream cafes.  Located just outside of Schwäbisch Hall is the Hohenloher Open Air Museum, a museum which shows how families lived starting from the Middle Ages onwards.  The museum consists of self standing structures that you are free to wander into, including  houses that illustrate how people of different classes lived, a school house, and a black smith.  For visitors wanting to spend more time in Schwäbisch Hall, the town also houses a Goethe Institute attracting over 2000 students a year who come to study the German language in this historic town.  See Schwäbisch Hall Tourism for more info.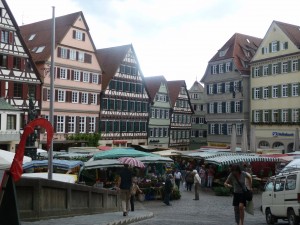 Tübingen is best known today as a  university town, but its roots go way back.  It was established  sometime in the 6th or 7th century, but the Romans were there long before that in 85 AD, as evidenced by the Limes (a frontier border) they strategically built across parts of Germany.  The Allstadt (Old City) is where much of Tübingen's charms can be found.  Fortunately it was not bombed during World War II, so many of the buildings are original.  Of special note are the Rathhaus (town hall) and Hohentübingen Castles which, today, form part of the university.  Visitors will also enjoy the half timber houses that dot the Neckar River and wander through the twisty cobbled streets.   For visitors wanting to hang as the locals do, there are plenty of beer gardens and wine taverns.  The more adventurous visitor may want to try boating along the Neckar River in one of Tübingen's famous "Stocherkahn," a type of boat only found in Tübingen that is navigated with a long wooden pole.   For more info see Welcome to Tuebingen.