Ah, to be sitting on a train, the rolling, green European countryside whisking steadily past your window as you sip on a cold beer. Train travel is easily one of the most romantic modes of transportation, offering the chance to see the landscape without the hassle of driving. I am a huge fan of rail travel, as it is easily the most comfortable and environmentally friendly way to get around. Plus, in Europe, trains positively abound.
Getting around Central Europe by train is relatively easy, once you know what you're doing, but there can be a dearth of English-language information and many of the national railway websites are difficult to navigate.
For starters, it's important to define "Central Europe."  Of course, everyone has a slightly different definition, but as the term "Eastern Europe" has fallen slowly out of favor (mostly because of its negative cultural and economic connotations), the term "Central" has been applied to many of those countries and a few others. Always included on the list are Austria, the Czech Republic, Germany, Hungary, Slovakia and Poland.
Getting Tickets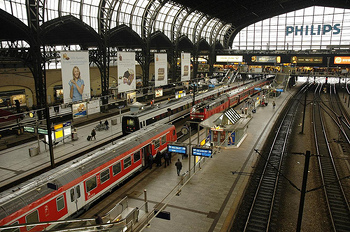 Buying tickets is probably the most complicated aspect of traveling by train in Central Europe, and even that is really not so difficult. If you are traveling on a Eurail pass (rail ticket covering all European countries for a specific time period), you can simply hop on any Central European train line you like (though you'll need to make advance seat reservations if you want a specific seat or sleeper). Sans a Eurail pass, the best way to go is to hop onto the website of the local national railway company from your country of departure and purchase tickets this way. Most websites offer online ticketing, as long as you book three days in advance. Barring that, you can simply turn up at the main train station and buy tickets, although you will most likely pay a much higher fare, upwards of double the price.
Most of the countries in Central Europe offer a "special ticket" scheme (known in German as spezial and in Czech as Sporotiket). These are set international fares between specific cities that greatly reduce the price of tickets. For example, under the scheme, a regular 2nd class ticket from Prague to Berlin is just €29. These prices will automatically be displayed in a regular ticket search on any national rail website, provided you're booking at least three days in advance.
Again, you always want to make sure you've booked a specific seat number (which usually costs €2-3 extra), because most of these routes book up quickly.
On Board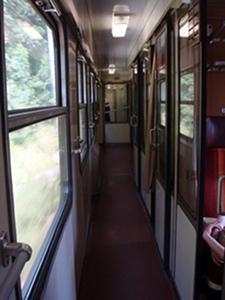 Trains in Central Europe tend to be fair to good, depending on which country you're in and which cities you're traveling between. Major international routes tend to have regular to high-speed trains with modern train cars and there is always a dining car. There is rarely smoking on trains in Europe anymore, including Central Europe.
Most Central European train stations are very modern, with at least some type of refreshments and newsstand. Some resemble huge shopping malls, like the massive 4-story Hauptbahnhof in Berlin.
Your ticket should indicate your train's departure platform and your allotted car and seat number, but if you can't find it, you can simply check the huge departure screens in any train station. While there is no security check (a huge draw for train travel), boarding goes quite quickly, so you'll do well to arrive to your platform at least 15 minutes in advance (meaning, you should arrive to the station 30-40 minutes in advance to get to the platform). Some stations (such as the aforementioned Berlin Hauptbahnhof) offer fantastic charts showing how car numbers correspond to pre-designated boarding areas along the platform, so you know where to stand to get on the right car. Most others leave you clueless, so be ready to scramble from one end of the platform to the other in case your car is located at the other end (best course of action is to stand in the middle!).
Once inside, a train conductor will come through the car to check and stamp your ticket, so have it ready. Passports are rarely checked on Central European trains anymore, thanks to all of the countries' inclusion in the Shengen zone. However, if you've pre-booked your seat number, you might be asked to show ID to confirm your ticket on board.
Distances
Though it looks small on the map, distances between Central European cities can be deceptively long. This is because, for a long period of its development, half of the area was behind the Iron Curtain thanks to the Cold War, so rail links were virtually abandoned. As well, some cities (like Prague and Salzburg) have never had particularly strong economic ties, and so, despite both being major tourist destinations, they are not well connected by fast trains.
The train from Vienna to Berlin, for example, is a whopping 8-hour-plus journey often done overnight.
I always recommend that people travel slowly, so spending some time in Central Europe will help curb these travel times. For example, opting to spend one or two days in Berlin, Munich, Prague, Vienna, Bratislava and Budapest is a great way to cover the whole area, and the train times between each of the cities (in order) is never more than 5-6 hours.
Check out the following links to Central European railway companies for more information and to book tickets:
Germany – DB
Polish State Railways
Czech Railways
Austria – OBB
Hungary – MAV
Slovakia – ZSR