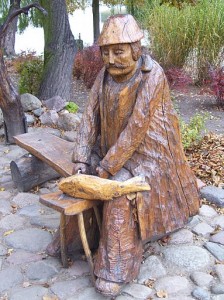 When I arrived in Miedzychod to visit a friend who had relocated there, we went for a drive and soon were turning off the narrow one-lane, main road onto where there was no road at all–only a forest. The car, a creaky red Polish hatchback, crunched it way over the gritty forest floor, through a thicket of spindly pine trees. After parking in a small clearing, we got out of the car, gathered up the plastic grocery store bags my friend had brought, and I followed her toward the spots where the sun fell through the branches onto the thick rusty colored carpet of pine needles. As we picked our way through the trees, she told me to be careful not to trample that which we were hunting—the mushrooms. It was the last week in October, and the mushroom season was almost over. I had arrived just in time, and this was the last chance to gather up the rustic, meaty delicacies and enjoy one of the most popular of Polish pastimes.
My friend told me that the mushrooms must be that certain wooden brown color on top, and that the cap must not be too large. So I searched according to her specific instructions in mind and found that we are not looking for the prettiest mushrooms, but the more ugly and shriveled ones. Those are the ones she approved to take back home.
Miedzychod doesn't have any famous landmarks and won't be found in most guidebooks. The several Polish people I've ever asked about this town of 10,000 had never heard of it. But after having visited this truly off the beaten path place, I must say that it's worth the trip for a peek at a day in the life of a typical Polish village-town–even if you aren't in Poland for mushroom hunting season.
Miedzychod lies about 75 km west of the UNESCO-marked city of Poznan, which has a well-connected train station and airport. From there, it's just an hour by bus or car. Trains no longer run to Miedzychod—just another reason that makes this tiny place so intriguing, and when you get there, you can search for the rusty remains of railroad tracks, hidden among overgrown weeds and shrubs. And maybe you'll spot the town's discotheque, which is nothing more than a renovation of the old railroad station.
One of the main hotels that seems to exist there is quaint, cottage-like structure appropriately called the Hotel Neptun for its lakeside location. The hotel also offers a small bar and restaurant where you can try out some traditional Polish cuisine, and of course, the Polish beverage of choice: Zubrowka vodka with apple juice. The several grocery stores in town sell bottles of this classic vodka, which come with a long blade of sweet grass inside, giving this vodka its special sweet flavor.
If you decide to stay the night in Miedzychod, be sure to ask for a lake view room so you can sit on your balcony and watch a classic sunset over the calm water and bobbing swans and geese. Poland is known for its incredible number of lakes, and this lake by the hotel is just one of two enormous lakes in town, both so wide that you can barely see the opposite shore. Wide grassy fields surround the lakes and are perfect for a long, leisurely nature walk.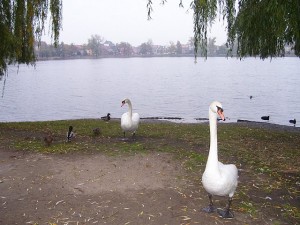 On Saturday mornings, you'll find the locals and their dogs hanging out at the weekly town bazaar. Don't be shy—feel free to bargain for what you want, like a pair of cozy house slippers or warm socks, a stylish beret or a jar of locally produced honey, made from various types of flowers. The charming jar label also features the town's name on it, making for a wonderful souvenir. Of course, most people don't speak English here, so pointing and smiling also works. If you want to speak in English, visit Warsaw, but if you want to catch an authentic slice of everyday Polish life, make a stop in Miedzychod.