A-listers seeking to go off-radar are drawn to this awesome oasis in droves…
Though St. Barts might be best known in the Caribbean for attracting the jet set, it also attracts the paparazzi that follow them. But Anguilla is well known among the elite as an idyllic refuge where they can totally escape the global spotlight to relax, kick back, and just be on barefoot holiday. Of course, the 33 glorious beaches of powdery white sand where one can often walk for hours without running into another soul are a big draw. And the five-star resorts that boast all the upscale amenities and first class services the rich and famous expect are also enticing. But it's the overall vibe of the friendly little island that boasts 'more goats than people' that allows for a truly laid-back holiday for stressed-out stars.
The stars come out day and night on Anguilla…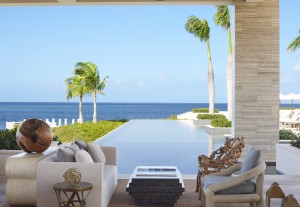 The trend of escaping to Anguilla began with the old guard that discovered they need not give up on the kind of creature comforts they are accustomed to in order to have a secret holiday in the tropics there. Well-established stars like Robert de Niro, Billy Crystal, Robin Williams and superstars like Paul McCartney had quietly discovered Anguilla as a perfect spot to bring family and friends for a relaxing break. Word soon filtered down to the next generation of celebrities like Liam Neeson, Kevin Bacon, Uma Thurman and David Duchovny, and soon the glitterati like Beyonce, JZ and Janet Jackson were visiting.  And though this island did become the location of the world famous break-up of Jennifer Aniston and Brad Pitt, it was the only time the paparazzi managed to infiltrate the sanctuary of the island. (Rumor has it that they now have paparazzi chasing patrol boats on alert for that very reason).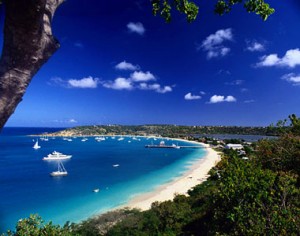 Other celebs like Orlando Bloom, Gwyneth Paltrow, Alec Baldwin, Howard Stern, John Malkovitch, Justin Timberlake, Gwen Stefani, Sarah Jessica Parker, Donatella Versace, Eddie Murphy, Kevin Kline, Janet Jackson, Michael J Fox, John Mayer and Celine Dion to name just a few, have all enjoyed Anguilla's signature brand of both hospitality and respect for their privacy. And those are just the ones we know about. The rich and famous often quietly slip ashore from their private yachts for a beach day or lobster lunch at Scilly Cay, or to get down for a barefoot boogie night with Bankie Banx, one of the Caribbean's most famous musicians at his legendary Dune Preserve http://www.bankiebanx.net/.  
An unwritten rule of discretion…
It appears that there's an unwritten rule that even visitors automatically understand and that is to intrude would be rude. Regardless in what way VIPs might be enjoying the island– dining out at chic tapas spot Sandbar http://www.facebook.com/SandBarAnguilla, relaxing by the beach bar at Cusinart http://www.cuisinartresort.com/, walking on the beach at Malliouhana http://www.malliouhana.com/, or even dancing in a hotspot like Pumphouse http://www.pumphouse-anguilla.com/, it's seriously frowned upon to make a fuss over them. Regular visitor Delaware native Mary Ann Jarvis says, "We often see celebrities around the island but wouldn't dream of asking them for an autograph or a photograph. After all, they're on holiday too! Doesn't everyone deserve some time to be barefoot and just be? Anguilla is the place to do just that that no matter who you are." Mimi Gratton, co-owner of Blue Sea Anguilla http://www.blueseaanguilla.com/ , a tourism services company, is an ex-pat Canadian who has since become an official Anguillian or as the locals call it "a belonger." She says, "Anguillians are truly the warmest and friendliest people you'll ever meet. They are very proud of their island home and even more proud to welcome all visitors, including celebrities. Though Anguillian residents call themselves 'belongers' they make everyone feel like they belong."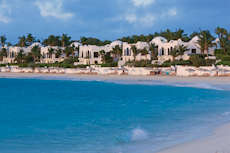 In fact, Anguillians are so nonchalant about celebrity, it can even have a downside.  When Bruce Willis was on island he couldn't understand why no one was making a big deal about it and finally asked the resort staff if anyone knew who he was! And it seems that some stars don't like to stay off the radar too long. Like Paris Hilton who revealed her location when on holiday there by tweeting a pic of her supposedly "secret island getaway" that clearly revealed the name of the resort Cap Juluca http://www.capjuluca.com/ emblazoned on the beach towel hanging off her chair. And others simply don't care if you know where they are, like a very pregnant Tori Spelling who was recently spending time at Viceroy http://www.viceroyhotelsandresorts.com/anguilla/ with her family and posted photos and even appreciation to the staff on her blog.  And then there are all kinds of uber luxurious stand alone villas for rent to the rich and famous that are even more private like Le Bleu http://www.villalebleu.com/ that hosted a rose ceremony for ABC's The Bachelor season seven http://www.anguillanews.com/enews/index.php/permalink/3782.html and was also the abode of choice for superstar songstress Mariah Carey and her entourage when they visited on vacation.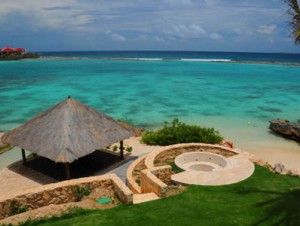 So if you happen to be strolling along one of Anguilla's secluded beaches and cross paths with someone who looks a lot like a celebrity, chances are pretty good they are who you think they are. But just smile, wave, and keep on walking… it's the Anguillian thing to do. Visit: http://ivisitanguilla.com/