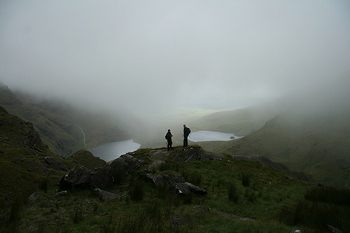 Ireland's lush, green scenery begs to be explored on foot. Despite the fact that it is a relatively small country, many of its best scenery – lakes, valleys, mountains and hills – remain more or less unspoiled and wild. Add to that the country's numerous national hiking trails and designated camp sites and any adventurous type can easily muck through the island's rainy climate to enjoy some of the most spectacular scenery in the world.
Camping in Ireland
Camping the way that Americans do it – out in the wild with just a tent and some supplies – is not very common in Ireland.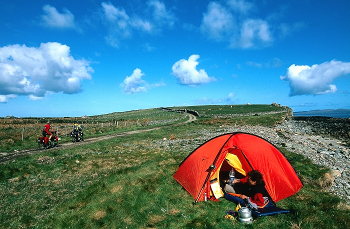 That is mostly because the locals generally hate the idea of going out and mucking around all night in the muddy, rainy weather, and in fairness, who can blame them? Instead, most Irish people prefer what is known as "caravaning", or essentially, RVing. There are plenty of places to rent a small RV or caravan in Ireland, and plenty of national caravan sites with hook-ups and services, including showers, laundry facilities, parking, TV and WiFi internet.
Still, if the weather behaves (like it usually does in late June and early July, as well as early September), camping out can be a sublime activity in Ireland. There are two ways to do this: pitch sites and wild camping. The first is by far the most common, especially among Irish people who prefer to convenience of having services like bathrooms, restaurants and pubs nearby. The Irish Caravan & Camping Council keeps a great list of all the camping sites in Ireland, with info on their facilities and locations.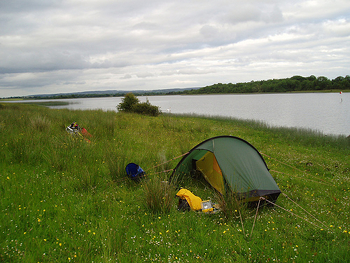 Wild camping, or just pitching your tent somewhere out in the great green unknown, is far less common in Ireland. This is partly because there are no real laws governing the use of public land (and there are far fewer public lands than in the U.S., for example), and partly because the weather can sometimes be prohibitive. However, if you have an adventurous spirit and a very good, waterproof tent, you can certainly take advantage of some of the wild places in Ireland.
As with anywhere, being a good camper means leaving the area that you stayed on exactly as it was when you found it – take your trash out with you and avoid making a big fire or disturbing the local wildlife.
If you don't know where to start, Ireland's six national parks are a good bet and some allow camping (with some rules and regulations); for example, Wicklow Mountains National Park is a great place for wild camping. The Irish National Parks and Wildlife Service has plenty of information on each park.
Hillwalking in Ireland
Contrary to wild camping, hillwalking (or hiking) is one of the most popular outdoor pastimes in Ireland.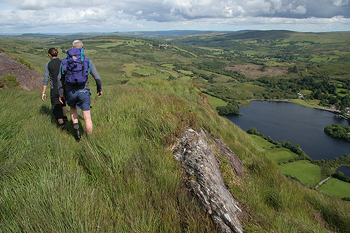 Both locals and visitors from all over the world head out into the country's plethora of mountains and hills to experience some of the most unimaginably beautiful scenery on earth.
Hiking in Ireland can range from gentle walks of a few hours suitable for all levels, to rigorous, multi-day hikes that lead you over some of the most stunning terrain on earth. Either option will undoubtedly offer some amazing views and wonderful natural surroundings, and the advantage to hillwalking is that you can still partake in Ireland's fantastic outdoors without being committed to camping out in inclement weather.
Ireland's National Sports Council houses the National Trails Office, which oversees all of the waymarked and looped trails in Ireland. These are marked and maintained routes equipped with signage and maps and designed specifically for walkers and hikers. As you might expect, looped trails go in a circular route leading back to where you started. Most trails in Ireland are not paved, but are still maintained to a very high quality, and they literally cover the island. IrishTrails is an indispensible resource containing interactive maps of every trail, as well as information about the trail's distance, location, suitability and reviews by other hikers.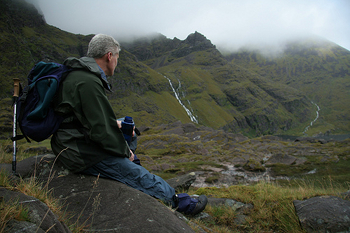 There are some considerations when hiking in Ireland. The first, of course, is the weather. Truly, hiking here is not for the faint of heart, and if you're hoping to get one of those gorgeous clear days, the odds are honestly pretty slim. More likely, you will be faced with drizzle, mud, wind and fog, so choose carefully. You also need to carry plenty of food and water, and come prepared with the proper attire and equipment.
Must-haves for hillwalking in Ireland:
Waterproof hiking boots. None of this "water resistant" nonsense. These need to be high-topped, sturdy boots that are completely waterproof. It is very easy to fall and hurt your ankle on slippery Irish trails.
Wet gear – this includes a waterproof jacket and over-trousers.
Backpack – You will always want at least have a few things stowed, such as food, maps & equipment. Make sure your pack has a waterproof cover.
Warm coverings – hat, gloves, scarf. If you think you won't need these just because it's July, think again.
Compass or GPS system – these are absolutely necessary, especially in Ireland where fog and rain can obscure views of the sun and be disorienting.
First-aid kit and maps – this goes without saying.