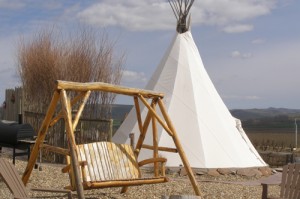 In a world where camping lovers and luxury travelers collided, someone decided to do something about it. Glamping combines the best of both worlds for those who love to sleep under the stars, but want to do it in a comfortable bed; or the couple that is torn between one's desire to pitch a tent and the other's need to have a comfortable floor to walk on.
The whole idea of glamping is one of strong appeal to everyone, with accommodations and locations that can attract the nature lover and the five star traveler. Some of these glamping spots have turned up in African safaris and lakefront property and none of them our cheap. This isn't about saving money, so be prepared to spend the equivalent (or even more) of a hotel room.
Where the actual start of glamping can be traced to is up to opinion on who started first, but there's one state that's certainly getting it down right. Washington has put a face on glamping and it's a well-made one. Get pampered in a teepee, go on a gourmet kayak experience or spend the weekend in a canvas cottage. Best of all, you can do it in a state that has also become known for producing great wine you can drink next to your electric fireplace.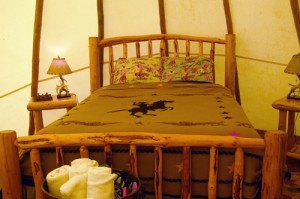 Teepee Living at Cherry Wood Bed, Breakfast & Barn
Cherry Wood Bed, Breakfast & Barn is located in Yakima, Washington, a short flight or a drive of just over two hours from Seattle.  April through October, the mother and daughter team of Trail Boss Pepper Fewel and Wrangler Tiffany Fewel will settle you in to your posh teepee. Despite the down to earth surroundings, you won't have to rough it in your bed, complete with down comforter. You'll also find a refrigerator inside, private bathrooms and an open air shower.
Bring your appetite to breakfast because Pepper loves to cook up crepes and Swedish pancakes with local ingredients like fresh cherries from the trees right outside the property. You can also bring your computer along to Cherry Wood because there's free Wi-Fi. Just leave the AmEx and cigarettes at home. Cherry Wood takes personal checks and cash, but they don't accept credit cards and no smoking is allowed in or around the teepees.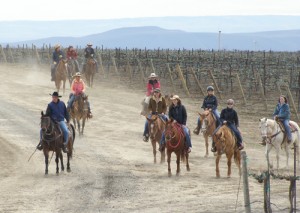 While you are staying at Cherry Wood, you must check out their Horseback Winery Tours. Saddle up and let Tiffany take you around to some local Yakima wineries, where you can enjoy some samples and pick a bottle (or two) to bring back to your teepee. The horseback tours take place all year round as long as the weather is good, but make sure you sign up in advance as they do also take tours with non-guests of the bed and breakfast.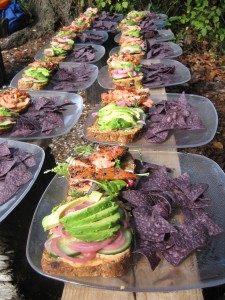 Gourmet Kayaking in the San Juan Islands
Savor Seattle Food Tours certainly knows where to find the Washington's best eats and they've decided to combine some of their favorites. They've also decided to change what you'd normally think about boating by introducing Gourmet Kayaking in the San Juan Islands. These three day, two night expeditions don't require experienced paddlers or beef jerky in a knapsack. All the gear is supplied and guests will be led by highly trained guides.
During the Gourmet Kayaking trip, you get three gourmet meals a day, including wine-paired dinners (there's also a wine-filled happy hour in case you can't wait to imbibe). While enjoying the wildlife, sunsets and Cascade Mountain range, you will be tasting local products, like wine from Walla Walla's Dusted Valley; cheesecake from The Confectional; smoked salmon from Pike Place Fish; Beecher's Handmade Cheese; Chuckar Cherries; and Fran's Chocolate. Kayaking adventures take place in summer months and are only for those over 18 years of age.
Canvas Cabins at Lakedale Resort
The lodge at Lakedale Resort was named one of the "Top Ten Romantic Getaways" in the U.S. by the Fine Living Channel, but sometimes you just want to get a little closer to nature – without giving up the luxury. Lakedale has decided to help solve that problem by introducing their Canvas Cabins, closer to the dirt, but definitely not in it. These upscale tents are along the lake, with queen size beds, in 225 square feet of comfort and a hot breakfast.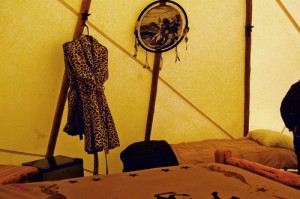 You can find 15 Canvas Cabins in picturesque Friday Harbor, Washington. In addition to the bed, each one has a sleeper sofa or lounge chairs. You will also have a front porch with seating and a fire ring. The one thing you won't get in the standard canvas cabin is running water (it's a short walk to the shower area).  You can upgrade to the Duplex Site for 450 square feet that will sleep six, or splurge on the Canvas Cottage, which has a king bed, electricity and its own private bathroom.