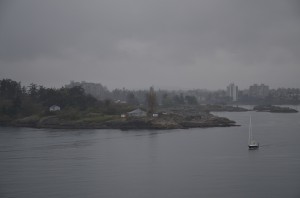 My husband and I woke up to a gray, cloudy day in Victoria, B.C. but we didn't mind. The last time we were there, we only had half a day to tour, so we were thrilled to have a whole day in this beautiful city perched on Vancouver Island, off the Pacific coast of Canada.
Because we wanted to see as much as possible of Victoria in a short time, we booked a tour with Big Bus Victoria. You can book your tickets in advance but it was really easy to just walk to their office right across the street from the Visitor Center. With onboard commentary and a choice of 22 stops, it's a great way to see the city at your own pace. If you have time, you can even add on a trip to nearby Vancouver and the famous Butchart Gardens or a whale-watching cruise to your itinerary.
Before we even boarded the bus, we spent some time strolling around the grounds of the beautiful Empress Hotel. We We had barely caught a glimpse of this gorgeous, historic hotel overlooking the harbor on our last visit and we wanted to get a closer look.  Unfortunately, it was a little too early for their famous afternoon tea, but maybe next time!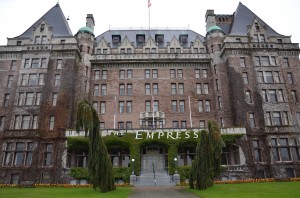 Opened in 1908 and surrounded by fabulous gardens, this lovely edifice has hosted kings, queens, movie stars and a plethora of famous people.
Not quite ready to begin our bus tour, we strolled around the harbor area, admiring the many gardens, historic buildings and harbor full of boats.  We were interested in visiting the Pacific Undersea Gardens right in the harbor but we were anxious to get started on a tour and put that off until later. We love aquariums and wanted to add the Shaw Ocean Discovery Centre to our day, but we didn't have time to get to Sidney and back.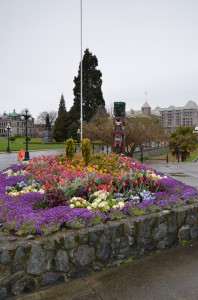 We were surprised to see so many beautiful flowers growing everywhere so early in the spring but Victoria has a very temperate climate with no snow and is actually nicknamed the "City of Gardens". The multi-colored gardens enlivened the harbor area and brightened up the gray, cloudy day.
After a short stop at Market Square for a little shopping and to grab some bottles of water, we clambered aboard our tour bus and set out for the day. One of our first stops was in Chinatown where we hopped off to stroll around and enjoy the ambiance. Here's a video clip to give you an idea what this area of Victoria is like. The Chinese food cooking filled the air with a delicious fragrance but we were in a mood for seafood, so we grabbed the next Big Bus trolley passing by (big advantage to a hop on/hop off tour) and asked the tour guide about a recommendation for a quick and easy but delicious place to get some seafood.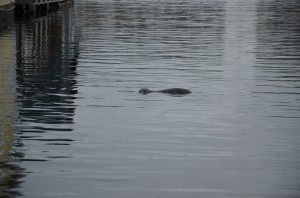 He dropped us off near another harbor area and told us to just follow the sidewalk down to the water, where we would find Barb's Fish and Chips. Barb's is not fancy but, if you are in Victoria, you should definitely try to make your way there – the food was fresh, hot and absolutely delicious. We ate outside under a covered area with a lovely view of the water. It was cool and misty – bring your jacket to tour Victoria in May – but everything was so delicious and the view was so beautiful, we were very comfortable. I think the fish must have come right off one of the ships docked by the restaurant; it was that fresh and good. We even had a friendly seal swim by to keep us company. I guess he knew where the best seafood was to be found!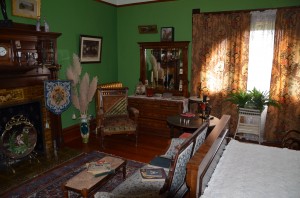 Our day had been wonderful so far, but we had saved the best for last. Being big castle fans, were very excited about touring Craigdarroch Castle. Built in 1887 by the Dunsmuir family to resemble an actual castle, the mansion is not technically a castle but is a beautiful, historic home that is absolutely fascinating to tour. The tour guides dress in periodic costume and the house is perfectly decorated with furnishing from the late 1800's. You can immerse yourself in the time period as you stroll around the different floors, all the way up to the attic, where a wonderful view of all of Victoria is available.
Unfortunately, we had once again run out of time in beautiful Victoria before we were able to see everything. We are just going to have to go back to this beautiful city and spend more time. I suggest you do the same!