Following a bountiful breakfast of dim sum, my wife Fyllis and I strolled along lanes lined by shops selling merchandise both familiar and unknown to us. Some stores displayed unrecognizable animal body parts, while others stocked herbal remedies said to heal a hospital full of ills.
Lunch meant a steaming bowl of pasta accompanied by a glass of Chianti wine, and a pause to watch several men competing in a lively game of bocce.
The day ended by sampling the Parisian-like charm of cafes overlooking cobblestone streets packed with people strolling and riding in horse-drawn carriages.
Despite its international appeal, this "round-the-world" tour didn't require much travel. A comfy pair of walking shoes was all we needed to explore the intriguing neighborhoods that combine to make Montreal a kaleidoscope of cultures and customs.
Many people are drawn to Montreal by its European-style flair and sophistication.  Others spend much of their time visiting a line-up of world-class museums, or taking in a variety of historic landmarks.
Then there's the year-round menu of festivals and other special events. Most famous is the International Jazz Festival, which, each summer draws some two million visitors to the city.
Along with these well-known appeals, a surprising melange of nationalities and cultures also share the scene. It"s  possible to experience this intriguing blend during leisurely strolls from neighborhood to neighborhood.
During our first day of sightseeing, Fyllis and I concentrated on Old Montreal (Vieux-Montreal), the Old Port (Vieux-Port) and other enclaves within a short walk.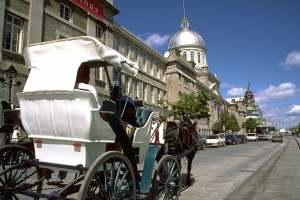 The cafes and shops of the city's old neighborhood lend a distinct Parisian air. The first European settlers arrived there in 1642, and some buildings that still stand trace their history back to the 17th century.
At the Vieux-Port, working docks have been replaced by a varied choice of attractions and activities. Cruises and outdoor exhibits vie for attention with the Montreal Science Center. Its displays range from the surprisingly interesting story of operation of a major harbor, and a fascinating multimedia representation of the human brain, to ancient archeological treasures and props from Indiana Jones movies.
Very different settings lie but a short walk away. Arches spanning a narrow street and rooftop pagodas announce that you've entered Chinatown, born in the 1860s when Chinese workers came to Canada to toil in mines and on the railroads. Today some of their descendants run restaurants and shops, and take part in traditional exercises in any open space large enough to accommodate them.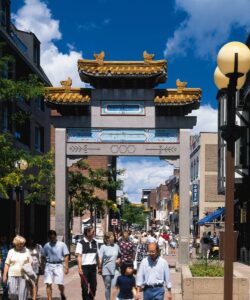 Trendy rather than traditional is the order of the day in the Village (Le Village) neighborhood, which epitomizes Canada's reputation as an open, accepting society.  It's one of the largest gay enclaves in the world, seemingly alive at all hours of day and night. While some restaurants, bars and shops cater primarily to locals, many serve a general clientele that gives the Village broad appeal as an entertainment and tourism center.
Food, arts and entertainment characterize three neighborhoods that we combined into another day. Not surprisingly, dining is a focus of much that occurs in Little Italy, where one of Montreal's largest cultural groups arrived and set up shop in the late 19th century. It's not easy to ignore mouth-watering aromas of pasta and pizza wafting out of trattorias and caffes.
Arts in a variety of forms have been a trademark of the Plateau neighborhood since the 1960s. That's when it became a magnet for writers, artists and musicians, a role it continues to fill.  This also is where many young professionals and other members of the "in" crowd gather to socialize.
The Latin Quarter (Quartier Latin) would feel very much at home in the area of Paris for which it was named. As in the French capital, streets teem with life, and restaurants and watering holes attract multi-generational throngs of fun-seekers. Bookstores, movie houses and theatres add a cultural touch to the ambience.
During our last day of sightseeing, we combined a dramatic overlook of the city with a journey beneath it. Â Rising to a height of 765 feet at the tallest of its three peaks, Mount Royal is more hill than mountain. Yet it holds a place dear in the heart of many residents.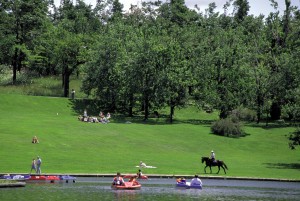 Its French name, Mont Real, was adopted for the metropolis that now surrounds it. The rise is blanketed by woods laced with hiking trails that pass beneath century-old trees.  The setting provides opportunities for a variety of outdoor pursuits, including spotting some of more than 140 species of birds that hang out there, and enjoying dramatic views over the city below.
Very different from the heights of Mont Royal in both altitude and attitude is another favorite haunt of both locals and tourists. This is an 18-mile network of underground walkways connecting some 2,000 shops, restaurants, entertainment venues and other attractions, where it never rains or snows, and the temperature is always perfect. The vast subterranean space, the largest underground complex in the world, provides indoor access to department stores, hotels, museums, theatres and cinemas along the streets above.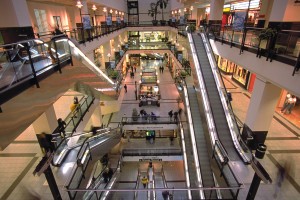 Unfortunately, we didn't have time to explore other equally enticing neighborhoods.  Little India, Little Greece and Little Portugal are among concentrations of people from various countries, where shops sell traditional items and restaurants serve typical food.
Mile End, a tiny section of the Plateau borough, is the most diverse neighborhood of all.  Artists and film-makers, hipsters and a virtual United Nations of immigrants call it home. Among people I passed on the street were a red-wigged Lady Gaga wannabe wearing what appeared to be pajamas, and both men and women displaying elaborate tattoos on most of their exposed skin.
Scenes like these lend Montreal a very distinctive air. Beneath the veneer of a large, modern city lies a potpourri of neighborhoods that combine to provide a rich and varied lifestyle for residents, and an inviting experience for visitors.
Every season in Montreal has its attractions, and more than 90 festivals and hundreds of special events take place throughout the year. A pass that provides entry into 34 museums over three days costs $45, or $50 including unlimited bus and metro rides.
For more information, call (877) 266-5687 or log onto tourisme-montreal.org.