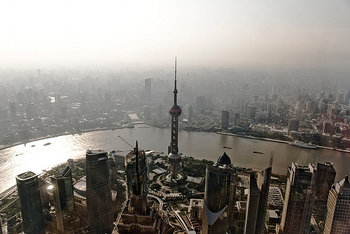 Shanghai. It sounds so exotic and glamorous. And let's be frank, when you put those two adjectives together, you are often talking about expensive, as well. But the fact is that China has traditionally been and remains a budget traveler's dream, as the Chinese RMB  rises in value but the local way of life is cheap, cheap, cheap.
As in any place, budget travel in Shanghai is all about making the right choices. Hostel over hotel, street food over restaurants, bottled beer over fancy nightclubs. Even still, a lot of things that would cost an arm and a leg in other places, are relatively accessible in Shanghai, meaning that even cheap travelers can probably afford to splash out for a meal or take that trip up to the 88th floor of the Jinmao Tower without ruining their budgets.
Shanghai Budget Travel Tips
Eat street food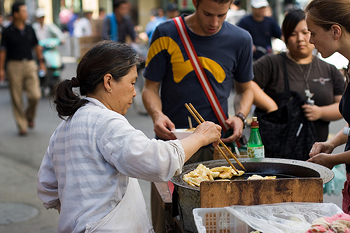 Some people are kind of…turned off… by street food. I personally love it and have rarely, if ever, gotten sick from it. In China, street food is almost always made right in front of you, so you know the ingredients are freshly cooked and you can watch the chef at work. And eating on the street is truly a way of life for most regular Chinese people, and all 1.3 billion of them can attest to the fact street food in this country is really quite safe.
The great thing about street food is the price, beyond the fact that it is almost always gorgeous. A typical Shanghai breakfast involves xiaolongbao, or steamed buns stuffed with pork or veggies. For lunch, jiaozi, or dumplings, are a good way to go, as well as chao mian, or fried noodles. At dinner, the real treasures are small restaurants with little plastic tables on the street, where you can order either one of the above or a set of more classic Chinese dishes, like stir-fried vegetables, tofu or meats. None of the above should cost more than about ¥5 (about US$.75 cent), and the best place to find these street joints is in Old Town Shanghai.
Stay in a hostel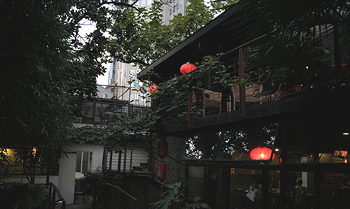 Hostels in China are surprisingly good. I've stayed in quite a few and I would venture to say that they are, on the whole, cleaner and better run than most of the hostels in Europe. The always have wonderful, English-speaking staff (a must for visitors to China) and all offer both private rooms and dorms, as well as amenities like a common room, internet, kitchen and usually a restaurant/bar serving up decent Western and Chinese dishes for an okay price.
There are dozens of hostels in Shanghai, but I always opt to stay at the Mingtown Etour hostel. Located just a step away from People's Square and the Shanghai Museum, this quaint hostel is styled in traditional Ming Dynasty decor and boasts a gorgeous, bamboo-lined courtyard with tables and lovely food. The rooms are immaculate and the rooftop terrace offers an unusual view of the surrounding skyscrapers. Dorm beds go for about ¥50 ($8) /night.
Use public transport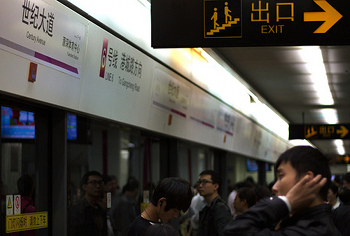 You will be amazed by Shanghai's public transport system, you really will. The subway is beautiful, fast and always on time. Yes, it can get pretty crowded during rush hour, but it is one of the nicest subways to ride in the world. Also, thanks to the World Expo being held in Shanghai in 2010, the city really vamped up its public transit, adding a bunch of new subway lines to better connect the city. Compared with a few years ago (when I first road the Shanghai subway), when there were only 3 lines, the city now has a whopping 10 subway lines. Most fares run ¥3 (US$.45), but the most you'll ever pay to go really far is ¥10 (US$1.50).
In addition to the subway, there are buses everywhere in Shanghai. They can be a little bit intimidating to use, especially if you don't speak Chinese, so unless you really know where you're going, I wouldn't recommend them as much. The city also has the amazing Maglev train, which rockets tourists and travelers between Shanghai Pudong International Airport and the city ( a distance of about 50 km) in approximately 8 minutes. It reaches a peak speed of more than 400 km/hr and is worth a ride, even if you don't arrive to Pudong. If you are traveling by plane, show a copy of your plane tickets (must be for the current day) to receive a nice discount on tickets for the train.
Shop in markets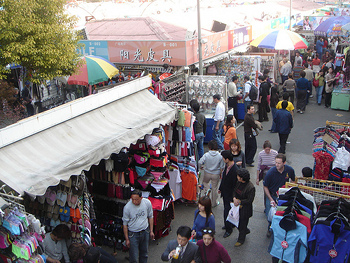 Shanghai has been called a shopper's dream, and that's a true story. I would even venture to say that Shanghai'ers are shopaholics, so it's easy to see why there are tons of shopping options in the city. If you've got money to spend, there are a number of big malls with international and Chinese brands, but for those of us on strict budgets, the markets are the way to go.
You certainly won't want to leave China without picking up some kind of souvenir, or maybe gifts for people back home, and that's where the markets come in. The most famous market among tourists is the market in Old Town, near Yu Yuan Gardens. Here, smalls shops and stands sell everything from silk garments to Mao satchels, chopsticks, jade jewelery and so much more. Unfortunately, prices here can sometimes go a little high, unless you are prepared to bargain hard. Vendors use calculators to bargain with foreigners and usually more than double or even triple the initial cost of the item. Start by halving their offer and work upwards in small increments. It never hurts to threaten to walk away and make sure you never look like you really want it, or else the vendor will know they can overcharge you!
Further away, other markets may be less cutthroat. There is a very nice unofficial antiques market not far from Old Town along Dongtai Road. Likewise, Yatai Market near the Shanghai Science and Technology subway station in the Pudong district is a huge maze of vendors selling everything from fake Prada bags to locally made clothes.
Check back for part two of this series, where I'll reveal some of Shanghai's free or almost free sights for visitors on a budget!