Antigua's small sister island  Barbuda is truly unspoiled Caribbean at its finest, and we were enroute to Lighthouse Bay Resort www.lighthousebayresort.com sandwiched on a thin sandbar that snakes for some 17 pristine, private miles and accessible only by air, (small plane or helicopter) or a  long ferry ride (three hours) and water taxi.  But we were arriving in high style via Caribbean Helicopters http://caribbeanhelicopters.com/, as complimentary return passage by whirlybird is included with a seven day stay at the resort.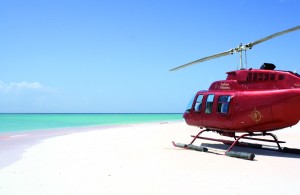 Our seamless 20 minute trip from the Antigua airport was exhilarating and peppered with expert commentary about the area by our pilot Gregory Scott, an ex-pat Canadian who had fallen in love the tropics. We were surprised how flat and scrubby it appeared from the air, so unlike its hilly sister 32 miles away, but it was easy to see why folks would want to make the trip, the stunning and totally isolated  pink-tinged beaches and the incredibly clear and calm aqua waters below looked like something right out of a  postcard. And as the tiny resort came into view, we could see the lagoon side of  the  island, with Barbuda's main town of Codrington (population 2,000) located directly across the waters. It is a sleepy little fishing village where the majority of the locals live. Resort workers come to Lighthouse Bay via a five minute water-taxi from town.
A Surreal Setting…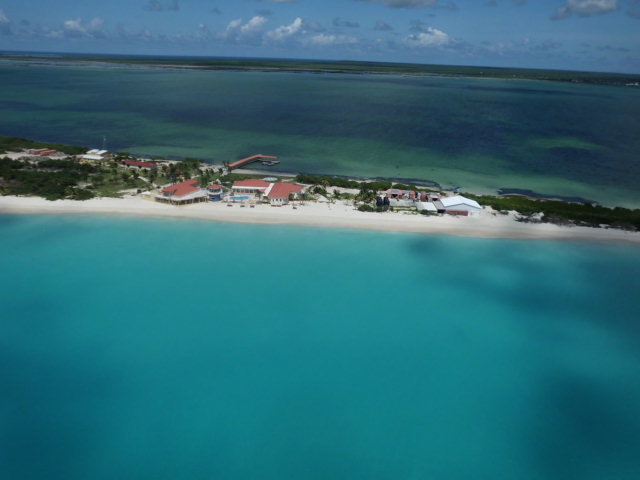 Once we touched down on the private helipad and were welcomed in style with cold towels and champagne, I took a moment to soak in the surreal setting of our new home away from home. Though the charming enclave of low-rise rooms, a lighthouse bar, a pool with hammocks and cabanas, an alfresco dining area and a little seaside lounge was all very inviting,  the amazing beach  lapped by a kaleidoscope of aqua, emerald and crystal waters was incessantly calling me to indulge, so the first chance I got, I scampered off into the sea. And once I was completely immersed in the warm, salty welcome of Low Bay Beach, I got it. " So THIS is Barbudahhhhhh!"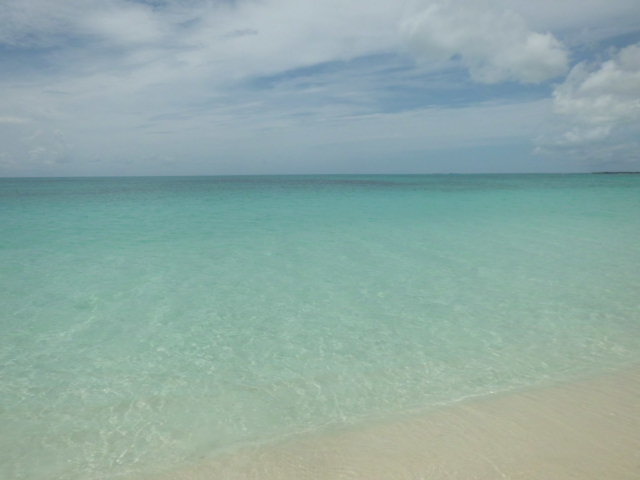 Lighthouse Bay Resort is a refuge…
Once I was finally sea-sated, I figured it was time to explore the resort.  On the way to my room,  I stopped by the big cobalt blue Lighthouse Bar to ask Cannon, the ever-smiling barkeep, to surprise me with a tropical libation.  Happily walking away with a frozen mango margarita the size of my head, I then stopped to  for a dip in the pool right outside my door before going in to unpack. It was only then that I truly appreciated the accommodations and thoughtful amenities provided.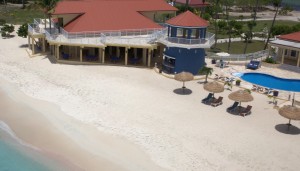 There are only eight rooms in all, Junior suites and Master suites that can be connected to the smaller ones for bigger families and one Grand Suite. I was in a Master, and it was far more room than I needed.  My massive bed with uber luxurious bedding and probably the best pillow I have ever laid my head upon looked out on to the sea. In the rear, was an entire salon replete with couch and recliners, a large dining table, and a big deck looking out onto the emerald lagoon. In-between was my kitchen with a Nespresso machine and a mini-fridge full of cold beer, soft drinks, and juice. They supply each guest with their choice of an iPad or laptop with resort-wide free WIFI and they also offer complimentary 24/7 international calling and flat screen satellite TV's, so staying in touch with the outside world is a breeze.  But walking solo on the endless expanse of virgin beach on either side of the resort – punctuated by frequent cooling dips- gave me time to reflect and recharge and tune into the universe at large. It was  heavenly to be off the grid and totally stress-free.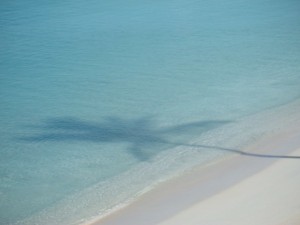 And when I did crave human contact, the staff , like lovely server "Ann-Marie", are always super friendly and ready to chat. And at dinner, guests gather round to eat with toes-in-the-sand or on the alfresco deck . There is usually a collective gush of ecstasy over their famous Barbuda lobster or fresh fish prepared to perfection by Chef Lennox who cooked for Princess Diana and her boys when they chose this island as their special refuge. They stayed on Barbuda four years in a row, and the chef will tell you that  Diana had said she had never been anywhere that she had felt so safe.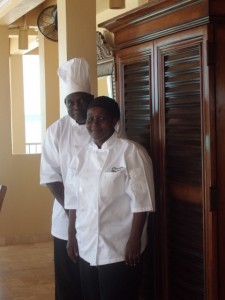 And then there's congenial general manager Terrence Linton  who is always at the ready to grant special requests and  regale you with interesting stories. I especially liked his tale about finding baby sea turtles in the pool and carefully releasing them into their proper ocean home.  If you prefer dining solo or as a couple however, that is easily arranged with  a private table or room service.  And as soon as the sun sinks  in a typically spectacular fashion, tiki torches and a beach bonfire are lit to enhance your after-dinner drinks and star gazing. which is always amazing.
Additional pleasures and pastimes…
There are kayaks and hobie cats to explore the calm waters with, you can order in a professional massage. or go horseback riding right in the sea. I opted for the riding, it was like something of a television commercial having all that endless soft sand to gallop unfettered upon, and when my steed Slim immersed into the water and began frolicking like a dolphin,  it was seriously unreal.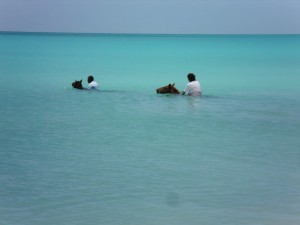 You can also take an eco-excursion to the Frigate Bird Sanctuary in the lagoon, an especially cool experience during mating season when the male birds puff up into giant red balloons to attract the females, or you can go snorkeling offshore. There are also tours of Barbuda's  ancient caves where the Caribs lured many Spanish ships to watery graves  and to the remnants of an old fort tower. You can also visit the beach where Diana stayed, the resort is now closed, but the beach is open to the public and was recently named in her honor.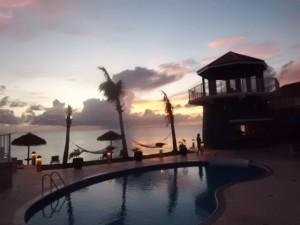 Postcard Perfection…
I have stayed in many idyllic tropical resorts over the years, but few have come as close to postcard perfection as Lighthouse Bay Resort. The beach, the water, the people, the accommodations and the cuisine… it rarely gets any better than this.
Visit: www.lighthousebayresort.com