Just imagine acres of glorious countryside where hills undulate under a blanket of green and flocks of sheep and cows graze come rain or shine. Think of a destination where the national emblem of the thistle is reminiscent of fierce battles with Vikings from years gone by. This is Scotland, a place for an inherently romantic getaway offering superb scenery. This beautiful country is overflowing with many splendid examples of castles, culture and a sense of history.
Scotland offers a cozy, unique destination for a honeymoon, where snuggling under the blankets or curling up in front of a crackling log fire adds that certain warmth to a new found marriage. There are a number of honeymoon options for newly-weds, from quaint village cottages with thatched roofs and smoking chimneys to the opulence of sleeping in a real medieval stone castle where legendary stories exist.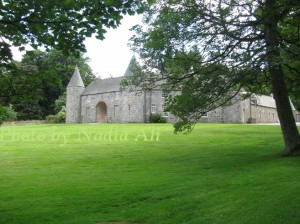 Staying in an ancient Highland castle is definitely one of those once in a lifetime experiences that has all the trimmings to create a memorable honeymoon. There are special honeymoon packages that lure newly weds to stay in a genuine castle tower. Here, the couple gets the royal treatment, sleeping like a king and his queen in a four-poster bed in grand quarters. Even the dining experience in the castle offers gracious surroundings in a palatial setting where the food and wine served is bound to tantalize the taste buds.
Perhaps, you would like to sample something a little bit more unique than a Scottish castle. Well, how about a night in a lighthouse? – no, not a haunted lighthouse, but a beautiful tall beacon of light perched on a Scottish Cliffside. This is another unparalleled experience where you can slumber to the melodic sound of crashing waves on the rocks below and, in some cases, you and your newly-wed are responsible for the actual light revolving. Surprisingly there are quite a few lighthouses to choose from, with the top one being 'Corsewall Lighthouse Hotel' in the Village of Kirkcolm. It specially caters to overnight guests by offering delightful, fully furnished bedrooms,and a scenic coastal location with a restaurant for a candlelight dinner.
For a simply soothing honeymoon you must venture out to the infamous Loch Ness where you can spend time beside the tranquil mysterious lake. There are some terrific 5-star lodges that will cater to your every need, and serve chilled champagne on the terrace overlooking Loch Ness where the mysterious mist creates illusions on the water surface. Spy the silhouette of the majestic Urquhart Castle in the distance located along the rocky northern shore of Loch Ness and of course, keep your ears open for any submerging sounds or un-explainable splashes.
Honeymooners who prefer to kick it up a notch with some action, strap on your hiking boots and set out across the bracken moorland where ancient trails wind through wind-blown countryside. You can even trek up the north western mountain slopes of the Grampian Mountains or even ascend to the summit of the highest peak located on the top of Ben Nevis.
Nature lovers who go for something a little tamer than mountain and trail seeking can explore Scotland's beautiful countryside on horseback. There are several pony trekking and horse trail companies that operate year round. They cater to both the experienced and inexperienced rider with trails of varying levels. Choose from a seaside ride with the spray of sea water on your face as your horse splashed through the shallow water or galloping across meadows of green with the wind in your hair. The horse rides run from half an hour to longer treks and are a lovely activity to enhance your honeymoon experience.
The options for a honeymoon are endless and can be found just about everywhere in Scotland. You can check out Aberdeen, Inverness, Skye, Edinburgh, Dundee, Dumfries and Glasgow which all have alluring qualities all of their own.
No matter where you want your Scottish honeymoon to be, one thing is for sure, there will always be breath taking views of the rugged Highlands and historical places where Scottish clans once fought. So, take the hand of your loved one and relax in front of a romantic log fire and cuddle up to the sound of softly playing Gaelic music as you relish an unforgettable honeymoon in Scotland.