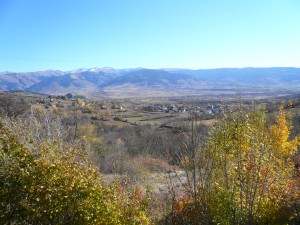 Heading out to see autumn's arrival on the landscape is not a popular pastime in Catalonia, Spain, despite the fact that there is plenty to see on the trees come November. During the fall, seasonal tourism has more to do with searching out delectable mushrooms in northern forests and hunting than admiring the way the leaves turn. Low season in northern Catalonia, autumn is an ideal time to find a deal on hotels, avoid crowds, and see some captivating countryside.
Mountain Color: Puigcerdà by Foot-
In the winter months, Puigcerdà is an 'it' village for skiers and snow bunnies coming down from France or up from Barcelona. In the fall, not too many people visit Puigcerdà, and those who go will have the town mostly to themselves. Near the border of France and Spain in the Pyrenees, Puigcerdà is the capital of the region Cerdanya and makes for a good base to tour around the tiny mountain villages of southern France and Catalonia. Llívia and Dorres, for example, are nearby villages worth checking out.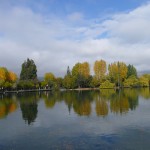 Or stay put in Puigcerdà and admire the town lake surrounded by stately homes, the many boutiques and restaurants in downtown, and the picturesque grassland and sierra setting. There are abundant trails to hike and terrain to explore in and around Puigcerdà, so bring your walking shoes to spot autumn colors. The top place to begin to glimpse rust and golden leaves falling is the Passeig dels Enmorats. This tree-lined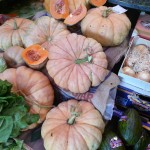 trail heads out of the village and is an easy walk for a morning or afternoon. Also stop by the Sant Juame de Rigolisa, a Neo Romanic chapel with a seventeen-meter high bell tower. Be sure to stroll along the wooded banks of the Puigcerdà lake and check out Schierbeck Park to fully experience what Puigcerdà has to offer in November.
Stay at lakeside boutique hotel and spa, Villa Paulita, a snug mansion with stellar views of the water, swans, and adjacent villas. Villa Paulita has an excellent restaurant, or walk into town to sample local foods from Cerdanya.
More: Puigcerdà: http://puigcerda.com/
Villa Paulita – web
Country Color: Ripoll by Cycle-
Trade in your walking shoes for a pair of wheels to see this pastoral area of Spain. Rent a bike in Barcelona and hop on the train heading north to the village Ripoll to see autumn take over the treetops. The countryside an hour north of Barcelona is rarely explored by visitors to Spain, but locals know it to be a gem for cycling. This is field and pasture land, with portly cows and farmers tending to orderly crops.The landscape is dotted with groves of deciduous trees, ancient 'masias', both occupied and abandoned, crumbling bridges, mountain streams, and forgotten train stations. Through this pristine region wind the Via Verdes, or 'Green Ways'.
The Vias Verdes are an extensive system of old railway tracks in Spain which were closed down years ago. The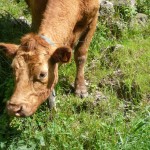 government turned these outdated tracks into trails, available for biking and hiking the Iberian Peninsula's terrain. The Vias Verdes are very similar to Rails-to-Trails in the United States, and in both countries the programs have been incredibly successful and popular with riders.
There are currently 1,700 kilometers of Vias Verdes in Spain specifically for bicycle riders. In northeastern Spain's Catalonia province there are seven of these routes, each one varying in difficulty and length. One of the easier trails in Catalonia is Ferro i del Carbó, located just outside of Ripoll. The mouth of the track is conveniently placed near the RENFE train station in the center of the village making it a cinch for cyclists to catch the train from the city and hit Ripoll pedaling.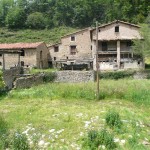 Probably because of its convenience and paved, well-maintained trails, the Ferro i del Carbó route is popular with families. Parents and kids pile onto the train, picnics and helmets in hand, and make a day of exploring Ripoll's old railway. At the end of the line at the former San Juan de Las Abadesas train station, there's a café to grab a snack, picnic tables and soft grass to lounge in. An easy way to get a glimpse of rural Spain and fall color at the same time, a ride on Ripoll's Via Verdes can easily be done in a day.
More:
Vias Verdes – http://www.viasverdes.com/GreenWays