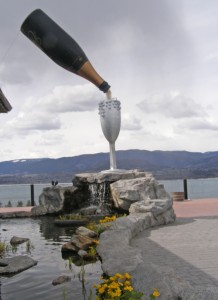 The beauty of Canada is undeniable, with its cascading mountains, huge lakes and flowing waterfalls, but beyond Montreal, Niagara and Vancouver, there is another part of Canada that people often forget. The Okanagan Valley has all the scenery of its fellow states and has also become a region known for its wine and food. It's not a surprise considering the fish, fowl, fruit and vegetables grown throughout the area.
You can easily find Inniskillin (which has a winery in the Okanagan) ice wine in United States restaurants, but you will be hard pressed to find many more of British Columbia wines in the States.  Canadian wine laws have made it difficult to export their wines. The best of these are produced within the Okanagan Valley. and they are more than worth a trip. While you are there you can also check out what has become a region for foodies, with everything from some of the world's best cherries and produce, to gourmet dining.
 Kelowna
Kelowna, with a population of just over 100,000, is a big city compared to some of its neighbors. It's also the easiest to reach with direct flights from Vancouver, Seattle and Las Vegas. It was the home of the Okanagan's first winery, Hainle Vineyards Estate, in 1972. Among the current wineries, do not miss a visit to Summerhill Pyramid, where the giant bottle on the lawn, pyramid to house the wine (and tastings) and restaurant are as much worth a trip as the wine. Cedar Creek Estate is a good stop for some German varietals and St. Hubertus has a touch of unusual Swiss favorites.
President Bill Clinton has paid visits to Bouchon, where you can blink and really believe you are in a French bistro, only here you will enjoy the mouth-watering pastries with an Okanagan Chardonnay. You will also find Fresco, an AAA Four Diamond restaurant, in Kelowna if you are looking for another gourmet take on the local. Chef Rod Butters will also wow you with farm fresh ingredients at RauDZ.
The Delta Grand Okanagan Resort is the perfect place to stay in this area, offering rooms, suites and apartments in a waterfront setting. Their buffet breakfast won't leave you hungry, but take time for a ride to Carmelis Goat Cheese Artisan, where the cheese and gelato are spectacular.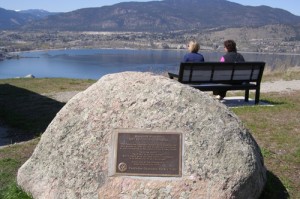 Penticton
You can find over 7,000 acres of vineyards in Penticton, which is also known as the land of "Peaches and Beaches" because it's got lots of both. At Elephant Island Orchard Winery you can taste sparklings absorbed in local fruits. Drop by the Bench Market for a cappuccino and one of their scrumptious baked goods. The Ramada Inn & Suites is a good place to stay right in the center of it all.
Hillside Estate Winery in Penticton has award winning wine and food in its bistro, with breathtaking views of the lake and mountains. A stop you must make in Penticton is a visit to the Wine Country Visitor Center. Here you can not only pick up maps and information on the valley, but you can purchase British Columbia Wines at the VQA Wine Store for the same price as at the vineyards.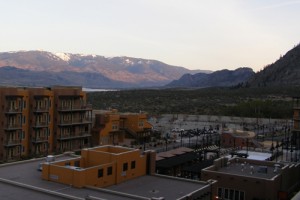 Osoyoos
In Osoyoos, you will find the only aboriginally owned and operated winery in North America. The award-winning wines are produced at NK'MIP Cellars, by the same tribe that operates the Desert Cultural Center and Spirit Ridge Resort. They make a delicious riesling ice wine. Spirit Ridge also home to Passatempo Restaurant, where you can go for the classic menu or a wine pairing dinner. Just down the road at the Watermark Beach Resort Chef Natasha Schooten whips up the best macaroni and cheese you have ever tasted, with roasted peaches and bacon bits.
A short drive from Osoyoos is a small subsection of winegrowing that is just coming into its own. The Similkameen Valley is highlighted by Orofino Vineyards, a winery that not only makes superb chardonnay, but produces it in the first British Columbia winery made out of straw bales. Also stop by Rustic Roots Winery for tasty pairings (like Mulberry Pear Wine with Blue Cheese on a Fig Raincoast Crisp) and a huge selection of fresh fruits, vegetables and herbs.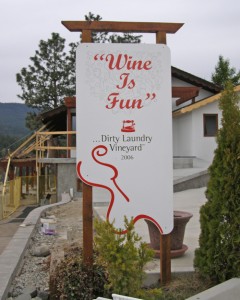 Summerland
On the map, Summerland may look like just a small town, but it's actually full of some of the best wine and food within the Okanagan Valley. Start your day at Good Omens for a "pour over" and a cinnamon bun. The Vinegar Works Farm is worth a stop to visit with John and Kim and taste their wine vinegars. Dirty Laundry Winery has a unoaked chardonnay that is full of green apple notes and a pinot gris that can't be missed.
You are assured of a great meal at Local Lounge & Grille at the Summerland Waterfront Resort Hotel where Executive Chef Paul Cecconi creates delicacies like Sunchoke Veloute with Thyme Foam and Apple from the region's produce. Or, go downtown to Victoria Road Bistro & Deli and find chef/owner Roger Gillespie whipping up pasta or smoked duck ham in this Mediterranean inspired eatery. Before you leave Summerland, stop at Summerland Sweets, also the home of Sleeping Giant Winery, where you can pick up lots of flavorful local products to take home with you.