Travel is full of enthralling encounters, of moments that stick with you forever — a glimpse of a wild gorilla, an African sunrise, your first sight of the pyramids.
But those moving moments wouldn't seem so spectacular if they weren't peppered with less exciting experiences. For every lion kill there's a lame museum; for every gargantuan sculpture there is a giant ball of yarn. Here are eight utterly underwhelming tourist attractions, places that have you asking the question, "Why is this even here?"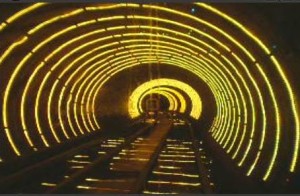 Bund Sightseeing Tunnel, Shanghai
If they'd called it the "Bund Tunnel of Cheesy Swirling Lights" or the '"Bund Truly Bizarre Train Ride Tunnel," then you'd at least know what you were getting, but mentioning "sightseeing" is a real stretch. To be fair, the tunnel does at least serve a purpose — it takes visitors from The Bund across the Huangpu Jiang River to Pudong. On boarding the train, you're treated to some Space Odyssey-style music  as your carriage inches its way through a tunnel lined with flickering lights that wouldn't be out of place at an '80s nostalgia night. The one bonus is that, on leaving the train, you can explore Shanghai's sex museum.
Manneken Pis, Brussels
Many who visit this iconic statue are disappointed. Disappointed with its size, disappointed with the crowds jostling to see, disappointed that they took time out from chocolate and beer tastings to view it. Of course, the question that arises is, "What do you expect?" It's a two-foot high statue of a little boy taking a pee — how impressive could it be? If you're lucky you might get to see him in one of the costumes he gets dressed in on special occasions or on a windy day you might get peed on. Other than that, jostle with the crowds, marvel at his — ahem — lack of size and head back for another round of Belgian beers.
Epcot's World Showcase, Florida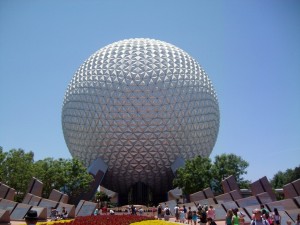 Even children high on the Disney rush can leave the World Showcase feeling utterly underwhelmed. This trite though comical collection of cultural stereotypes is Disney kitsch at its best, with a culinary experience described by some as akin to any mall's food court. "Traditional" crafts are on sale, but, alas, the cultural experience doesn't stretch to offering authentic prices! Of course, you could try the global bar crawl, sipping a margarita in Mexico, sake in Japan and a few traditional pints in Germany and the UK.
The Blarney Stone, Ireland
It's supposed to turn you into a silver-tongued charmer but most people don't notice any positive conversational effects from kissing the Blarney Stone. What they do notice is that their neck hurts from dangling upside down to reach the rock, their wallet is 10 Euros lighter and that they feel like swilling some hardcore mouthwash after kissing a rock that millions before have potentially slobbered on. A marketing miracle.
Maropeng, South Africa
On paper it sounds like fun: an underground boat ride through the four elements of earth, wind, air and fire followed by a walk through time, from the birth of the Earth through to mankind today. In all fairness, the exhibitions are pretty good, with lots of interactive displays to keep kids (and big kids) busy. But the boat ride is just so astonishingly awful, it's really all you remember. The promotional material says it all: "Snow-making and ice-producing machines give voyagers an indication of what the most recent ice age may have been like," and the journey ends with a simulation of how our planet was created, where you can travel an amazing 10 feet into a black hole (a dark room).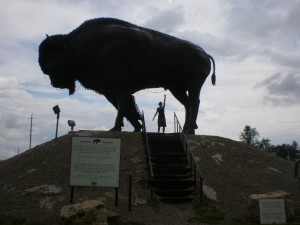 Big Stuff, Everywhere
They brighten up an otherwise boring road trip through the middle of nowhere and for some they're even an excuse to take that trip in the first place. Big things are scattered along lonely roads around the world. Australia boasts a 42-foot-long banana, South Africa has the world's largest post box, Canada has a 30-foot high nickel and in the U.S. there's a constant battle for the title of World's Largest Ball of Twine. So what do you do when you track down a big thing? You stop the car, you jump out for a cheesy snapshot of you trying to eat an outsized apple or drink from a 16-foot beer can. Then you get back in your car and drive on. They're lame, they're kitsch, they're big and we love them.
Mysterious road, Jeju Island, South Korea
Before this uber-touristy and astoundingly beautiful island was awash with museums to suit every taste (view an homage to chocolate, glass, tea and teddies among others), one of its most popular attractions was the "Mysterious Road." Even now, people take the less-than-pretty 10-minute drive from the island's capital to marvel at the mystery. You get to the road, switch off your engine, take off the handbrake and watch as you seemingly inch oh so slowly uphill. It really is spectacularly unspectacular. Like Shanghai's tunnel, the mysterious road has a saving grace — the hilarious Loveland, an erotic sculpture park, is just a minute away.