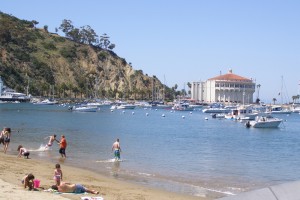 Santa Catalina Island is a slice of tropical life nested in Southern California. Once you arrive in Avalon, you can forget all your worries and play as if you've landed in the Caribbean.
You will find Catalina Island listed as a stop for a number of cruise ships on their way to Mexico from Los Angeles or San Diego. It is also just a short ferry ride from the Southern California ports of Marina Del Rey, Long Beach, Dana Point, Newport Beach and San Pedro. Catalina Express runs regular service from all of these ports.
Once you are on the Island, you can easily fill up a day with activities on land or in the water.
Hit the Water
Watersports abound on Catalina Island whether or not you want to actually get wet. Boats take off from the harbor for cruises of various lengths and ship types. You can take a look at marine life on a glass bottom boat; charter a fishing boat and see what you can catch; take a tour to find some wild dolphins; or just rent a kayak or canoe and relax on the open water.
If you would like to get up close and personal with the fish, you can go snorkeling or scuba diving off Catalina Island. Another option is "snuba" diving, which allows you to see more by going deeper than snorkeling, without worrying about certification required for divers. Catalina Discovery Tours can set you up with almost any type of water activity you are looking for.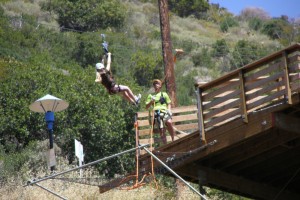 Fly Through the Air
Have you ever thought about zip lining? Parasailing?  Both activities are available for you to try on the island and you will have plenty of instruction if you are heading out (or up) for the first time.
Catalina Zip Line Eco Tour takes two hours to complete. The tour brings you through a total of five lines, each one climbing higher and going longer than the last. Your guide will also use the time between zips to fill you in on the ecosystem of the Island.
Island Express can not only bring you to Catalina Island from the mainland (it's only a 15-minute trip from Long Beach), but they can also give you a tour of from one of their helicopters. If you prefer to be in more control of your flight, there is also the opportunity to be up in the air. You can float along with some parasailing, another option while spending the day on Catalina.
Take a Hike
The mountains and abundant California sunshine make Catalina Island a popular place to hike regardless of your ability. You can make it a simple walking tour that will take you through the historical spots on the island without worrying about too much incline. If you are a bit more experienced, head through one of the miles of trails that can take you up the mountain and around the ocean. You must obtain a hiking permit for many of the island's trails, though.
You will find even more to see than mountains and water from this island. You can even find buffalo roaming certain areas in the interior of the island. If you'd like to keep your distance a bit while exploring, bikes, Segways, golf carts and even hummers are available to rent so you can explore the island without any exertion.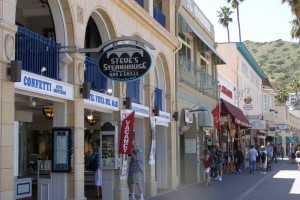 Check Out the Harbor
A day on Catalina Island doesn't have to be all about activities. You may choose to spend your time walking along the harbor and taking in the scenic walk. Along the way, you will find plenty of places to eat, shop or just sip a drink and pretend you did make it all the way to the Caribbean. Then again, with everything there is to do on Santa Catalina, do you really need to?